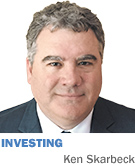 The $30 billion Indiana Public Retirement System has released its annual report for the year ending June 30, 2016. INPRS has about 86 percent of the money needed to meet projected future retirees' benefits—excluding the pay-as-you-go Teachers Retirement Fund, which is about 30 percent funded.

Excluding TRF, the INPRS funded status compares favorably with other state pensions around the country. For example, Illinois' pension plan is only 47 percent funded.

The glaring factor that needs attention at INPRS is investment performance—it, like most pension plans, has suffered from poor returns the past decade.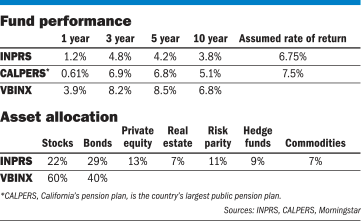 The chart accompanying this column shows the asset allocation and investment performance of INPRS compared with the Vanguard Balanced Index Fund, which has a 60/40 stock-to-bond allocation.

INPRS' assumed rate of return is 6.75 percent, which is the annual rate of return the fund must earn to maintain a well-funded status. If returns fall short, taxpayers must eventually make up the difference with higher contributions to the fund. Last year, Indiana taxpayer contributions were $878 million from the Indiana General Fund, while $923 million was sent in from counties, cities, towns and school districts.

The obvious conclusion is that pension plans must improve their performance—or significantly reduce their assumed rate of return. Pension boards do not want to reduce the rate because that increases the plans' liabilities and, hence, taxpayer contributions.

Some argue the reason for pension fund underperformance is the Federal Reserve's post-credit-crisis policy of low interest rates. I would argue underperformance is more due to the asset allocation models promoted by the investment consulting industry.

Back in the post-war era, pension funds followed the simple allocation strategy represented by VBINX, with 60 percent in stocks and 40 percent in bonds. The graphic demonstrates that the 60/40 mix has produced better results over time than the multi-asset allocation models pension funds use today.

In the last 20 years, institutional investing has become more complex and costly. Pension funds today rely on well-paid investment consultants to advise on allocating their assets across a variety of investment choices, including alternative investments like hedge funds, private equity and commodities.

We will further explore asset allocation mistakes and the reasons for pension fund underperformance in my next column.•

__________

Skarbeck is managing partner of Aldebaran Capital LLC, a money-management firm. He can be reached at (317) 818-7827 or ken@aldebarancapital.com.