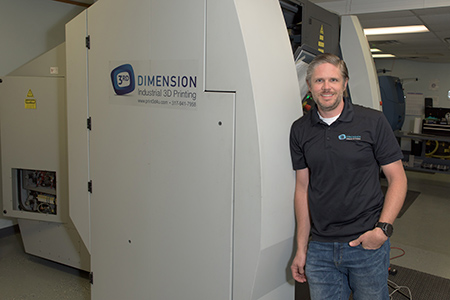 The sport of auto racing isn't exactly in high-gear growth mode, despite the local popularity of the Indianapolis 500 the last two years.
But several businesses launched by entrepreneurs who honed their skills in the racing arena are.
"Motorsports has a huge economic impact on this entire state," said Rollie Helmling, senior vice president for business development at the Indiana Economic Development Corp. "But it goes way beyond just the world of racing. A lot of people don't realize that."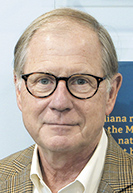 Helmling
In fact, the motorsports industry has nurtured a big talent pool, said Helmling, a former CEO of the U.S. Auto Club, which once sanctioned the Indianapolis 500.
"A lot of people in racing have gone on to start and grow successful businesses that employ hundreds of people," he said.
Applied Composites Engineering might be a poster child for what someone with a motorsports background can do, Helmling said.
Leigh Sargent, 61, started the composite-materials manufacturer in 1982 on Indianapolis' west side after working as a research and development technician for Williams Grand Prix Engineering and as an aerodynamic chassis technician for Longhorn Racing's Indianapolis 500 car.
Sargent's company started out making materials for Formula One race cars. It now has more than 100 employees and serves a broad, worldwide base of aerospace and aeronautical clients.
Sargent also launched Zipp Speed Weaponry, a maker of high-end carbon-fiber bicycle wheels and components, in 1988. He sold that growing firm in 1998.
Zipp, which is still in Indianapolis and employs dozens of people, is now owned by Chicago-based bicycle conglomerate SRAM Corp.
"Motorsports has helped make Indianapolis an aerospace hub," Helmling said. "Racing draws and develops experts in mechanical engineering, aerodynamics, and component engineering and fabrication with carbon fiber and other exotic materials. And both industries—motorsports and aviation—require you to take things to the limit."
But the entrepreneurial racing spinoffs are even more varied—from restaurants, to hospitality and entertainment, to marketing and manufacturing.
Former racer Zak Brown, for instance, in 1995 founded Just Marketing International, a Zionsville company that employs about 80 and has represented the likes of Verizon, Budweiser, Crown Royal and Subway restaurants. Brown sold his interest in the firm in 2013 and now manages a Formula One team.
Sarah Fisher, a former team owner and one of IndyCar's most popular drivers during the 2000s, launched a high-end go-kart racetrack and full-service restaurant in 2016 in Speedway.
Former Indianapolis Motor Speedway Chief of Staff and Indy Racing League executive Ken Ungar in 2006 formed a marketing and talent representation firm that works with Honda and St. Vincent Sports Performance and is making a push into representing celebrity players of electronic sports.
And though he didn't found the company, Dave Moroknek—former IMS marketing chief—has grown MainGate Inc., a local company he bought in 2006, into one of the nation's biggest merchandise-sales-management companies. MainGate has worked with several NFL and NBA teams and at the last five Super Bowls, as well as for organizations as diverse as Harley Davidson and Susan G. Komen for the Cure.
The most difficult part for racing workers jumping into other enterprises is learning how to operate in a broader corporate environment, Sargent said.
"Running a growing business takes processes and systems, having a certain level of professionalism, and dealing with bureaucracy," said Sargent, a native of Melbourne, Australia, who now lives in Indianapolis with his wife and two children. "That can be a challenging bridge to cross for someone in motorsports who is used to having one owner running around and doing a million things."
Going high-tech
More recently, a growing number of racing mechanics and engineers have moved into other—often high-tech—sectors, Helmling said.
"This movement has given rise to a growing number of high-paying jobs in this region," he said.
3rd Dimension Industrial 3D Printing is one such company. 3rd Dimension isn't your grandfather's printing shop. It produces custom-made parts with 3D printers, one of the few companies nationally that uses the high-tech process to make metal parts.
The company, based in Park 100 on the northwest side, has seven employees but is preparing for a major expansion. It plans to invest more than $800,000 in technology projects adding 45 employees by 2022.
IEDC has offered the company up to $525,000 in conditional tax credits and $51,750 in training grants based on the firm's hiring plans.
3rd Dimension founder Bob Markley, 35, started working in auto racing in 2004 while attending Purdue University, where he graduated two years later with a degree in mechanical engineering. He later earned an MBA from Butler University.
No amount of schooling could have prepared Markley for the rigors of his career in motorsports, where for a decade he worked for Sierra Sierra Enterprises and Dale Coyne Racing in data collections and engineering.
"They put a wrench in my hands when things went terribly wrong," Markley joked.
The industry was great training for what he does now.
Racing is "a very intense, very deadline-driven business," Markley said. "During the race season, there are absolutely no normal working hours. And it's hyper-competitive."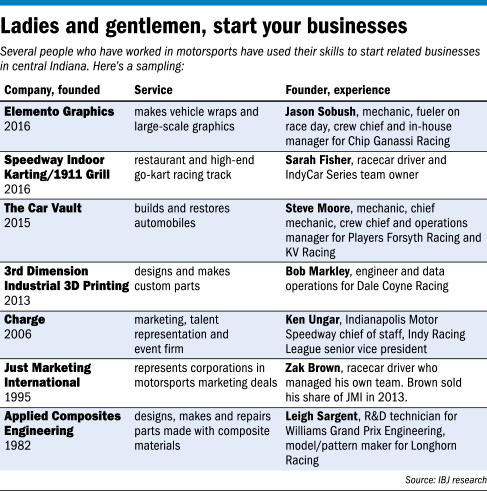 "The troubleshooting and thought process we used in auto racing is very similar to what is needed in an emerging industry like ours," he added.
Though he can't name many clients due to confidentiality agreements, Markley said the firm works with seven of the 50 biggest firms on the most recent Forbes 500 list. Many are in the aerospace and defense sectors, he added. Three clients he can divulge are Rolls-Royce, Cummins Inc. and Purdue.
Auto racing's fast-paced environment is key to the success of 3rd Dimension and others that have sprung from the racing industry, Helmling said.
"You almost never see a patent on a racing part because things in that industry evolve so fast, if you stop to patent something, it would be antiquated by the time you got the patent," Helmling said. "People in racing have been doing just-in-time manufacturing long before that became a trend."
Risk takers needed
Jason Sobush, who held almost every position—from mechanic to crew chief to in-house manager—during 15 years with Chip Ganassi Racing, said that, besides being able to work at the speed of light, people in auto racing have a couple of other traits that they're either born with or have branded on them like rubber on the racing groove of a track.
"In racing, you have to be up for a serious challenge. And you have to be a risk-taker," said Sobush, the 44-year-old founder of Indianapolis-based Elemento Graphics.
His company's name is a trademark of his risk-taking style.
The Elemento name is pulled from one of Sobush's favorite cars, the Lamborghini Sesto Elemento. Sobush once owned a prized Lamborghini. "The sale of that funded the startup here," he said.
In all, Sobush spent $100,000 of his own money to start his firm, which designs, makes and installs vehicle wraps and large-scale graphics for commercial clients.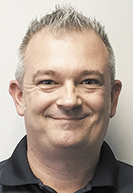 Sobush
It wasn't the first time Sobush rolled the dice on his career.
Not long after graduating from Stark State College of Technology in Canton, Ohio, with a degree in mechanical services technology, Sobush saw an article in Racer Magazine about how to become a race car mechanic.
Less than four months later—in June 1998—Sobush quit his job at The Plastic Forming Co. and "sold everything I owned: my house, lawn mower, shovel, wheelbarrow and all my furniture" and moved from Ohio to California to enroll in the Russell Racing School.
"It was the hardest, but best, decision of my life," Sobush said. "There's something to be said about chasing your dreams."
The decision to depart Ganassi also was a difficult one. Ganassi officials had talked with Sobush about going back on the road during the race season.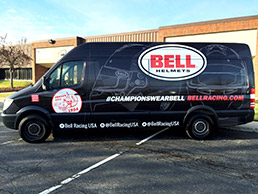 Elemento Graphics can wrap its decals on a vehicle without complicated curves for about $2,500. (Photo courtesy of Elemento Graphics)
"I love racing. It was an incredible career with experiences I couldn't have gotten anywhere else," Sobush said. "But I was looking at it and asking, 'Where do I go from here?' By 2016, I was wearing thin."
Before departing Ganassi, Sobush got lots of experience with large-scale printing. In recent years, Ganassi's need for printing—for its IndyCar, sports cars and NASCAR operation—grew exponentially.
"I dove right in and learned how all the software and everything else worked," he said.
Racing teams have increasingly used vinyl wraps on cars instead of painted color schemes and decals, in part because they are lighter. Wraps can also be produced and installed in about one-third the time and they cost less. That appeals to companies like heating and air-conditioning or plumbing operators that have large, branded fleets
Elemento Graphics can wrap a vehicle without complicated curves for about $2,500.
The company also does wall murals, signs and banners, and floor graphics.
Still into cars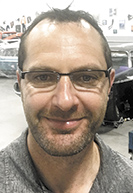 Moore
Steve Moore wanted to leave the hectic world of motorsports, too, but didn't want to stop working with cars.
So the 42-year-old New Zealand native took everything he learned working in open-wheel racing for 20 years and opened The Car Vault in 2015.
"I have three kids and it was time to slow down," Moore said. And while he might still work the occasional 12-plus-hour day, the traveling and seven-day work weeks that he says wear on race teams are no longer part of his life.
Moore worked as a mechanic, chief mechanic and crew chief for driver Paul Tracy and was crew chief on Tony Kanaan's KV Racing team that won the 2013 Indianapolis 500.
So it wasn't a stretch for him to start The Car Vault, which quickly built a reputation as one of the city's premier locations for custom-built cars, engines and restorations. The firm operates out of 8,000 square feet in Brownsburg and is "close to out of space," according to Moore.
"There are so many aspects of motorsports that transfer over to running a business," he said. "And it's not just turning a wrench or swinging a hammer."
"Today's auto racing workers have to be educated and trained. On the mechanics and engineering side, it's completely high-tech, totally computerized with data analysis that requires real precision. On the business side, it's like any other business. You run your team like a hobbyist and you won't be around long."•
Please enable JavaScript to view this content.