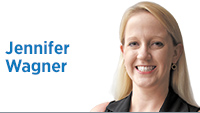 I don't want to read another column about how messed up things are in Washington or the president's social media habits or where the political parties are headed, if they're even still relevant. I don't want to write one of those columns, either.

Instead, I'm going to focus on where things seem to be going right—and how we can seize this moment to do big things on a small scale.

States are sometimes called the "laboratories of democracy," places where lawmakers can try out new policy ideas with limited risk to the nation as a whole. Borrowing that analogy, I'd make the case that local governments are the actual scientists performing those experiments, coming up with new compounds and implementing solutions in a way citizens experience firsthand—for better or worse.

Take New Orleans, where city officials a few years ago created a map of homes that did not have smoke detectors but were likely to be a fire fatality risk based on historical fire data and the age of the occupants. They then targeted distribution and installation of thousands of smoke detectors based on that map. The same year they started the installations, 11 people safely escaped from a house newly equipped with a detector.

What New Orleans accomplished was an early part of the now much broader "smart cities" movement, where municipalities marry technology and data with the interconnected devices that often power our everyday lives.

It's not a new movement, but it's transforming the places we live and the way we live there.

In Boston, for example, drivers can download a free app called Street Bump that collects road condition data while they travel using the accelerometer and GPS tracking in a smartphone. Data is reported back to city officials to help them identify roads in need of repairs. Other cities have started using telematics to make their fleets more efficient by monitoring gas usage, speed and internal diagnostics.

And in Mobile, Alabama, code inspectors used smartphones to inventory the city's 1,200 blighted properties in a little more than a week using Instagram's geotagging feature. The task had previously been considered impossible because records were all tracked on paper.

Here in Indianapolis, we were early adopters of a technology called ShotSpotter, which uses microphones placed strategically in high-crime areas to pick up sounds of gunfire and alert police to a shooting's location via dots on a city map. The company that provides the service went public last month after 16 years in business.

That's the effect municipalities can have on emerging technologies and innovative partnerships as well as in areas like education. Until recently, Indianapolis was the only city in the nation where the mayor could independently charter schools—an ability bestowed back in 2001 when charters were still relatively new.

When it comes to using connected devices to give feedback to city governments, I understand there are some concerns about privacy, and those are important to consider when opening up the flow of information. But we shouldn't let those concerns prevent us from continuing to make the kind of progress we've seen happening at the local level across the United States.

After all, it might be the last place in politics where Democrats and Republicans can get along in pursuit of the greater good. As our Founding Fathers said, government closest to the people is the government that serves the people best.•

__________

Wagner is a lifelong Indianapolis resident and vice president of communications at EdChoice. Send comments to ibjedit@ibj.com.