LST Marketing's website says the company works "to create compelling consumer connections and deliver deep brand interactions that inspire advocacy and create action." Wes Zirkle, who joined the company in August 2016, would like it to say, "We create the best events you've ever been to."

LST is a startup, and Zirkle said some of the events he's working on—primarily sports and entertainment—are still being finalized. But "we're creating some new events this summer that people are going to notice and be really excited about."

Zirkle, a transactional attorney by trade, joined LST after nearly 12 years at Just Marketing International, where he worked on tasks like the purchase of companies and integrating those companies into a larger system. He enjoyed that, he said, but when the owners of LST offered him the opportunity to take the chief operating officer role, "I had to jump at it."

"I love it," he said. "It's everything I thought it would be, including incredibly challenging. But that really is the fun of it. The type of law I was doing, I could do in my sleep, so it's fun to try something I've never done before and try to figure it out in real time."

Since making the move, he said, he's done a lot of observing and learning the business and trying to move the business forward in a way that causes the least amount of disruption.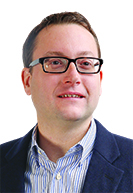 Zirkle

"They know what they do better than I do, so I wanted to be deferential to their business and enhance it," he said. "So maybe my accomplishment is managing to add some discipline and process to the company without turning it upside down. Ask me in a year."•