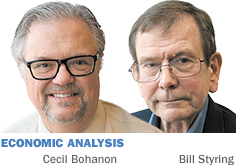 Mitch Daniels shook up the world of higher education when he announced the merger/acquisition/alliance of Kaplan University—a for-profit provider of online education—with Purdue University, Indiana's flagship land-grant school. The idea is that Kaplan's curriculum and coursework can benefit from Purdue academic expertise while Kaplan's online network capacity can give Purdue access to students not inclined to enroll in a residential campus. Many praised the move, while others, most notably Purdue's own faculty, condemned it.
Without getting into the weeds of the actual arrangement, the move should be considered in the context of at least two economic principles: composite goods and division of labor.
The quintessential product a university offers recent high school graduates is a four- year undergraduate degree. But the traditional bachelor's degree is, in reality, a composite of lots of different services. In part, it is access to on-campus classes. Another part includes room and board in a college town. Another part includes on-campus activities, such as preferential (often free) admission to NCAA sporting events.
What online education does is unbundle the undergraduate university experience. It offers classes in an alternative format and dispenses with the residential/social aspects of the college degree. However, this is not a unique aspect of the Purdue-Kaplan arrangement. Many universities have successfully offered online class for years. In fact, Purdue is a Johnny-come-lately to this market.
The production of undergraduate education requires extensive division of labor. In an on-campus setting, the lecturer does not empty the waste baskets, nor does she maintain the internet connection in an online class. Universities that have been successful in offering online education (Full disclosure: Ball State is one of them.) have done so by developing online capacity from the ground up in their institution.
Up to now, this necessary division of labor has been internal to the university. What is unique about the Daniels move is that it constitutes a way for Purdue, which has little expertise in marketing, delivering and managing online classes, to acquire the expertise from a firm that has a lot of experience in the nontraditional market. Daniels' innovation is to "buy" certain inputs to undergraduate education "off the shelf" from another firm.
Will this work? Only time will tell. The absence of buy-in by Purdue faculty members—who are supposed to be providing the expertise to beef up the Kaplan course quality—is problematic. Nevertheless, all beloved hymns were once new—and the same is true about successful organizations.•
__________
Bohanon is a professor of economics at Ball State University. Styring is an economist and independent researcher. Both also blog at INforefront.com. Send comments to ibjedit@ibj.com.
Please enable JavaScript to view this content.