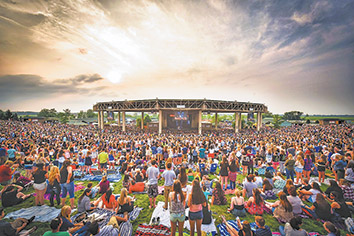 Don't be fooled by the name. Speaker manufacturer Klipsch Group Inc. is no longer the naming-rights sponsor of Klipsch Music Center in Noblesville and hasn't been for almost a year.
The five-year sponsorship deal expired in October 2016, and Klipsch CEO Paul Jacobs said the parties did not renew the agreement.
"It was a very successful run with us," Jacobs told IBJ. "It just didn't fit our future strategy."
Jacobs said the Noblesville venue owner Live Nation Entertainment contacted Klipsch before the beginning of 2017 concert season to get permission to use the name for another year while it searched for a new sponsor.
Klipsch agreed to the request, Jacobs said, because company officials enjoyed the partnership and understood it would be costly and inconvenient for the venue to use a different name for only one season.
"We certainly were not looking to put them through that," Jacobs said.
Hauppauge, New York-based Voxx International Corp. acquired Klipsch Group for $166 million in March 2011, but the company remains in Indianapolis. It has 145 employees, including 74 at its northwestern Indianapolis headquarters and 45 in Hope, Arkansas. Klipsch was founded in 1946 by acoustics pioneer Paul W. Klipsch, and its products today include speakers and headphones for a variety of consumer and professional applications.
A new name for Klipsch Music Center could be revealed later this month. Live Nation announced earlier this week that it will have a "major announcement" on Sept. 27 at the music venue, indicating that a new sponsor has been secured. Live Nation officials have declined to reveal information about the announcement.
Jacobs said Live Nation has not discussed anything with him.
"Hopefully they found a great partner," Jacobs said. "We just wish them luck with it."
The 24,000-capacity outdoor amphitheater opened in 1989 as Deer Creek Music Center and became the Verizon Wireless Center in 2001 under a 10-year sponsorship deal. After the Verizon agreement expired, Klipsch signed the five-year agreement.
The concert venue seats 6,000 in its pavilion area and has room for about 18,000 in the lawn area. Live Nation brought in 35 concerts for the 2016 season, and 34 concerts were on this year's schedule.
The final two shows this season are Luke Bryan on Friday, and Matchbox Twenty and Counting Crows on Sept. 24.
Please enable JavaScript to view this content.