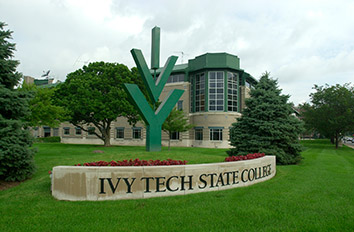 Ivy Tech Community College over the next five years hopes to more than double the number of degrees and credentials it awards annually and grow its enrollment by more than 25 percent, according to the college's new strategic plan.
President Sue Ellspermann told IBJ that Ivy Tech's goal is to increase the number of annual student completions from its campuses from about 21,000 to 50,000 by 2023. And it will seek to grow enrollment from about 94,000 to nearly 120,000 students by 2023.
"That's a big lift," Ellspermann said of the goals, which the college plans to launch next week. "That's what Indiana needs us to do. We have a system that has the capacity to do it. I feel strong agreement within the institution that we want to get there."
At the same time, the community college network plans to shed about 1 million square feet of facilities space from across its 19 campuses, increase enrollment in high-demand programs, and provide wrap-around services to students to help more of them persist through to completion.
Ellspermann said the goal is to "make sure we're helping Hoosiers have the right degrees and credentials to be successful in Indiana's workforce" and to help them "provide good prosperity to their families."
The completion figure is designed to make progress on the so-called "big goal" set by the state to increase its overall college attainment rate to 60 percent by 2025. Ellspermann said businesses are clamoring for workers, and the plan is designed to increase the number of workers available for the estimated 1 million jobs that will be open by 2025.
"I think it's achievable, ambitious, but really important if we think we're going to get to the goal we have at the state," said Teresa Lubbers, Indiana's higher education commissioner, of Ivy Tech's plan.
But Ivy Tech faces a key challenge as it seeks to reach the goal—it's notoriously hard for community colleges to increase enrollment during times of low unemployment rates. With the state's unemployment rate at 3.7 percent, Ellspermann acknowledges that "we know how difficult it is to recruit students when they're already fully employed."
She said the college has a plan to essentially cobble together from diverse populations the new people it will need to graduate each year.
"We have to get lift everywhere we can," Ellspermann said. "We're looking at places that we've never looked really hard before, like the Department of Corrections" to train ex-offenders.
In  addition to the associate degrees and technical certificates the college is known for, Ivy Tech plans to include, for the first time, short-term industry certifications in its annual completion number  The certificates are awarded based on the outcomes of third-party assessments that Ivy Tech trains students to take. That should provide a bump in the completion figure.
Another bump could come from enrollees from Gov. Holcomb's new workforce ready grants program. Lubbers said Ivy Tech and Vincennes University have received close to 15,000 leads from interested people.
More still could come from the increasing number of certificates that Ivy Tech is awarding to students via reverse transfer, a process that takes into account the credits that students earned at multiple institutions.
It's also trying to increase enrollment from targeted groups such as the parents of the state's 21st Century Scholars, who are nearly all first-generation college students.
Ellspermann said most entities spend most of their energy catering to 18- to 20-year-olds, but "we think there's just as much importance on helping that parent who is mid-career find a high-wage, high-demand job and a great opportunity. Chances are many of them would qualify for free tuition."
The college also is planning to grow enrollment in programs where officials know there is demand.
In Ivy Tech's nursing program, Ellspermann said, "we fill every seat on every campus." About 2,000 students take part in that program per year. But budget restrictions on hiring new teachers with master's degrees and limits in the amount of clinical seats for students at hospitals have proven challenging. She said one of her goals is figuring out how to work through those issues.
"We are the biggest machine of quality nursing graduates in the state," Ellspermann said. "If we can find a way to offer more students that opportunity, we have several thousand students on our waiting list."
But there's also a need to graduate more of the students who are already attending Ivy Tech. The college has a low completion rate, with just 7.9 percent of its students graduating on time within two years and nearly 28 percent graduating within six years.
"It doesn't matter how many students you have enrolled," Ellspermann said. "If they're not successful, you're never going to get to the completion number."
To make progress on that number, Ellspermann said faculty and staff are focused on finding creative ways to provide students more wraparound services so that life challenges don't get in the way of finishing school.
However, the plan does not necessarily include a new line item in the budget to make headway on these issues. Instead, Ellspermann hopes that philanthropy, businesses and partnerships come through to expand them.
Ellspermann said for some students, getting a flat tire "is enough for them to drop out."
"These are adults who are experiencing a lot of pressures in their lives and they're trying to go to school," Ellspermann said. "Every campus will have a different grouping [of services,] but we're sharing the best practices."
The strategic plan also notes the institution's plans to sell space or eliminate leases of 1 million square feet of the college's 6.6 million-square-foot footprint. No campuses are planned to be closed.
"We have a bigger footprint than we need," Ellspermann said, noting that the college's space requirements have changed as more students take online classes.
Please enable JavaScript to view this content.