Eight hours a day, Brian Hunter sits behind the wheel of an IndyGo bus, dealing with traffic, weather, passengers and a tight schedule. At the end of a shift, he often feels the temptation to collapse on a couch and put his feet up.
"You do get road weary," he said. "It's easy when you are done to say, 'I don't feel like exercising.'"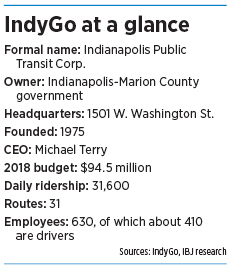 But a few years ago, when his weight hit 296 pounds, Hunter decided to make changes. He began visiting IndyGo's in-house clinic, run by Activate Healthcare, a private contractor. He signed up for wellness coaching with a doctor and nurse, who help him set health goals and review him four times a year for weight, blood pressure, blood sugar and exercise.
Soon, Hunter cut out trips to the convenience store for greasy snacks and began packing more nutritious lunches such as turkey chili and apple slices. Several times a day, between bus runs, he does push-ups or takes a short, brisk hike. After work, before hitting the couch, he does calisthenics and light yoga.
In two years, he has lost 50 pounds and has set his sights on losing another 70.
"I love how things are going now," Hunter, 52, said. "I love the clinic. I'm reaping some of the benefits."
That's the kind of story that makes IndyGo officials give a small cheer, as they work to lower the transit system's health care costs and improve worker fitness. Since starting a wellness program in 2010, IndyGo has seen employee participation climb from just a few, skeptical workers to 97 percent of the workforce.
The agency's loss ratio—or the difference between medical claims and insurance premiums—has dropped from 115 percent to about 70 percent in the last eight years. As a result, its insurance rates have fallen for part of that time.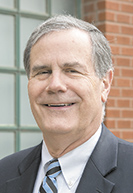 Terry
"Tell me how many other companies have had reductions in health care costs," CEO Michael Terry said.
Figures provided by IndyGo show the average cost for health insurance per employee fell each year between 2010 and 2013—from $12,790 to $10,244 under Anthem during that span. Then costs rose over the next three years (including two years under a different insurer, Advantage), and finally fell again last year, once again under Anthem, to $13,004.
Even so, IndyGo has far to go. Last year, employee prescription costs climbed 23 percent, with diabetes drugs the second-highest category by spending. Compared to national benchmarks, IndyGo's biometric risks "are of great concern around weight management" and blood-sugar control, Terry wrote in a report to the IndyGo board in January.
A few weeks ago, the transit system hired a registered dietitian to coach employees on healthy eating. She will even accompany workers occasionally on trips to grocery stores to nudge them toward the fresh vegetables and away from soda, processed food and salty snacks.
It's a huge, continuous challenge in an industry beset with unhealthy worker habits. Bus drivers and other transportation workers top the list of all occupations for unhealthy lifestyles.
The national obesity rate for transportation workers in 2016 was 40.3 percent, and the diabetes rate was 10.3 percent. Both figures were the highest of any job category, according to the Gallup-Sharecare Well-Being index, based on interviews with 90,000 workers.
Their job—sitting in a bus, fighting traffic—is often aggravated by irregular work hours, working at night, and sleep disturbances, according to a 2016 study in the journal Preventive Medicine Reports.
"It's a very challenging job and career," Terry said.
Premium hikes
IndyGo started its wellness program in reaction to shocking news from its health insurer. Anthem Blue Cross Blue Shield told the transit system in 2010 it planned to raise rates 46 percent, due to the high cost of IndyGo's medical claims. Anthem was paying out $1.20 in claims for every dollar in premiums it took in.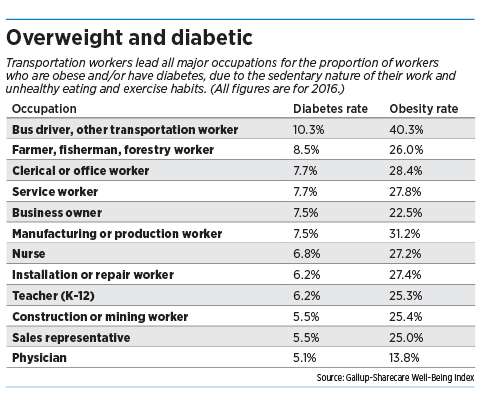 "I sat down with some people from Anthem, and we talked through this," Terry said. "I told them, 'We'll start a wellness program.' And they said, 'OK, we'll only do a 20-something percent increase.' They cut the increase in half, basically."
IndyGo management opened a clinic inside its headquarters on West Washington Street and put incentives in its contract with hourly workers. The deal: If workers would participate in the wellness program, get coaching from a doctor and nurse, and agree to meet certain health goals, IndyGo would pay a higher portion of the employer-worker match, making for an 85/15 split, up from the previous 80/20 split.
Along with the carrot, there was a stick. Workers who didn't participate would have to pick up a bigger share of premium costs, under a 70/30 split.
IndyGo negotiated those provisions in a labor contract with the Amalgamated Transit Union Local 1070 in Indianapolis.
At first, workers were skeptical. Some wondered if the company just wanted to get workers' medical information and fire unhealthy workers, a violation of federal law. Roy Luster Jr., Local 1070 president, said he heard the grumblings.
"New things make people shy away," he said. "And this was new. But the financial secretary [of 1070] and I promoted it. We enrolled in it. We had to assure everyone that what happened in the clinic stayed private."
Over the next few years, the transit system saw more workers sign up and request more help. In response, IndyGo started a wellness garden, a Weight Watchers group, a walk-run group and a basketball tournament. Last year, the transit system even held a 5K for runners and walkers.
Today, nearly all of IndyGo's 630 employees participate in the wellness program, Terry said. That allows them to visit the doctor and nurses for primary care needs, such as exams and chronic treatments.
To maintain their discounts on the health premiums, workers have to take a health-risk assessment, get a biometric screening, and complete four coaching sessions with a nurse.
Re-upping
IndyGo contracts with Indianapolis-based Activate Healthcare to provide nurses, a part-time doctor and other professionals in a 1,400-square-foot clinic.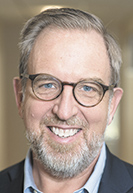 Dunn
"We're delighted with how things are working out at IndyGo," said Peter Dunn, Activate's co-founder and principal. "We have a very high participation rate and strong cost savings. We have a very loyal audience there."
IndyGo's contract with Activate Healthcare expired in 2016, and the transit system threw the wellness program and clinic up for bids.
In a strange turn of events, IndyGo's vice president of human resources and its procurement director recommended changing vendors and entering a three-year contract (with two additional one-year options) with OurHealth, a larger, Indianapolis-based provider of on-site and off-site medical clinics for employers. The change could allow IndyGo workers more options in getting care at sites around town, according to notes prepared for the board.
But in December, the IndyGo board rejected the recommendation and opted to stick with Activate.
IndyGo spokesman Bryan Luellen said that, after discussion with the board, IndyGo management agreed that "the continuity of doctors and coaches was an incredibly important factor," and decided not to risk a change in health providers.
IndyGo's new, three-year contract with Activate costs the transit system about $500,000 a year, and covers staff costs, wellness program expenses, clinic services and expenses for some prescriptions kept on hand in the clinic. 
The transit system said it is working with Activate to find other clinic sites in addition to IndyGo headquarters, Luellen said. That's something that would help workers' spouses and children, who might not want to travel downtown for exams and treatments.
"We want a healthier workforce and families," Terry said. "And we want to control our health care costs."•
Please enable JavaScript to view this content.