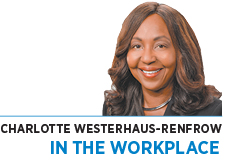 Back in the day, you could bet your bottom dollar that most employees did not discuss three topics at work: sex, politics and religion. Likewise, "We need to talk" were four of the scariest words a worker could hear because what followed was typically a negative performance evaluation or, worse, termination.
Not anymore! Now, workers refuse to leave their controversial opinions in their cars in the employee parking lot. Indeed, some business leaders openly encourage employees to bring their "whole selves" to work. For example, GoDaddy's chief product officer, Steven Aldrich, urges CEOs to build better businesses by supporting their employees' ability to be "authentic at work" and placing "no barriers between what your colleagues see from you at work and what they would see from you if they were your friend outside of work." Additionally, "We need to talk" is the new mantra for workers who openly and regularly share their personal views.
On the other hand, not all co-workers want to hear their colleagues' opinions on extremely personal matters like religion. Being a passionate believer in a religion or staunchly against religion is perfectly fine. Moreover, employers do have an obligation to make a reasonable effort to accommodate employees' faith traditions in the workplace.
But where does an employer draw the line? For example, college basketball might feel like a religion for many Hoosiers. But zealous debates about rivalries among Indiana University, Notre Dame and Purdue teams are not in the same realm of respect as talking about faith and religion. (Disclaimer: I'm an IU grad, and for the sake of maintaining an impartial journalistic context, I listed the universities in alphabetical order. However, if you encounter the "authentic" me at work, the placement of IU will always be first.)
These days, workers talk a lot about politics. According to a 2017 survey conducted by BetterWorks, 73 percent of employees have discussed politics with their co-workers since the 2016 presidential election. So, here's another safe bet: Employee relations go downhill fast, tempers flare and ill feelings ensue when employees utter any of the following three words at work or post them on Facebook: Trump. Twitter. Hillary.
Speaking of Facebook, employees have quick and easy access to co-workers' personal lives and views via Google and social media channels. Should employees steer away from discussing information about colleagues that is publicly available on the internet?
Worst yet, if someone feels intimidated or thinks an employee has created an offensive workplace by discussing details related to sex and religion, that person might have grounds to file a harassment complaint.
Most individuals find it difficult to address tough conversations where the stakes are high, opinions differ and emotions are strong. Our country is more divided than ever when it comes to politics. We live in a salad bowl of religions. The #MeToo movement has necessitated difficult conversations about sexual harassment and misconduct in the workplace.
Therefore, employees want their supervisors to take a stand supporting or suppressing workplace conversations on volatile topics. What should managers do? Should they encourage employees to limit discussion to safe topics like movies, the weather and how much they hate potholes?
Here are some tips to help employees constructively get through those tough conversations.
Have a conversation with yourself. What is the issue? Why is it bothering you? What emotions are attached to the situation?
Listen to what is said. Even if you don't agree, listen respectfully to uphold a level of professionalism.
Listen for what is not being said. Ask open-ended questions to understand.
Be respectful. Try to understand where the other party is coming from—and work to understand and share your mutual work-related purposes, goals and objectives.
Adopt the "Yes, and…" stance. Own and state your own point of view and remain open and willing to hear and accept another point of view.
Use "I" messages. Start your sentences with "I". Sentences that start with "You" sound accusatory and will likely result in defensiveness.
Get help if you need it. Supervisory intervention or an objective third party can help keep a tough conversation from becoming a full-blown conflict.
Tough conversations are often focused on topics employees might not find fun or productive. Employees and managers, however, can and should create a workplace environment that helps all feel comfortable and respected. Everyone wants the tough conversations to end as a success.•
__________
Westerhaus-Renfrow is a clinical assistant professor of management and business law at the Indiana University Kelley School of Business at IUPUI.
Please enable JavaScript to view this content.