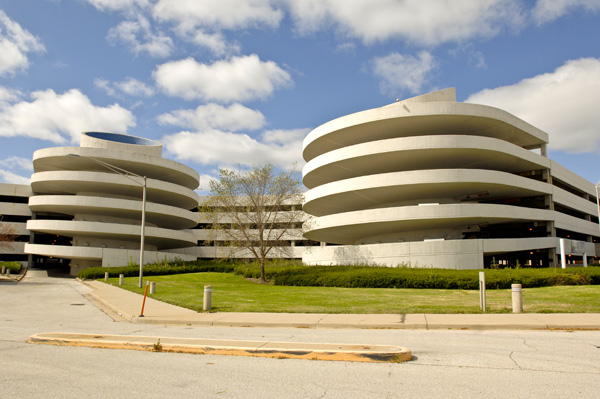 Directors of the Indianapolis Airport Authority have had several opportunities to sell the former terminal property over the past decade but passed—holding out for the right deal that would bring scores of well-paying jobs to the city's west side.
It looks like their patience has been rewarded by IT consulting giant Infosys Ltd., which is scheduled Thursday to announce plans to build a corporate campus on the 125-acre site that's expected to employ about 3,000 people—1,000 more than the company originally said it would employ in Indianapolis.
India-based Infosys' plan to build the tech hub at the airport was confirmed by sources on Tuesday.
The area surrounding the airport over the years has grown into a vast industrial hub, leading to interest in the former airport terminal land from industrial developers, said Mike Wells, president of REI Investments. He served on the airport authority's board for 22 years, including several as president, before leaving in December.
Wells was among the decision makers when the airport replaced the old terminal with a $1.1 billion terminal midfield in 2008. The old terminal wasn't demolished until 2013.
"We could have developed industrial the day we closed the [old] airport," he said, "but we didn't think that was the highest and best use."
Getting to the Infosys announcement, however, hasn't been without its struggles.
In February 2016, the board passed on plans from Las Vegas-based Full House Resorts to build a $650 million casino and retail complex in favor of a proposal from Athlete's Business Network, a startup real estate developer. The Full House plan would have required changes to the state's gambling laws.
ABN's proposal called for a $500 million medical center and sports complex consisting of four medical office buildings, a brain health research center, two hotels and a 20,000-seat stadium.
Following an IBJ report, the company came under criticism for having never built a real estate project and for not providing clear signs it could finance or manage such a huge project, leading the board in March 2016 to reject its proposal.
In a written statement, the authority said then that "we will leave our options open and continue to search for the optimal project that will provide significant benefits to Central Indiana and especially the west side of Indianapolis."
Two years later, the search looks like it's ending with Infosys. At 1:15 p.m. Thursday, Vice President Mike Pence, Gov. Eric Holcomb and Indianapolis Mayor Joe Hogsett are scheduled to join executives of Infosys at its headquarters in the OneAmerica Tower to make the airport announcement, according to a state advisory issued Wednesday morning.
The announcement follows one Infosys made last May, saying it planned to open an $8.7 million tech and innovation hub in Indianapolis that could lead to the hiring of 2,000 high-skill employees by the end of 2021.
Infosys had already started by locating employees at the OneAmerica Tower downtown, but it was always clear the company would need more space.
Thomas Cook, Hogsett's chief of staff, said  the mayor preached patience to the airport authority after the two failed proposals.
"His urging to them, which ultimately led to them pressing the pause button on that process toward the end of 2016, was the mayor's belief that the airport needed to view their surplus real estate as a community redevelopment effort and not an economic development effort," he said.
Abbe Hohmann, president of Site Strategies Advisory LLC, is quite familiar with the site. Directors of the authority hired her last year as a consultant to help review their land holdings best suited for development.
"The airport has been very strategic, in particular with the old terminal site, to have a development plan that would be the source of a lot of good-paying jobs and maybe spawn other activity," she said. "It looks like the Infosys deal will provide that opportunity."
Infosys, which employs 200,000 people around the world, said the Indianapolis operations will focus on technologies such as artificial intelligence, machine learning, user experience, emerging digital technologies, cloud and big data. Infosys clients include key industries such as financial services, manufacturing, health care, retail and energy.
The authority's decision to preserve the old terminal's parking garage, to possibly accommodate a lot of employees, now looks like a wise decision, Wells said.
"We thought it could be instrumental if you got a lot of employees in one place," he said. "It's a home run; it bodes well for the west side, to get an anchor like that."
Please enable JavaScript to view this content.