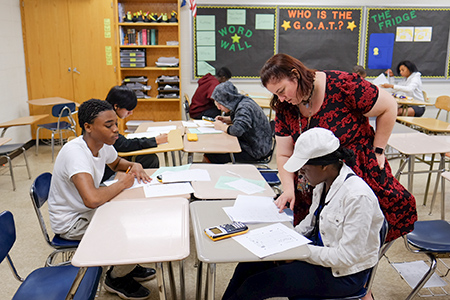 Gina Thompson is living "paycheck to paycheck" teaching at Tindley Collegiate Academy despite recently being named teacher of the year by an Indianapolis not-for-profit.
Tina Ahlgren, a winner of the United Way of Central Indiana's Hubbard Life-Changing Teacher Award, is earning less money now at Indianapolis Public Schools than she would have in the same role nearly 15 years ago because of a simplified salary schedule.
Megan Bilbo took her two master's degrees off her resume because she feared the salary expectations they implied were keeping her from getting a job.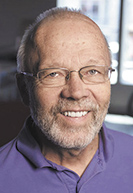 Hinnefeld
These are the realities of some of Indiana's teachers at a time their colleagues across the country—in West Virginia, Arizona, Oklahoma and Kentucky—have gone on strike for better pay, higher school funding and improved working conditions.
Could a strike or walkout happen in Indiana?
"The conditions are there," said Steve Hinnefeld, a former reporter who writes about education policy on his "School Matters" blog. Average annual salaries of Indiana public elementary and secondary schoolteachers dropped more than 10 percent, accounting for inflation, from 1970 to 2017, according to the National Center for Education Statistics.
And Indiana's overall K-12 school funding, and per-student school funding, hasn't yet recovered from the recession when inflation is factored in, according to a 2017 report from the Indiana University Center for Evaluation and Education Policy and a review of past state budgets.
Thompson, 47, said she and most other teachers didn't get into the profession expecting to be highly compensated—"I didn't really have a teacher that was memorable to me and I want to be that for other kids," she said—but she said the low and stagnant pay makes it tough to make ends meet.
Thompson, who in March won the Teachers' Treasures teacher of the year award, earns $48,000 annually. She is more than 20 years into her career.
"I only care because I have to survive," she said. "I struggle a lot. I have a 15-year-old and he grows like a weed. It's supposed to be a prestigious job."
Taking a stand
For now, teachers are weighing their options when it comes to walking out and observing protest events across the nation.
The prospect of striking or marching is complex. One wrinkle is that—unlike West Virginia and some other states—Indiana does not set a salary schedule statewide. Here, teachers' unions negotiate pay district by district.
As a consequence, pay varies widely, even in Indianapolis. IPS teachers who stay in the district for 25 years could earn about $235,000 less over their career compared to one in Decatur Township, just a few miles away, according to a Teach Plus study published in 2010.
There's the pesky fact that striking in Indiana is technically illegal—as well as the question of whether Republican supermajorities in the Legislature, which have instituted a lot of the policies that teachers detest, would be receptive.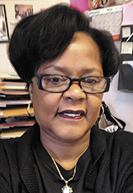 Dunham
"We have to be smart about it," said GlenEva Dunham, president of the Indiana arm of the American Federation of Teachers. "If we walk out, we have to know why we are walking out. It's not anything you play with. You have to know why you're out and what is your end game. You have to be very specific."
Teachers have until January to strategize. The Legislature is adjourned until then.
But when the budget-writing session of the Indiana General Assembly starts, lawmakers will make pivotal decisions about school funding—and, consequently, teacher pay.
"We're going to be watching this next session and see what they offer to education," Dunham said. "If they throw us crumbs, we'll be trying to mobilize."
Teresa Meredith, president of the Indiana State Teachers Association, said Indiana teachers would want to avoid striking if possible.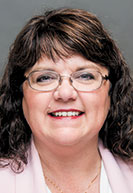 Meredith
"As they build the budget, does it reflect that they're really thinking about what it takes to educate a child and supporting the people who actually do the work?" Meredith said. "Does it reflect their words? If it's followed with a 'but' and their votes don't reflect that, then there may be more actions."
A key state lawmaker said teacher pay is a local issue, and thus is not something the General Assembly will tackle head on.
"I don't see that being a factor," House Ways and Means Chairman Tim Brown said. "That is a local school board decision."
Brown encouraged frustrated teachers to "look at the amount of administration salaries" in their districts, and "if they think there's a problem in their particular locality, then they need to ask some of the tough questions [of their district]."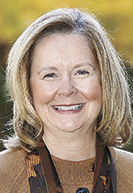 Shelley
But Senate Appropriations Chairman Ryan Mishler, R-Bremen, said he has had several members of his caucus come to him with concerns about teacher pay. He said one idea is to increase existing state teacher-appreciation grants to give teachers "a little something extra" on top of salaries.
Ena Shelley, dean of the College of Education at Butler University, said: "I would really like to challenge the legislators not to do their photo ops and spend an hour in a school, but I would like to see them go into a classroom with no help and leave them for a week and do this job under the same conditions."
Shelley added: "I think a lot of teachers would be hesitant to strike because they know the impact on schools, but at some point things have to change."
Teachers say that, beyond compensation issues, they are grappling with inadequate school funding, a lack of respect from some parents and community members, and increased school-safety concerns. At the same time, they're trying to assist students with increasing social and emotional problems.
"We have more students, more professional development, more meetings, an extended calendar, increased social and emotional needs, increased responsibility to meet those needs, tougher standards, more intense scrutiny," said Ahlgren, 34. "And yet, you have fewer resources, less planning time, less autonomy, fewer bargaining rights, and to top it all off, less pay."
Financial, classroom pressures
Teachers and their advocates say their concerns about pay and working conditions stem from several factors, one of which is that Indiana school and government budgets have barely recovered from the Great Recession.
In 2009-2010, Indiana's spending on K-12 education was $8.46 billion. This school year, it will be $9.45 billion. In inflation-adjusted dollars, current spending is slightly below that of 2009-2010.
Another reason for the discontent is the suite of education-reform policies pushed through by lawmakers and previous Republican governors, starting with Mitch Daniels.
In 2011, the General Assembly passed a law requiring school districts to pay teachers based mostly on the standardized test performance of students. The measure diminished salary increases based on a teacher's education level or years in the profession.
The result of what's happened to salaries is that "there are real concerns about whether people are going to be able to stay in this profession," Meredith said.
Bilbo, 34, a fellow at teacher leadership group Teach Plus, which aims to empower teachers to help change education policy, said many of her friends who are teachers work second jobs.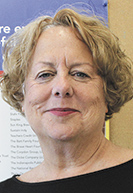 Sheehan
"One of my good friends works at Books and Brews and has taken on other jobs," Bilbo said. "It depends on if that teacher has somebody else they can depend on that brings in a higher salary. Then they're usually in a better spot."
Employees of Teachers' Treasures, which distributes free school supplies to teachers who buy a membership, have seen the growing financial strain firsthand. Executive Director Margaret Sheehan recalled that, in her first year leading the organization in 2014, a teacher tried unsuccessfully to pay the nominal membership cost.
"A teacher wrote a check for $25 and it bounced," Sheehan said. "It broke my heart. I'll never forget it."
Teachers' Treasures has substantially increased the number of teachers it serves in recent years—a reflection, Sheehan believes, of the organization's higher profile but also teachers' tight resources.
In 2000, Teachers' Treasures served 160 teachers. This year, the number was 4,150.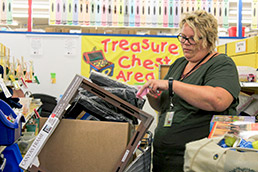 Elisa Wethington, preschool coordinator for East 10th Street United Methodist Church's Children & Youth Center, stocks up at Teachers' Treasures. (IBJ photo/Erica Irish)
One of them is Sara Marshall, who earlier this month was at Teachers' Treasures' 10th Street warehouse picking up an entire carload of supplies for new teachers at TNTP, formerly known as The New Teacher Project.
Those soon-to-be official educators will teach summer school before they officially start their jobs in the fall—and they don't get their first paycheck until August.
"Any extra resources, they don't necessarily have," said Marshall, who referred to the warehouse as "her haven." "The kiddos don't always bring what they need."
Teachers say it didn't help that, in 2009, in the midst of the Great Recession, Gov. Daniels cut Indiana's education budget by $300 million, or about 3 percent.
According to the 2017 IU Center for Evaluation and Education Policy study, schools have yet to make up the lost ground. On an inflation-adjusted basis, per-pupil spending fell from $6,402 in 2009 to $6,181 last year.

Districts wanting to raise additional money have had to pass referendums to raise taxes. Since 2011, 76 percent of education referendums have passed, according to Purdue University economist Larry DeBoer, including all 12 attempted this May.
"Everything has become dependent on referenda," Ahlgren said. "Most aren't planning some massive construction project. They're trying to pay their teachers a competitive wage. They're trying to just keep the lights on. That definitely makes it challenging."
Kreg Battles, a Democrat representing Vincennes who served in the Indiana House from 2007 to 2014, said teachers' problems result from "a tsunami of policy decisions that were made" during his time in the Legislature.
"It's been a pileup of cuts in funding that we're just now barely getting back to where we were; it's been a lot of anti-teacher and anti-bargaining positions taken by the Republican Legislature and it's just frankly led to this," Battles said.
Brown doesn't see it that way. Education is the No. 1 priority for the Legislature, he said, and accounts for 52 percent of the state budget.
He said the state is "only able to appropriate what is available." He said investments have to take into account "what we can afford as a system."
Social problems and safety
Teachers also are grappling with classroom fallout from increased student poverty and socioeconomic challenges.
Shelley, the Butler College of Education dean, said: "Classrooms today are more complicated than I've ever seen them."
"The children come through the front door with many things in their backpack they didn't put there on their own volition," she said. "Children come to us facing a lot of adversity, whether that is hunger, poverty, a disruptive family situation, living in high-crime areas, not getting enough sleep. All of that comes through the door every day."
Then there are the hard conversations about school safety in light of the recent school shootings in Parkland, Florida; Santa Fe, Texas; and nearby in Noblesville.
Those events have shaken teachers up, Bilbo said.
Bilbo, now a teacher at Mount Vernon Community Schools, until recently taught at Noblesville High School, in the same district where the shooting occurred. She said "teachers are having a really hard time processing the entire event."
"I do think, in general, people are thinking to themselves whether this is truly worth it," said Bilbo, who categorized the general refrain from teachers as: "This is not why I got into teaching."
Shelley said Butler education students have been asking her about school safety.
"The question came up of, 'I've always wanted to be a teacher, but I never thought I would be asked to consider having a gun or having to shoot someone,'" Shelley said.
"I think we need to be really aware and thoughtful about how that is impacting who might go into the profession and who might stay in."
Playing the strike card
If Indiana teachers were to strike, school districts probably would not fire them en masse, since there's not a large backlog of teachers who'd be clamoring to take their place, said Kenneth Dau-Schmidt, the Carr professor of labor and employment law at Indiana University Maurer School of Law.
"If you make the working conditions bad enough, they can and will strike, even if it's illegal," Dau-Schmidt said. "If the teachers left, the school boards theoretically could fire them and try to replace them. They could've done that in West Virginia. They could've done that in Oklahoma. It would disrupt the school districts for years to come. It's not a very good solution for employers."
Hinnefeld said what would be a more likely scenario in Indiana would be a "one-day sick-out," where teachers would call in sick for a day.
"It's not a strike, but they're staying home to get your attention," he said. "Indiana tends to be a conservative state. People tend to be cautious and that's true of teachers just as much as someone else."
That's not to say the states where teachers have recently rebelled are liberal—most are Republican-heavy. But even then, labor strikes come more naturally to some places.
For instance, Hinnefeld said conservative West Virginia has a rich history of labor activism.
"I was just imagining that a lot of these teachers are maybe daughters and granddaughters and nieces of coal miners who used to routinely strike," Hinnefeld said. "Strikes and job actions weren't a real foreign concept if you grew up in West Virginia."•
Please enable JavaScript to view this content.