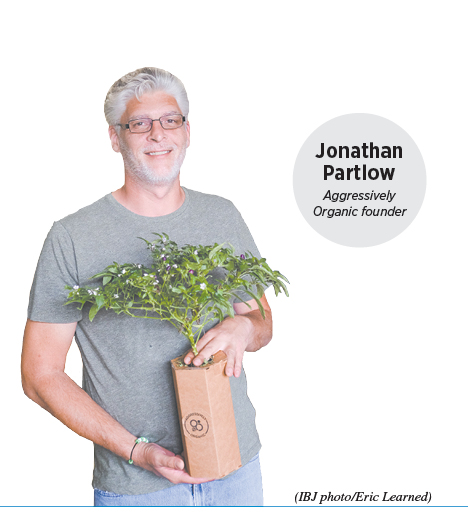 Jonathan Partlow is founder of Fishers-based ag-tech company Aggressively Organic, a company focused on ending food insecurity by innovating agricultural practices.
Aggressively Organic sells plants in micro pods that can be grown anywhere, producing fresh fruits and vegetables, such as kale, basil and strawberries. The plants—which are sold as a Victory Garden set and live in a growth medium with a nutrient solution—need only to be watered every few weeks. The kits even come with growing lights.
The company recently moved from co-working space at Launch Fishers to its own office at 9160 Ford Circle Drive in Fishers.
Where did the idea for Aggressively Organic come from?
I was in a master's class at IU and skipped class with my buddy, who was also in the class, and we went and saw a gentleman by the name of Will Allen out of Wisconsin, a brilliant gentleman who was talking about feeding people and urban farming. … He was composting the waste from landscaping, composting and turning it into dirt and had worms turn the dirt into a growth medium for the plants.
I was like, "That's awesome." I started looking at it and said, "OK, what if we can do that?"
You want to end food insecurity. How is your company doing that?
This was inspired by kindergartners. It was actually inspired by teachers. A kindergarten class here in Fishers took and grew 130 of these systems for their STEM project. When they were done, we picked them up and we donated them to a food bank—and that would be an awesome thing if that's where the story ends. But that's not where the story ends. The food bank then harvested off those same plants for 10 weeks. … That inspired us. So, with every Victory Garden purchase, we grow one and we'll give it to a food bank.
Where are the most unique places you've heard people are growing your plants?
Under tables is interesting. RVs we've had, boats we've had. Sunrooms, laundry rooms, basements. Office desks—people are growing them on their office desk. Multiple people are now getting their coworkers and they're all picking different stuff—and what's interesting about that is that people are walking by and harvesting off each other's plants. But something even bigger is happening: They're talking to each other. Because, in an office, in a cubicle, sometimes you get locked in. That sense of community is fascinating to me.
I don't exactly have a green thumb. Are the plants for me?
It's designed so that a 5-year-old can do it. We are very, very proud of the fact that we are reforming serial plant murderers. That is part of the thing because [even for] people with a black thumb, you can't kill them. If you just simply follow our instructions, you just can't kill them, which is why we don't outsource support.
But if you do kill them, we have [a] pretty straightforward, no-B.S. guarantee. First guarantee: You can't kill them, but if you're having an issue, we'll support you. We'll jump online with you and troubleshoot. If you're close, one of us will personally come out and bring you a living version of the plant that you can't grow. Or if we have a farmer that's close that's already having great success, we will pay them to come and bring you a version. If all of that fails, we will give you your money back.•
Please enable JavaScript to view this content.