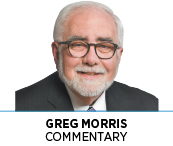 Should the feds roll back future auto emissions standards?
That's the debate question in this issue of IBJ's Forefront. Forefront is IBJ's bimonthly publication of thoughtful conversation about politics, policy and government. Check out this issue and future issues to stay in the know on important topics of interest.
Forefront's debate question is designed to present opposing opinions about a particular issue. Our two writers this week do an excellent job of framing their opinions of whether the Trump administration should roll back future auto emissions standards.
One viewpoint is offered by Jesse Kharbanda, executive director of the Hoosier Environmental Council, Indiana's largest environmental organization. Kharbanda makes a compelling case for standing up for the continued modernization of our national fuel-efficiency standards, which stipulate the miles per gallon a given manufacturer's car fleet should average. He points out a 2012 EPA proposal would lead to a near doubling of fuel efficiency of our cars by 2025. But the EPA under the current administration has proposed freezing any changes in those standards beyond 2020.
Kharbanda points out that, for a city like Indianapolis, freezing those standards matters a great deal. When we stop industry-wide progress in how many miles we get from a gallon of gas, we also likely stall progress in reducing car exhaust emissions and that's not good for our growing city, which the American Lung Association says is the 13th-most-polluted in the country.
Another viewpoint is offered by Mitch Bainwol, president and CEO of the Alliance of Automobile Manufacturers, the leading trade association representing automakers selling new vehicles in the United Sates. Bainwol is a strong advocate for market-driven government policies to advance an innovation agenda.
He notes that automakers support continued improvements in fuel economy and that their commitment has not wavered. Bainwol points out that consumers can go to dealerships in their neighborhood and select from about 500 models that achieve 30 miles per gallon or more on the highway. There are 45 hybrid-electric models and another 50 plug-in electric and hydrogen-fuel-cell vehicles available.
Bainwol and automakers expect that fuel economy will keep rising. But what is a reasonable pace of change? And future standards should align with what consumers want to buy. With gas prices today lower than what was projected in 2012, consumers are buying more SUVs and pickups, bigger engines and fewer alternative powertrains like electric vehicles.
I agree with Kharbanda that we should continue to work on improving our gas mileage and reduce exhaust emissions in our city. It's good for those of us on this earth now and for future generations. And there's no doubt that reducing our dependence on foreign oil is good for the security of our country.
However, I also agree with Bainwol that the process, or journey, should be market-driven. I'll support whatever vehicle you would like to drive. And if I want to drive my 3.5L V6 EcoBoost engine Ford Explorer SUV, then I expect the same support. The gas mileage is better than my previous vehicle.
If, however, the government wants to mandate that I drive the vehicle of its choosing, I'll fight it to the grave.
Whatever your opinion, please tell us what you think on this or any other issue. As always, thanks for reading IBJ.•
__________
Morris is publisher of IBJ. His column appears every other week. To comment, send email to gmorris@ibj.com.