Facing shrinking tax revenue, Mayor Greg Ballard believes businesses can pick up much of local government's slack—either
voluntarily or by contract—when budgets are slashed.
His management philosophy is now being tested in the
Indianapolis Parks and Recreation Department.
Last month, the city formally requested private-sector ideas on
how Eagle Creek Park and Riverside Regional Park each could cut costs and generate more revenue.
The so-called
request for information detailed both parks' underused facilities, such as their retreat centers, marinas, and the Major
Taylor Velodrome. Ballard, a Republican, wants businesses to operate and possibly upgrade them. If the effort is successful,
he'll repeat it in other city parks.
Meanwhile, the city is addressing some of its parks' basic
infrastructure needs by taking a page from the philanthropic playbook—or perhaps former Mayor Stephen Goldsmith's
privatization textbook—pitching repair and replacement projects to local corporations as charitable opportunities.
Last week, for example, Ballard joined employees of locally based cell phone distributor Brightpoint Inc. to celebrate
completion of its annual Week of Caring event. In previous years, Brightpoint employees rolled up their sleeves for not-for-profits
like Habitat for Humanity. This year, they spent their week restoring the 21-acre Watkins Park.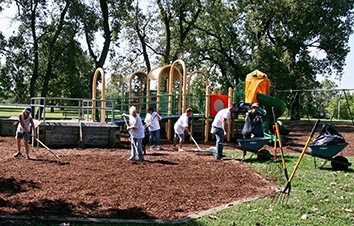 Employees of Indianapolis-based Brightpoint
Inc. spent a recent week making more than $100,000 in improvements and upgrades at Watkins Park at the intersection of Fall
Creek Parkway and Dr. Martin Luther King Junior Street. (Photo Courtesy Indy Parks & Recreation)
It's an
approach born of necessity. Ballard has cut all of Indianapolis government's budgets—outside public safety—5
percent in each of the last two years. He plans another round of 5-percent cuts for 2010.
"New revenues
through partnerships and more efficient use of assets is basically gravy, if you're a department head," explained
Michael Huber, Ballard's director of enterprise development. "In 2010, we're confident we'll get hundreds
of thousands of dollars in value. And once we [completely] roll out the program, it may even be low millions."
Deferred maintenance
Indianapolis has 11,140 acres of public green space
in 206 parks. It also has 232 athletic fields, 126 playgrounds, 121 tennis courts, 58 miles of greenway trails, 21 aquatic
centers, three dog parks and a velodrome. In 2007, Democratic Mayor Bart Peterson's last year in office, the city budgeted
$25.5 million for the parks department's operations.
Ballard's proposed parks budget for 2010: $21.8
million, or $3.6 million less.
And that's just the tip of the iceberg. Indianapolis has a long list of
"deferred maintenance" capital projects in its parks that Indy Parks Director Stuart Lowry said add up to $100
million. But it's a fuzzy figure because the Ballard administration isn't certain every listed project is actually
necessary.
For example, Lowry pointed to a bridge repair at Eagle Creek whose original price tag was $700,000
for complete replacement. Instead, Ballard's team engineered a cheaper solution for the pipe at the root of the problem.
Rather than completely unearth it, Eagle Creek retrofitted the pipe's interior with a durable sleeve similar to a stent.
Final cost: $150,000.
"Our push really is, wherever we can make smart choices, that's what we're
doing," Lowry said. "Sometimes on simple things, but that was over a half-million-dollar savings."
At Watkins Park during the week of Aug. 24, 125 Brightpoint employees donated 1,200 hours of work. Outdoors, they mulched,
trimmed and planted. They also cleaned carpets and installed new kitchen appliances in the park's community center.
And they created both a computer lab and a new fitness center. Brightpoint also organized nearly a dozen other companies'
in-kind donations for the park on Martin Luther King Jr. Street at 24th Street.
Ballard's press release
touts Brightpoint's contribution as worth $100,000. But Lowry said its actual impact is even greater. Among other improvements,
Brightpoint transformed an unused tennis court into a basketball court, which the parks department expects to be far more
popular with neighborhood kids. The bonus: Lowry can now erase $140,000 in deferred maintenance for that tennis court from
his list.
He hopes to replicate those results throughout the parks system. Lowry's already attracted a
handful of other corporate volunteers. In January, for example, employees of locally based Citizens Energy Group donated 1,600
hours to Brookside Park Family Center at East 16th Street and Sherman Drive, making $50,000 in improvements. The effort honored
Dr. Martin Luther King Jr.'s birthday and was tagged "Sharing the Dream."
Also this year, locally
based Shiel Sexton Co. sponsored a baseball diamond at Hawthorne Park near West Washington Street and Belmont Avenue, Lowry
said. And Ivy Tech Community College has taken over cleanup, maintenance and improvements of Barton Park on Capitol Avenue
near 23rd Street.
Expect more public-private parks partnership in the second half of Ballard's term.
"We just want to get the model started and get it started right to see what return we can get for the taxpayers,"
Lowry said.
Don't tell Brightpoint President Mark Howell the parks department is getting all the upside
in their deal. He said the company's annual Week of Caring pays real business dividends. For starters, it signals Brightpoint's
ethics to the giants in the cell phone industry, like Nokia, Sprint, T-Mobile and Motorola.
It's also
a "huge morale builder," Howell said, creating an opportunity for Brightpoint executives to work shoulder to shoulder
with folks from its warehouses. And it creates a healthy internal rivalry, he said, as departments strive to outdo one another
for each year's philanthropic cause.
"I was just unbelievably amazed at how well the partnership
between the city, Indy Parks and Brightpoint went," said Howell, whose company has 1,500 local employees. "In
terms of public-private partnerships, this was seamless."
Parks as profit centers?
What businesses won't do voluntarily Ballard's administration hopes they'll take on for
a solid profit opportunity.
The city's request for information—developed by locally based Venture
Real Estate Services and released Aug. 19—sets broad parameters for privatization of parks facilities. It puts every
venue inside Eagle Creek and Riverside on the block for private management. (except the golf courses, which already have private
operators).
That could mean new management of marinas, billboards on the Major Taylor Velodrome and a formal
business plan for Soap Box Derby Hill soon.
Lisa Leming, the parks department's senior manager of revenue
facilities, doesn't expect to formally divest any assets—just their operation.
"Back when Mayor
Goldsmith was here, we did put a lot of stuff out for bid," she said. "Then we took a lot of things over. We're
putting a lot of things now back out."
If the Ballard administration is successful, the intermingling of
business and local government won't stop with parks.
Huber, the mayor's enterprise development director,
said the same strategy can be applied elsewhere. He said neighborhood groups, for example, regularly approach the mayor's
office about taking over infrastructure and beautification projects that once would have been paid for with tax dollars.
Under Ballard in the days to come, businesses will increasingly organize and fund such efforts.
"As
I've said to [neighborhood leaders] many times, it's not an advertising thing. We're not trying to make
public spaces look like NASCAR," Huber said. "But we do see a future in which corporations make contributions.
We should be able to present an entire menu of projects that are achievable and can really help the city."
Cathy Burton, president of the Marion County Alliance of Neighborhood Associations, said she's open to greater corporate
involvement, but wants to make sure government retains strict oversight.
She said she doesn't want Ballard's
administration to become a replay of Goldsmith's.
"When there was a move toward privatization before
[in the 1990s], I do not believe it was well-handled. Some private contractors didn't perform work, but were paid, anyway,"
Burton said. "I think they were letting the fox watch the henhouse."•
Please enable JavaScript to view this content.