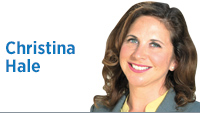 You have undoubtedly heard people questioning the integrity of Christine Blasey Ford and the veracity of her testimony about Brett Kavanaugh. The most-often-cited rationale I hear for their lack of trust in her is that she waited years to report her assault.
Your opinion on judicial appointments is yours to express, but please be mindful that your words and attitude as they relate to victims of sexual violence might have impact beyond just this case.
For some years, I have been working to help prevent sexual assault and to better support survivors. What I have not discussed much is that I was inspired by a terrible, sexually violent incident that a friend experienced at a party, even before she started high school.
Nationally, one in five women will experience sexual assault in her lifetime. How we respond to Ford and discuss her case could discourage today's victims of sexual assault from reporting.
Growing up on Lake Michigan, it seems like there wasn't a Saturday night without a group of teens drinking on the beach or in someone's basement. It was the summer between eighth grade and freshman year when my friend's life was forever changed. She had tagged along with her big sister to a party of older kids. It didn't take much for her to over-imbibe; she was skinny, completely inexperienced with drinking alcohol, and facing a great deal of peer pressure.
Passed out in a bedroom, she woke up when the party host was brutally penetrating her. She didn't tell her sister because her rapist was her sister's boyfriend. She didn't report to her parents or law enforcement because she didn't want to get her friends at the party (and honestly, herself) in trouble for underage drinking.
If you want to know why young victims don't always report when they are assaulted, consider some of the research available. In 2014, the IUPUI School of Global Public Health Communications completed a study directed by John Parrish-Sprowl of just this issue as it relates to victims. We learned a great deal from their findings.
For example, at least two-thirds of the time, the young victim likely knows her assailant well, which brings a set of complex problems. Often, if an assailant is a parent or caretaker—such as Mom's boyfriend—young victims can fear being removed from their homes. They might not want to face various forms of retaliation at church or athletics from empowered adult perpetrators, or they might mistakenly believe they will be expelled because their school has a zero-tolerance policy for sexual activity.
These incidents come with tremendous social pressures and nuances for young people who approach life very differently as teenagers than they will as adults. And so there are many reasons people fail to report. We must not add to the list by denigrating those who do.
Today, as I wonder what my friend is thinking about the vitriol expressed by some toward Ford, I can't help but feel gratitude for a Republican man, Jim Merritt, who partnered with me to eliminate one of the reasons my friend did not report her assault so many years ago. Together, we helped pass legislation to broaden the state's Lifeline Law to indemnify underage drinkers who imbibe at parties where an assault is reported.
We all have an interest in setting politics aside to get the right things done for people. And we all can contribute to a culture that is supportive of victims.•
__________
Hale is a former member of the Indiana House and ran for lieutenant governor in 2016 on the Democratic ticket. Send comments to ibjedit@ibj.com.
Please enable JavaScript to view this content.