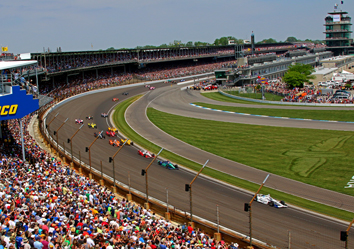 Financial services firm Gainbridge has reached a multiyear deal to become the presenting sponsor of the Indianapolis 500, race officials announced Thursday.
Gainbridge, an online annuity and life insurance agency, will replace PennGrade Motor Oil, which signed a three-year contract in 2016 to become the very first presenting sponsor for the race. PennGrade, sold by Lebanon-based D-A Lubricant Co. Inc., decided not to renew the contract.
This year's 103rd running of the race, scheduled for May 26, will be called the Indianapolis 500 presented by Gainbridge.
Officials did not disclose the financial terms or the exact length of the contract. PennGrade paid about $5.2 million for its three-year deal, sources told IBJ in 2016.
Gainbridge is a new division of Group 1001, an Indianapolis-based insurance holding company previously known as Delaware Life Holdings.
Indianapolis Motor Speedway officials were scheduled to make the sponsorship announcement Thursday afternoon at an event attended by Indiana Gov. Eric Holcomb, Hulman & Co. CEO Mark Miles, Group 1001 CEO Dan Towriss and IMS President Doug Boles.
Gainbridge sells its products in Indiana, Illinois, Massachusetts and New Jersey, but is planning to use the association with the Indy 500 to gain more brand recognition during a national launch.
"We welcome Gainbridge to this new partnership with 'The Greatest Spectacle in Racing,'" Miles said in written comments. "Gainbridge offers a bold, new path to fast and steady growth, and we're honored that the platform is being launched through this association with the Indianapolis 500—an exciting global event with a rich history and a bright, dynamic future. It's a perfect fit."
Group 1001 has combined assets under management of about $36 billion. Its brands include Gainbridge, Delaware Life, Relay and Clear Spring.
The company sponsors the Andretti Autosport car driven by Zach Veach in the IndyCar Series.
It also is the presenting sponsor of the Indy Women in Tech Championship LPGA tournament at Brickyard Crossing Golf Course.
The deal is the second big sponsorship locked up by IndyCar officials this month. On Jan. 15, the IndyCar Series named Japanese information technology and communications firm NTT as its new title sponsor.
Please enable JavaScript to view this content.