Lawmakers are set to consider an omnibus alcohol bill meant to address a variety of issues in an attempt to make it easier for communities to attract restaurants, breweries and wineries and for businesses like wine-and-canvas studios to serve wine.
The proposed legislation—authored by Rep. Ben Smaltz, R-Auburn—would also create a special food hall permit meant to benefit the $300 million Bottleworks development that is under construction at College and Massachusetts avenues.
A similar provision died at the end of the 2018 session. The issue is even more pressing this year, as the 30,000-square-foot food hall is expected to open next summer.
"We need to make sure as the state legislature that we're not getting in the way of a unique opportunity for the city to grow," said Rep. Justin Moed, D-Indianapolis, who is a co-author of House Bill 1518.
The House Public Policy Committee, which Smaltz chairs, is to discuss the bill Wednesday afternoon.
Addressing the cap issue
Most of the problems HB 1518 seeks to address stem from the state's existing quota system, which caps the number of alcohol permits a community is allocated based on its U.S. Census population.
When a community hits its cap, the only way a business can obtain a permit is to purchase an existing one from a current permit-holder. Privately-sold alcohol permits can cost $25,000 to $90,000, depending on the community. The state typically charges $1,000 for a new permit.
"The local officials hands are tied," said Brian Gould, government affairs director for AIM, the association that represents Indiana cities and towns. "You wait for the next Census hoping your numbers have gone up enough."
Fast-growing cities and towns that have seen significant increases in population years ahead of the next Census have repeatedly sought—and won—relief by convincing lawmakers to pass special legislation giving them more permits. 
Several central Indiana communities have also taken advantage of Riverfront Redevelopment Districts, which law allow an unlimited number of liquor licenses within 1,500 feet of a buildable river bank. As of July 2018, there were more than 250 active riverfront districts that qualified for permits. 
Smaltz said the goal is to get away from passing special legislation on a case-by-case basis and give more power to local officials to make decisions.
"I don't think it's fair for me to say what's good for Benton County," Smaltz said. "I may have only been there once."
The bill would get rid of the riverfront districts—but grandfather in the existing alcohol permits—and instead allow cities and towns to create "entertainment revitalization areas" that could be drawn anywhere and have receive alcohol licenses.
Voters would have to approve the district and the additional permits in a referendum. The number of new permits in the district would be 25 percent of the community's existing quota, with a minimum of five new permits, and the number would round up. For example, if 25 percent of a community's existing quota is 5.4, the entertainment revitalization area could receive six new permits.
Smaltz said the proposal essentially expands on the idea of riverfront districts, without requiring communities to have waterways.
"They should be able decide their own destiny, their own direction, what they want to do," Smaltz said.
Already, some cities have taken advantage of the vague definition of waterway in the existing law. Greenwood, for example, recently established a riverfront district along Pleasant Creek, Pleasant Run Creek and Jolly Brook, which in some places is not wider than a drainage ditch.
Gould said AIM appreciates that the bill gives more control to local officials, but the group opposes the referendum requirement. Instead, AIM prefers the decision be left to locally elected officials only.
Gould said that's in part because the referendum process can take months, which could delay projects, and voters may not say yes. But he said AIM does support putting limits on the number of permits.
"We really appreciate that the Legislature is addressing this," Gould said. "What we're currently doing is not working."
No more permit squatting
The other way the bill tries to tackle the ongoing permit shortage is by limiting how long owners can hang on to permits they are not actually using to wait for high demand and low supply. That allows owners to sell the permits at a high price.
"It's permit squatting," Smaltz said. "They can control the competition."
The bill would allow an owner to hold an unused permit for up to three years and, if needed, request an extension from the local Alcohol and Tobacco Commission to explain why an extension is needed.
Moed said that provision will likely be one of the most contentious parts of the legislation.
"We want to make sure they're using" the permits, Moed said.
Gould said limiting permit squatting would help ease the quota issue, but only in the short-term, which is why the entertainment district is still an important component of the bill.
"They complement each other very well," Gould said.
The legislation would also require the ATC to track sales and publish the prices in a public database to try to shine a light on the private market.
Food hall permit needed
Another key component of the bill would benefit the Bottleworks project under development at the former Coca-Cola bottling plant property on the east end of Massachusetts Avenue.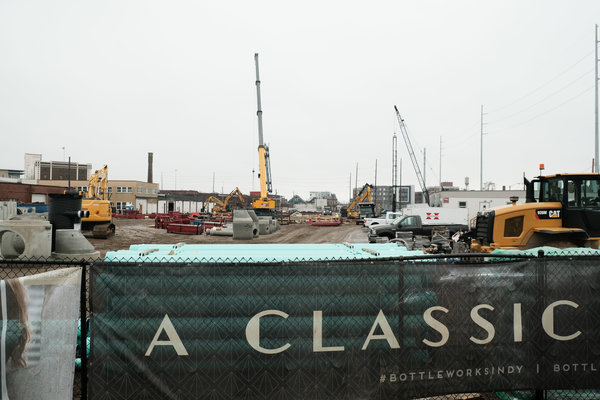 The development by Hendricks Commercial Properties will span 1.2 million square feet and include apartments and condos, as well as office, retail space, a 150-room West Elm hotel and an upscale art-house movie theater.
The food hall is expected to feature a variety of small places to eat and drink as a way to highlight new and upcoming chefs in Indianapolis.
The bill would create a food hall three-way alcohol license for an initial fee of $100,000, plus one-, two- and three-way sub-permits for $25,000 for the vendors in the food hall. (Three-way permits allow retailers to serve beer, wine and liquor.) The food hall permits—and the sub permits—would not be considered as part of a city's quota limit, which Smaltz acknowledges could upset some restaurants that paid hefty prices on the secondary market under the cap system.
Moed said that must be considered.
"I think we do need to be sensitive to making sure we're not giving too much favoritism to an opportunity, but at the same time, you know when there are these kind of once-in-a-decade opportunities for a development project, we need to be willing to think outside the box to try and help make sure it's successful," Moed said.
Isaac Bamgbose, vice president of Hendricks Commercial Properties LLC, said comparing the food hall licenses to regular licenses is like comparing apples and oranges.
"Unlike typical permits, they aren't going to be transferable," Bamgbose said. That means an eatery serving alcohol in the food hall couldn't take its sub permit with it to another location.
Bamgbose said that makes the permit much less valuable to the food hall vendors, because it's not an asset they can sell.
Other restaurants "have that permit they can sell to somebody else or take it with them," Bamgbose said. "It's truly an asset. At the food hall, you don't have that."
He said Hendricks would support a lower price for the food hall permit, so the developer can make the sub permits more affordable for entrepreneurs. Smaltz said he's in the process of negotiating with Hendricks.
Bamgbose said if the bill doesn't pass this year, it would cause problems for the proposed food hall.
"We'll have to revisit the drawing board," Bamgbose said. "It would not be a good outcome."
Smaltz said he's optimistic that the Legislature will pass something this year so Hendricks doesn't run into timing issues. 
"They're going to invest a lot of money into a dinosaur property with a pretty cool concept," Smaltz said. "I want to get it done for them."
Other solutions still working
Even though the bill is meant to be a solution for the cities and towns that have struggled because a lack of available alcohol licenses, the Legislature's past fixes may have decreased interest in this year's bill.
Noblesville, which took advantage of creating a riverfront district in 2015, isn't closely watching the legislation. Deputy Mayor Steve Cooke said the city authorized a total of 20 permits for its district and still has a handful available. So he said Noblesville wouldn't need to create an entertainment district.
Fishers paid for a special census in 2016 to update its official population and also received an additional four permits under legislation approved in 2016. Fishers aren't lobbying for more changes this year.
The bill is on Whitestown's radar, though.
"Although we are in pretty good shape at the moment when it comes to liquor licenses, we have a lot of growth happening right now and in the immediate future," Whitestown spokeswoman Tanya Sumner said.
Sumner referenced multiple projects in the works, including the 300,000-square-foot retail development by RealtyLink, Gershman Partners' roughly $200 million proposed mixed-use development that would be near a new Interstate 65 exit and Little League International's Central Region headquarters.
"Not having enough liquor licenses will inhibit our ability to attract new restaurants around those areas, so we want to make sure we have enough to keep up with our continued growth," Sumner said.
Please enable JavaScript to view this content.