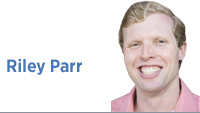 A few days ago, AOC (that's Rep. Alexandria Ocasio-Cortez, but even her Twitter handle is AOC, so that's what we'll call her) took to Twitter to express her, quite literal, righteous indignation with Sarah Huckabee Sanders' admittedly unpoetic comment about leaving climate change to the man upstairs. That exchange, though, underscores a bigger issue: Conservatives cannot let the left define what it means to be a conservative.
I read an article recently on RealClearPolitics that argued, to legitimately compete for the support of those under 30, Republicans and conservatives must respond to consumers' changing media preferences.
It doesn't take a government-funded study to figure out that many Americans, let alone people my age and younger, don't get their news from traditional sources like newspapers, magazines or even cable television. It's from social media, and increasingly, by streaming comedy shows vaguely disguised as news: Jon Stewart, John Oliver, Bill Maher, Jimmy Kimmel. You get the picture. One thing all of them have in common: Republicans frequently serve as their favorite punching bag.
The problem isn't that those shows exist and draw large audiences; it's that nothing exists in the mainstream that provides any sort of counterbalance. As a friend of mine pointed out, folks like Steven Crowder and Ben Shapiro could fill that void, but their media influence is essentially limited to those who already know of their existence. One might optimistically hope that HBO is on the cusp of offering one of those two their own show. I wouldn't hold your breath.
Conservatives deserve their share of the blame, as we often do ourselves no favors when trying to gain converts. Many of us assume the benefits of a limited federal government and basically letting people choose how to live their own lives should be obvious. Guess what? They aren't.
Part of that challenge, no doubt, comes from the inherent differences between conservative and liberal policy positions; seeming to solve a concrete problem right now has a great deal of appeal. "If we pass a minimum wage increase, this family right here will have $X more per week!" "If we had universal government health care, this person, the one standing right next to me, could afford the life-saving treatment she needs!"
When conservatives oppose such policies, translated through the doublespeak and newspeak of late-night comedy shows and charismatic progressive politicians, the public perceives conservative and Republican policies as cold and uncaring.
Such critiques often take the form of moral imperatives: Additional government programs are not simply the correct way to help improve people's standard of living, they are also the only moral means.
In the context of fiscal policy, the left loves to trot out the "trickle-down economics" line and chastise those who support right-of-center fiscal policies as not merely misguided, but bad. Those who think people should keep more of their own money because individuals are infinitely better-positioned and -informed to make important decisions about how to structure their lives are moral condemned. Expanding government's reach and involvement represents the only righteous path for a 21st century people.
The paradox of the left is that, in reality, its adherents are the proponents of trickle-down ideology: trickle-down bureaucracy—the mistaken belief that some alphabet-soup agency should handle life's difficult and intimate decisions. From this vantage point, "too much government" never exists, because challenges and problems will always exist that government must solve.
In turn, conservatives must find innovative ways to reveal to a rising generation what the left is about: entrusting life's most essential decisions—in fact, our future prosperity—to far-away government bureaucrat elites.•
Click here for more Forefront columns.
__________
Parr is a student at the Indiana University Robert H. McKinney School of Law in Indianapolis and is treasurer of the Indiana Young Republicans. Send comments to ibjedit@ibj.com.
Please enable JavaScript to view this content.