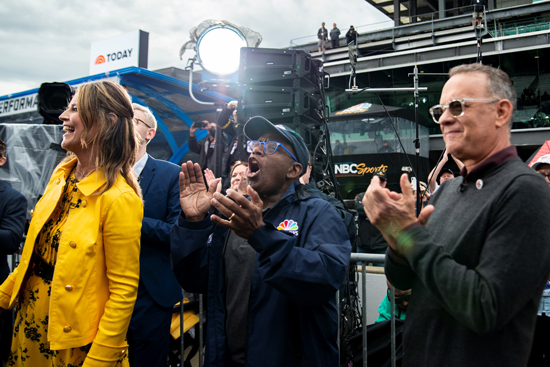 NBC battled through early-morning storms and intermittent rain Thursday to broadcast the 8 a.m.-9 a.m. segment of "The Today Show" live from Indianapolis Motor Speedway, three days before the Indianapolis 500.
"Today Show" mainstays Savannah Guthrie and Al Roker and guest host Tom Hanks anchored the broadcast from IMS, with Sheryl Crow performing a three-song concert for the on-site and television audiences.
The Hidden Heroes organization, an initiative of the Elizabeth Dole Foundation, selected IMS several months ago to celebrate military caregivers and their families on "Today" as part of a special trip to Indianapolis, she said.
The IMS Pavilion served as ground zero for most of Thursday's activity—including several stand-ups by Guthrie and Hanks—due to heavy storms throughout the morning, Around 8:15 a.m., the action shifted to an outdoor stage along the track where Crow performed "If It Makes You Happy," "Soak Up the Sun" and "Redemption Day" in light rain.
The broadcast was not originally part of NBC's strategy to promote Sunday's Indianapolis 500, but a network producer told IBJ that NBC made the most of the unexpected overlap. NBC will televise the Indy 500 for the first time this year as part of an exclusive three-year deal to broadcast IndyCar Series races, and the network has been promoting its coverage heavily.
"This was actually done completely separately, but it happened to be a good chance to coordinate because we're so close [time-wise] to the race," said Libby Leist, executive producer of the "Today Show."
"They had the idea that families would enjoy seeing the Speedway, because it's so iconic," she said, adding NBC approached the organization with the idea of turning it into a live broadcast highlighting the organization.
Planning for the broadcast began "several weeks ago," said Allison Melangton, senior vice president of Hulman Motorsports, which owns the Speedway. She said track personnel and producers had to work closely to not interfere with race-day preparations.
IMS Productions and "Today" personnel also collaborated with NBC Sports crew members to avoid any conflicts with equipment already on-site for race coverage, she said.
"This was one of those perfect storms where we got everybody together at the table," Melangton said. "We had to get everybody together to make it work. The weather didn't cooperate completely, but in the end it all worked out."
Please enable JavaScript to view this content.