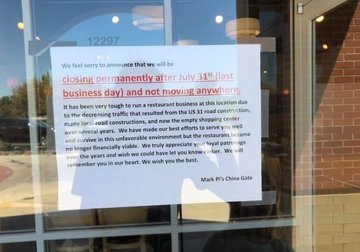 Another restaurant in Carmel has closed while citing the U.S.  31 revamp for creating a downturn in business.
Mark Pi's China Gate & Sushi Bar, an Asian food eatery at 12297 N. Meridian St. in Hamilton Crossing Centre, posted a note on its door earlier this week saying Wednesday would be its last day in business.
"It has been very tough to run a restaurant business at this location due to the decreasing traffic that resulted from the U.S. 31 road construction, many local road constructions, and now the empty shopping center over several years," the note says. "We have made our best efforts to serve you well and survive in this unfavorable environment but the restaurant became no longer financially viable."
The restaurant was open for eight years. There are no plans to reopen at a different location.
"I want to say goodbye to a lot of my loyal customers over the years," owner Ming Wang said. "I just feel bad that we had to close this way. I tried to make it work."
The restaurant served Asian cuisines including Chinese, Japanese, Korean and Thai.
Wang said he made sure his four employees lined up other employment before officially closing the restaurant.
"I wish I had more support from the city," Wang said. "I was hoping to see better support from Carmel for all the small businesses."
Mark Pi's China Gate is at least the fourth restaurant in the area to cite the construction involving U.S. 31 as the reason for closing.
Carmel spokesman Dan McFeely said the city disagrees with that suggestion. He said the problem hasn't been caused by the highway project, but by the changing strategies of Kite Realty Group Trust, the landlord and owner for Hamilton Crossing Centre.
McFeely said other nearby restaurants, as close as a half-block away, are doing great.
Kite Realty has changed redevelopment plans for the strip mall in the past two years, abandoning original plans to make it an entertainment complex with a movie theater and bowling alley. The company plans to turn Hamilton Crossing into a mixed use development with office, retail, and multi-family tenants, according to its 2019 first quarter report.
McFeely said he thinks the shifting plans are what has caused some tenants to stop renewing their leases in the strip mall.
Kite Realty did not immediately respond to a request for comment.
"Some may want to argue that the interchange format on U.S. 31 was terrible for businesses in this particular strip mall," McFeely said in written comments. "But right across the street, the Amber Indian and La Hacienda Mexican restaurants are doing great."
La Hacienda is across the street in Meridian Park Shoppes, the same center where Bellacino's Pizza & Grinders closed in November 2017 after 16 years in business. The owner of Bellacino's blamed the closure on the road changes. The center is nearly half vacant.
Wang said there are several years still left on his lease for his restaurant location, so he is in talks with the landlord.
The four-year, $350 million U.S. 31 project led by the Indiana Department of Transportation included upgrading 13 miles of the busy thoroughfare to interstate standards from Interstate 465 to State Road 38, with 49 new bridges and 12 new interchanges through Carmel and Westfield.
Construction lasted through 2015, with an overpass built at Meridian Street and Carmel Drive/126th Street in 2014.
Vehicles that previously were able to reach businesses in Hamilton Crossing Centre from a busy intersection at Meridian and 126th Street no longer have that option. The nearest exits are now at 116th Street to the south and Main Street (131st Street) to the north.
Visitors can also use the exit at Old Meridian Street, but that takes them behind the retail center instead of to its front.
Wang said all of the businesses in the complex have been "slowly, slowly bleeding" since the removal of the stoplight on U.S. 31 five years ago. He said many drivers don't know how to enter the Hamilton Crossing shopping center
"There is a lot of success in that entire area that does not depend on easy access by a vehicle," McFeely said. "At some point, other factors beyond the placement of an interchange have to be taken into consideration."
The highway reconstruction was a state project, but the city worked to help businesses by launching and promoting several initiatives in 2014 to encourage residents to eat at restaurants overshadowed by the construction.
There are currently 12 open spaces totaling over 65,000 square feet available to rent in Hamilton Crossing Centre, according to Kite Realty's website.
Please enable JavaScript to view this content.