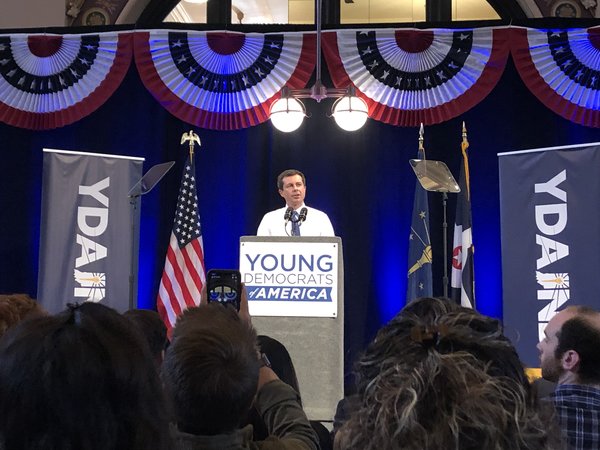 In his first presidential campaign event in Indianapolis, South Bend Mayor Pete Buttigieg tried to draw attention to what he sees as failed policies by the Republican Party.
During his speech Thursday night at the Young Democrats of America National Convention at Union Station, the 37-year-old talked about his perception of Republican politics as he grew up—tax cuts for the wealthy, denying climate change, deregulating banks and preventing gay couples from marrying.
"Nothing they say actually works in the real world," said Buttigieg, who is openly gay and married. "Now is our chance to set the agenda and make them respond to what we have to say."
Buttigieg also accused Republican leaders, especially President Donald Trump, of trying to distract voters by attacking the group of four minority female Democratic members of Congress known as "the Squad."
At a Trump campaign rally on Wednesday night, chants of "send her back" broke out, directed at one of the women—Rep. Ilhan Omar of Minnesota—who was born in Somalia.
"We can't let him steal all the oxygen from what the Democrats are doing right," Buttigieg said of Trump.
After his speech, Buttigieg told reporters he's not concerned about winning over the voters who chanted "send her back" at the Trump rally.
"The reality is, there are a lot of committed racists whose vote I'm never going to get," Buttigieg said. "There are also some people who I think are thinking twice about the votes they cast in 2016."
Buttigieg said the older generation is counting on the younger generation to change the situation and win back the White House.
"Young Democrats, we are what comes next," Buttigieg said.
Deborah Simon, a philanthropist and daughter of the late Simon Property Group Inc. co-founder and billionaire Melvin Simon, introduced Buttigieg after encouraging the crowd to do whatever it takes to win in 2020 and defeating Trump, who she called "a horrible man."
Simon talked about how she met Buttigieg when he unsuccessfully ran for chairman of the Democratic National Committee in 2016.
"He was impressive then and even more so now," Simon said.
Even though Buttigieg was among a group of young Democrats, it was not an entirely friendly room. Chants of "black lives matter" erupted as he took the stage, and people in the crowd shouted at him several times during his remarks.
"Black lives matter," Buttigieg said after the chants quieted when he took the stage. "We're on the same team."
Political observers say Buttigieg has struggled to gain support from black voters, and the situation was brought to the forefront after a police officer fatally shot a black man in South Bend last month.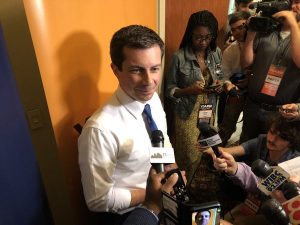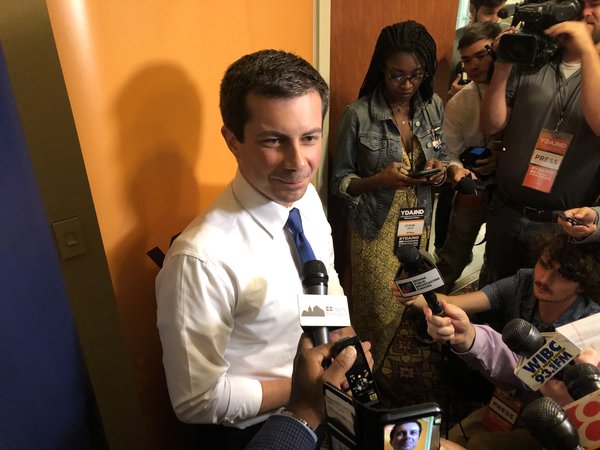 When asked after his speech what he is doing to connect with black voters, Buttigieg said he thinks his plan to combat systemic racism is the most comprehensive plan compared to other 2020 candidates. He calls it the Douglass Plan, a nod to black statesman and abolitionist Frederick Douglass.
"The plan is really well-received, but I've got a lot of work to do," Buttigieg said.
Earlier Thursday, Buttigieg said he spent time at the Indiana Black Expo Summer Celebration with Indianapolis Mayor Joe Hogsett and Indianapolis City-County Council President Vop Osili.
Buttigieg is coming off a strong second quarter of fundraising. With nearly $25 million in donations, he led the pack of Democratic presidential candidates.
He will return to Indianapolis next week for the National Urban League convention, along with several other Democratic presidential hopefuls, including former Vice President Joe Biden, Sen. Cory Booker from New Jersey, Rep. John Delaney from Maryland, Sen. Amy Klobuchar from Minnesota, Rep. Tim Ryan from Ohio and Sen. Kamala Harris from California.
The Indiana Republican Party criticized Buttigieg's appearance even before he made it.
"We hope Buttigieg can squeeze in a trip to South Bend while he's here, where he might find time out of his busy schedule of big-dollar fundraisers with liberal celebrities to address his city's vast issue of residents not even feeling safe in their own neighborhoods," party spokesman Pete Seat said in written comments earlier Thursday. "The question stands that if Pete Buttigieg can't even handle being mayor of South Bend, what makes him think he could handle being president?"
The Young Democrats of America National Convention started Wednesday and runs through Saturday. House Speaker Nancy Pelosi is scheduled to speak Friday.
Please enable JavaScript to view this content.