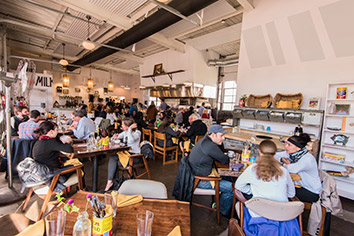 Chefs Josh Klein and Zoe Taylor are no longer working at Milktooth, the celebrated Fletcher Place restaurant owned by Jonathan Brooks.
Klein, the head chef, and Taylor, the pastry chef, said on social media Tuesday that they had been fired from the breakfast-and-lunch diner.
On Instagram, Klein wrote that he and Taylor "have been fired from Milktooth … Packing my things this morning and locking the doors for the last time felt like saying goodbye to a loved one, and I'm still waiting to fully comprehend what has happened."
In a separate post on her own account, Taylor wrote, "We loved and fought for that restaurant as if it were our own; our lives have been shaped by the last five years we spent there and I don't know how to say this, but there's not enough therapy in the world to help me understand what just happened."
IBJ was unable to reach Brooks Tuesday evening, but he addressed the issue in a Facebook post on his personal account.
"The decision to replace management was not an easy one to come by but a necessary one to ensure the happiness of the ENTIRE staff. … Nothing was done in anger or out of spite or with any [ulterior] motives other than making the restaurant the happiest and best restaurant it can be."
Brook's post did not mention Taylor or Klein by name.
Brooks opened Milktooth at 534 Virginia Ave. in 2014. By the following year, the restaurant gained national attention when Bon Appetit named it one of the country's best new restaurants. Brooks also was named one of Food & Wine magazine's Best New Chefs that same year. In 2017, the online culinary site Eater named Milktooth one of America's 38 essential restaurants.
In June 2018, Brooks opened a second restaurant, Beholder, at 1844 E. 10th St. in the Windsor Park neighborhood. His partner in that venture is Josh Mazanowski.
Beholder, which is open for dinner only, has not had the early success that Milktooth enjoyed. Attracting customers proved to be "more challenging than we anticipated," Brooks told IBJ in August, and within its first year, Beholder drastically reduced its staff.
Please enable JavaScript to view this content.