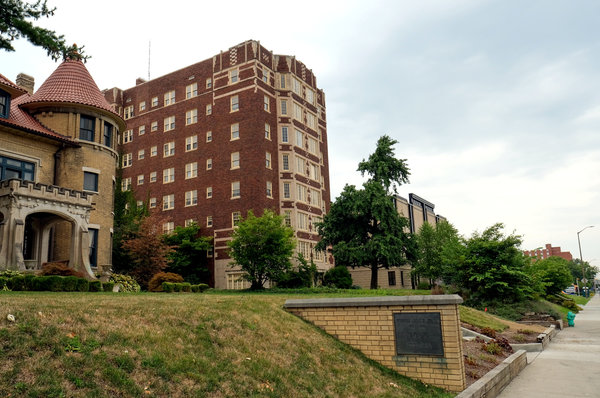 The Children's Museum of Indianapolis and city officials later this month plan to solicit options for redeveloping the Drake Apartments building—part of an effort to keep the 91-year-old structure from being demolished.
Emily Mack, director of the Department of Metropolitan Development, told the city's Metropolitan Development Commission last week that the city and museum "are partnering and collaboratively working on a request for information for the redevelopment and adaptive reuse of the Drake."
The RFI will give developers an opportunity to introduce ways to preserve or renovate the eight-story building at 3060 N. Meridian St.
The property has been owned by The Children's Museum since 2014.
Mack said Wednesday that the city hopes to have the RFI out by Thanksgiving and a developer selected in the first quarter of 2020, but she declined to share additional details.
Through a spokesperson, museum officials confirmed they are "in talks with the city about the Drake," but declined further comment.
Marsh Davis, president of the preservation-advocacy group Indiana Landmarks, said it is "encouraging" to hear the city and Children's Museum are working together.
"The fact (the museum is) open to considering alternatives to demolition is itself commendable," he said.
Indiana Landmarks is not involved in the process, but Marsh said the group is open to recommending developers or participating in other ways, if asked.
The Drake has garnered extensive attention since late July, when the Children's Museum announced it planned to raze the property along with the nearby former Salvation Army headquarters building to make way for new exhibits and parking.
Those plans were partially thwarted in September, when the Indianapolis Historic Preservation Commission approved measures to add the Drake building to the Marion County Register of Historic Places and create a historic area plan for the site.
Multiple commissioners expressed skepticism that the museum had used all measures at its disposal to preserve the building before deciding on demolition.
The MDC still must approve the resolutions for them to be enforceable, but those votes—originally slated for a Nov. 6 meeting—were continued to March, allowing the city to work with the museum in evaluating redevelopment opportunities.
The museum has not filed for demolition permits for the Drake.
An effort earlier this year  by the museum to find an adaptive reuse for the property was unsuccessful. It sought responses from 10 companies and received just one proposal that lacked financing.
Davis said the lack of incentives in the museum's previous request for proposals for the Drake made it a tough sell for developers.
City officials did not say whether they would offer incentives to help spur redevelopment of the Drake. But Davis was adamant they're needed.
"The city's role in this is really, terribly important," he said. "Any development of this type has challenges that need to be offset by incentives."
Please enable JavaScript to view this content.