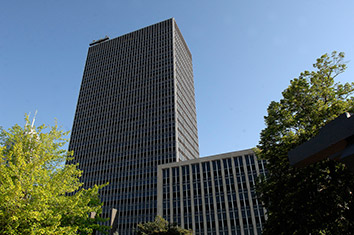 The Indianapolis City-County Council will get a pay hike for the first time in more than two decades, after it voted Monday night along party lines to increase compensation for members by nearly three-fold.
The measure, approved 18-5, pushes annual base pay for the city's 25 part-time councilors from $11,400 to $31,075, where it's been locked since 2002. The proposal includes annual cost-of-living increases.
The pay changes wouldn't take effect until 2024, after the next city election in November 2023.
It was the council's fourth attempt in seven years to secure a pay raise. The matter was recommended for approval 7-4 by the the council's Metropolitan & Economic Development Committee last month.
Base pay is currently pegged at 12% of the mayor's $95,000 salary.
The city of Indianapolis recently upgraded it pay scale, but the changes didn't include councilors. Council pay in Indianapolis has lagged compensation for council members in similar-sized cities and even much smaller ones in Indiana, IBJ research has shown.
Minority Leader Brian Mowery, R-District 25, was the only council member to comment on the matter at Monday's meeting before the council's vote.
"While I think it's no secret the council is woefully underpaid, I would much prefer a more conservative approach to this proposal," he said. "For those reasons, I will be voting against this proposal this evening as I did in committee."
Mowery was joined in voting against the pay raise by the four other Republican council members, Paul Annee, Joshua Bain, Michael Dilk and Michael-Paul Hart.
The pay hike will increase the city's annual budget by $652,000—or .05% of the annual budget of $1.3 billion—according to the council.
Typically, a quarter of councilors' earnings come from per-diem pay. In addition to addressing base pay, the proposal also raises pay from $112 to $150 for full council meetings and from $62 to $75 for committee meetings. It also ditches the long-held meeting pay cap of 40 meetings annually.
The council's recent efforts to increase pay haven't been successful.
Councilors pulled a similar proposal, which would have doubled the base pay, shortly before a meeting in 2019. Democratic Mayor Joe Hogsett had threatened to veto the measure, which had drawn criticism from members of both parties.
In 2016, legislators killed another pay proposal, with then-President Maggie Lewis, a Democrat, saying it was because the state wouldn't have reviewed the city-county's budget in time.
And in 2015, then-Mayor Greg Ballard, a Republican, vetoed a council-approved proposal that would've raised base pay to $16,400. He objected to the timing, which was in the "lame duck" period shortly before a new council took office.
Council staff formulated the proposed base pay by creating a data set of more than a dozen cities with similar populations, dividing each city's population by the number of legislators and adjusting the per-capita pay for each city's cost of living, according to a council office memo. Then, staff multiplied the $1.06 average per-capita pay by Marion County's 977,000 population, and lopped a quarter of the total off, to arrive at $31,075.
If approved, the proposal could pose a longer-lasting solution than previous pay changes. It includes a provision to use the same cost-of-living adjustment other city-county employee receive.
In a statement issued after the vote, Marion County Republican Party Chairman Joe Elsener called the 173 percent pay hike "bad timing."
"At a time when Indianapolis has record violent crime, woefully underfunded infrastructure, a struggling downtown, and county agencies failing to deliver good government service, it is clear that raising council pay should be the least of the supermajority's concerns," he said. "Moreover, Indianapolis residents are bringing home less money every paycheck due to rising inflation and skyrocketing gas prices. It is incredibly bad timing for the supermajority to give themselves such a monumental pay raise funded by hardworking taxpayers."
Please enable JavaScript to view this content.