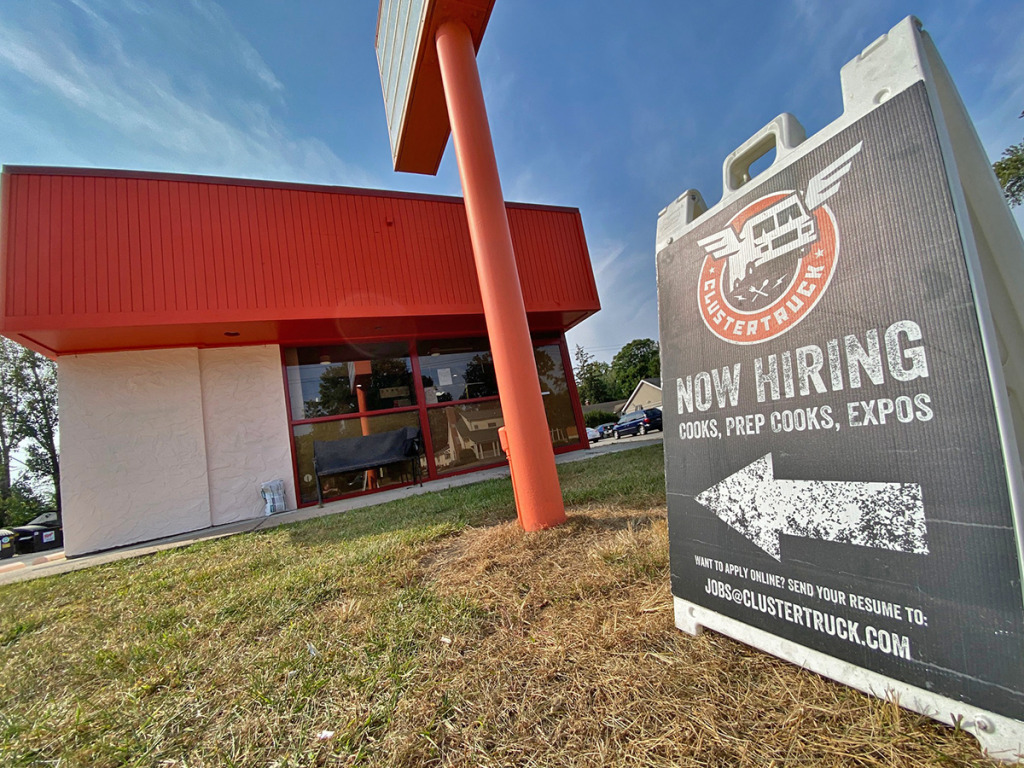 Indianapolis meal-delivery company ClusterTruck is expanding its reach into the Indianapolis suburbs, with new Broad Ripple and Fishers kitchens set to open in coming weeks.
The Broad Ripple kitchen, 2101 Broad Ripple Ave., is set to begin deliveries on Monday and the Fishers kitchen, at the Kroger store at 9799 E. 116th St., is scheduled to open Oct. 8.
The Fishers site is part of a Kroger partnership that the two companies announced in December. The Broad Ripple location was formerly occupied by SweeTies Gourmet Treats, which vacated that location earlier this year.
ClusterTruck also plans to open a third location, in the Columbus, Ohio, suburb of Dublin, in early November.
The new locations represent a significant suburban shift for ClusterTruck, which opened its first suburban kitchen in December at 12195 N. Meridian St. in Carmel as part of its Kroger partnership. ClusterTruck also has three downtown-area kitchens: one in Indianapolis at 729 N. Pennsylvania St. and one each in Columbus, Ohio and Kansas City, Missouri.
A downtown Denver kitchen recently closed. "Thank you Denver for your support!" ClusterTruck posted Friday on the website Yelp. "During COVID we were unable to sustain our location here, but we hope to see you again someday."
In Indianapolis, 60% of the company's pre-pandemic sales typically came at lunch and were delivered to offices Another 40% of sales were to groups.
To help fill the gap after stay-at-home orders emptied out downtown, ClusterTruck began delivering food for Cunningham Restaurant Group's Stone Creek Dining Co. Mike Cunningham, the founder and CEO of Cunningham Restaurant Group, is also a partner in ClusterTruck.
All of ClusterTruck's locations are what's known in the restaurant industry as "ghost kitchens," where kitchen employees prepare meals and delivery drivers pick up customer orders. Food is cooked to order, and the company says most orders are delivered to customers within seven minutes of being prepared. The company uses proprietary software to manage the process.
Because of the company's delivery-only model, its delivery footprint is closely tied to the location of its kitchens. The northern boundary of ClusterTruck's current Indianapolis delivery footprint ends just short of 38th Street. Its southern boundary reaches just south of Raymond Street.
"Since 2016, our customers have begged for an expanded delivery zone here in Indianapolis, but our only solution to ensure the model delivered on its promises was to add ghost kitchens across the city," ClusterTruck co-founder and CEO Chris Baggott said in a written statement.
ClusterTruck's website has not yet been updated to reflect the delivery zones to be served by the Broad Ripple and Fishers kitchens.
In addition to Denver, the company has entered and exited other several markets since its 2016 launch. It previously had operations in Minneapolis, Cleveland and Bloomington that have since closed.
Please enable JavaScript to view this content.