It's reasonable to say the new Fountain Fletcher district is more a concept than a place defined by lines on a map.
The name, unveiled in August, was created by the more tangible Greater Virginia Avenue Corridor Economic Improvement District. That district was launched in 2018 by property owners along the business arteries—Virginia Avenue and Shelby and Prospect streets—in the neighborhoods of Fountain Square, Fletcher Place, North Square and Holy Rosary. It generates about $85,000 in taxes each year to be spent on development, maintenance and safety initiatives in those neighborhoods.
But the Greater Virginia Avenue Corridor EID organizers didn't think the group's name rolled off the tongue. So in an effort to find something a bit catchier to market businesses in all four neighborhoods—and with the goal of propping up the Fountain Square Merchants Association during the pandemic—the property owners turned to Chicago-based urban planning firm the Lakota Group for help and a new brand.
The result is Fountain Fletcher, a mashup of the Fountain Square and Fletcher Place names that have been fixtures southeast of downtown for more than 125 years.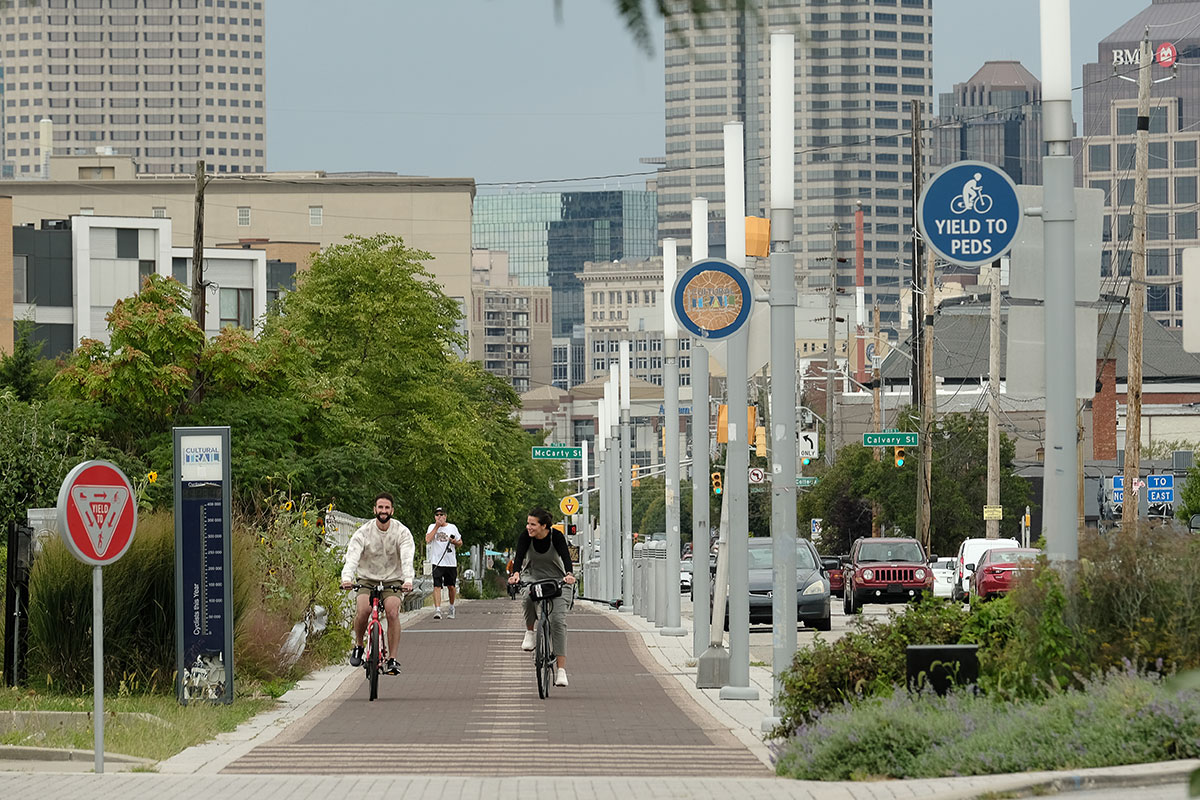 And while Fountain Fletcher is certainly easy to remember and immediately conjures a place, the name has met some resistance. Jordan Ryan, president of the North Square Neighborhood Association, for example, noted that the name includes nothing to signify a connection to the North Square and Holy Rosary areas.
That's in part why the Fountain Fletcher announcement caused some confusion.
"I had an avalanche of emails and texts from people," Ryan said. "They thought the Fountain Fletcher District Association had absorbed [North Square]. Their rollout was not good. I had to explain, 'No, we're still a separate neighborhood association. We have to accept this name and we need to focus on the positive momentum of this rebrand.'"
In fact, all the neighborhood associations continue to operate separately. The primary change is essentially a marketing effort that includes replacing the Fountain Square Merchants Association with the Fountain Fletcher District Association.
This weekend, the Fountain Fletcher District Association will have a sort of coming-out party when, on Saturday, it hosts Art Squared, a festival that had been hosted by the Fountain Square Merchants Association before the event was put on hold in 2020 and 2021.
The event includes a block party, an art-creation competition called Masterpiece in a Day and an art fair.
Although not everyone in the area is thrilled with the Fountain Fletcher name, there's been a more positive reaction to the rollout of the Fountain Fletcher District Association, which serves as a sort of alliance for the area's businesses.
Ryan described a lack of "genuine community engagement" leading up to the unveiling of the Fountain Fletcher name. But the historian and archivist credited the association for involving business owners and residents to a larger degree than in the past.
Mike Halstead, one of the property owners who voted in favor of the self-imposed tax that will fuel the economic improvement district until 2033, said Fountain Fletcher is accessible by design.
A business membership in the association is priced at $150 per year, while artists can join for $50 per year and residents can join for $25 per year.
"We felt like it needed to be more inclusive in opinions and feedback," said Halstead, president of Halstead Architects and a Fountain Fletcher District Association board member. "You're never going to make everybody happy, but if you can get to 80 or 90%, that's what you shoot for."
Justin Jones, co-founder of Bovaconti Coffee at 1042 Virginia Ave., said he understands why the Fountain Fletcher name might have startled some observers.
"I think it will grow on people," said Jones, president of the Fountain Fletcher District Association. "I do think that our No. 1 challenge currently is to maintain the integrity of all the neighborhoods involved in the district—and also set that path moving forward to where we never dilute the history of each neighborhood. I think that's going to be important."
Laura Giffel, who was hired in May to be district manager of the Fountain Fletcher District Association, said the Fountain Fletcher designation doesn't diminish the existing neighborhoods.
"Those neighborhoods are so strong, and their associations are wonderful," said Giffel, a former president of the neighborhood association in nearby Bates-Hendricks. "I know neighborhood associations are essential to quality of life. They fight lots of battles every day, and we do not want to step on those toes."
Before the downtown segments of interstates 65 and 70 were built in the mid-1970s, Fletcher Place and Fountain Square were seamless neighbors.
More than a century earlier, Calvin Fletcher owned much of the land that became Fletcher Place as it's defined today, with borders of Louisiana and East streets and the interstate. Fletcher Place has been listed on the National Register of Historic Places since 1982.
The Holy Rosary-Danish Church district inside Fletcher Place, essentially the area south of Virginia Avenue, has been listed on the National Register of Historic Places since 1986.
Fountain Square, known for decades as a commercial district centered on the intersection of Virginia Avenue and Shelby and Prospect streets, is home to three spots listed on the National Register of Historic Places since 1983: Virginia Avenue, the intersection of State Avenue and Prospect Street, and the intersection of Laurel and Prospect streets.
North Square, meanwhile, is found in the northwest corner of Fountain Square, bordered by Virginia avenue, I-65, and Calvary and Shelby streets.
The construction of the interstate severed neighborhoods from one another and displaced 18,000 people.
The Indianapolis Cultural Trail has been credited in recent years for closing the gap between downtown, Fletcher Place and Fountain Square along Virginia Avenue, but Jones said more can be done.
"Having a cultural trail run through a district is a great thing, but if it's not safe and it's not well-lit and it doesn't have easy entrances and exits from it, it's not much more than a running path," Jones said.
Fountain Fletcher's master plan includes enhancing common places through public art, landscaping and signage for visitors.
Strength in numbers
A directory on the new Fountain Fletcher website, FountainFletcher.com, includes more than 100 merchants. Giffel said her role is to represent those business owners.
"We have infrastructure challenges, we have safety challenges, and we have some public health needs," Giffel said. "But instead of saying, 'Go to your corner and fight this battle on your own,' I think we're going to be a stronger and more effective voice by bringing everybody together."
Ryan, president of the North Square Neighborhood Association, is eager to find ways for residents to be part of Fountain Fletcher's solutions.
"A lot of people make decisions in this area, and they put residents last," Ryan said. "It's always about shoppers and tourists and commuters. I'm always going to be that curmudgeon who says we need to prioritize residents like we matter. We matter."
Bovaconti Coffee co-founder Jones said he sees an opportunity for Fountain Fletcher to lobby for its causes.
"One of the big things we don't have is any kind of leverage with the city," he said. "Because the neighborhoods are so fragmented, we find ourselves in a very weak position with the city."
Art Squared, for instance, traditionally includes a parade on Virginia Avenue. Jones, who's co-chairing the event with Giffel, said this year's event didn't receive approval to temporarily close the street.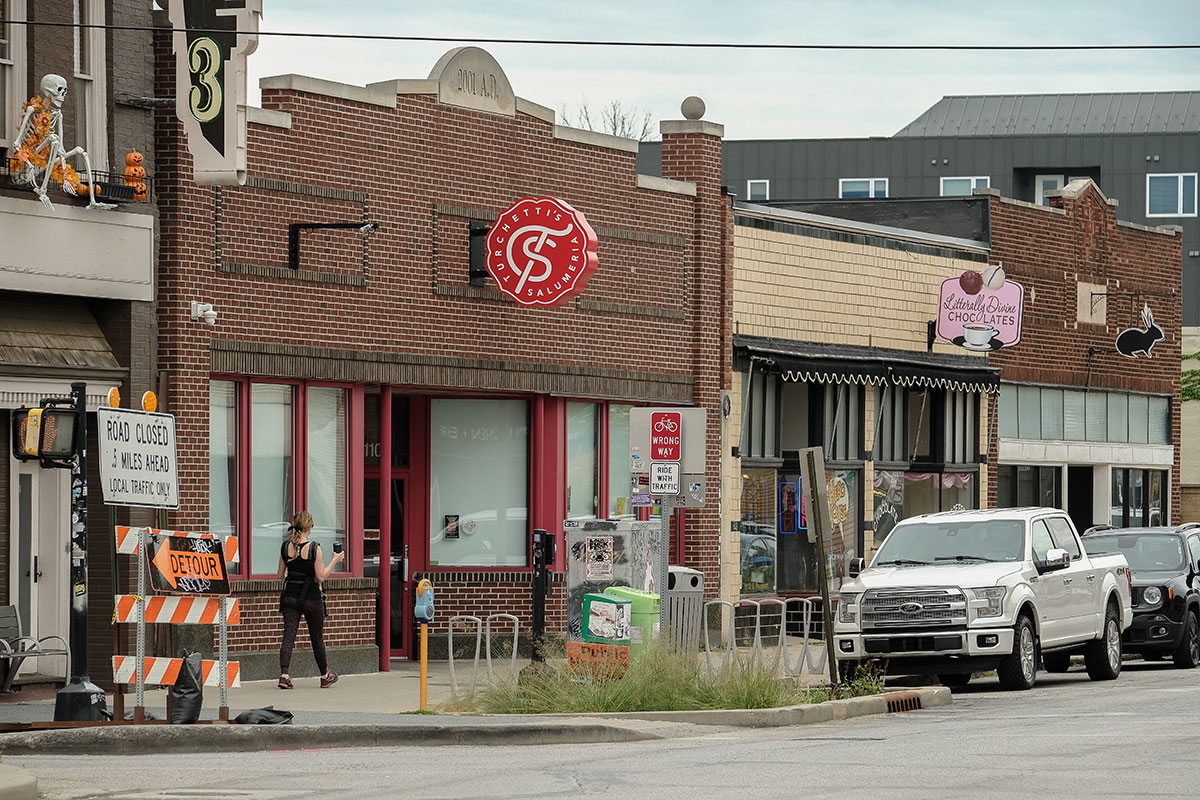 'Quirky' is still OK
Saturday's comeback edition of Art Squared will unfold on Woodlawn Avenue and Shelby Street near Virginia Avenue.
The block party will happen in the parking lot of Southeast Community Services, 901 Shelby St.
"We're hoping to get 60 to 75 vendors for the art fair," Jones said. "Just getting Art Squared back on the map and creating that awareness would be a big win."
Ryan said Art Squared ranks as one of the best days of the year. "We still have creatives in the neighborhood. Quirky people can be themselves."
Although visual artists, studios and galleries contributed to the resurgence of Fountain Square as a popular neighborhood, the same popularity is blamed for cost-of-living increases that drove artists from the area.
Today, Fletcher Place is defined by top-tier restaurants and Fountain Square is known for its music venues. Both neighborhoods have become increasingly popular places to live, with several apartment buildings opening in both over the past few years and more under construction.
Giffel said Fountain Fletcher plans to present events around Halloween and Christmas with a goal of attracting new visitors.
Halstead, the architect who's served as president of the Fountain Square Merchants Association and Southeast Neighborhood Development Inc., said his optimism for the area is at an all-time high.
"We have all these great apartments, and we have a lot of density," he said. "We're still a nice, walkable and livable neighborhood that has a lot of residential around it."•
Please enable JavaScript to view this content.