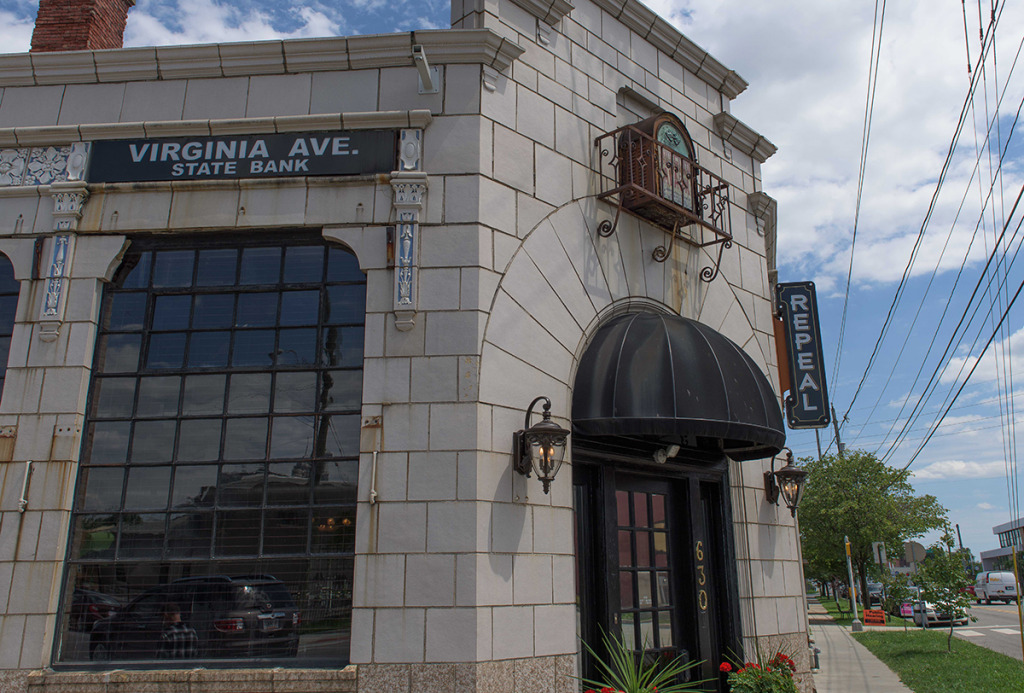 Fletcher Place eatery Repeal Restaurant will be closing at the end of the month, paving the way for neighboring 1205 Distillery to take over the space in partnership with Greek's Pizzeria.
Both Repeal and 1205 operate in the former Virginia Avenue State Bank Building at the corner of Virginia and College avenues.
Bill and Teresa Webster opened Repeal at 630 Virginia Ave. in July 2015, offering a lunch and dinner menu of what the restaurant calls "unapologetic comfort food." The lunch menu is built around burgers, sandwiches and tacos, while dinner offerings include items like grilled pork chops, baby back ribs and fish and chips.
Oct. 30 will be Repeal's last day of operation.
Bill Webster, 65, said he and his wife are closing the restaurant so they can retire. "It just seems like all the stars are aligning," he said. "I think COVID is telling us we need to go."
The Websters are the mother and stepfather of Nolan Hudson, who founded 1205 Distillery with longtime friend Brad Colver in December 2014 at 636 Virginia Ave. A 500-square-foot tasting room opened there in October 2017.
Once Repeal closes, 1205 will take over the space, turning it into what Hudson describes as "a big 1205 tasting room with Greek's pizza."
Greek's franchisee Josh Trisler and his staff will run the kitchen while 1205 will run the "front of house" operations, and the menu will include both pizza and specialty cocktails and beer.
Hudson said the expansion will give 1205 much-needed extra space, while allowing both 1205 and Greek's a way to expand their offerings. "We're going to grow together."
After some minor changes to the Repeal space, including construction of an interior doorway to connect it with 1205, Hudson said the expansion space should be ready to open some time between mid-November and early December.
Coincidentally, 1205 is also expanding its Westfield facility, which opened in February at 120 Camilla Court. The Westfield location has seen big success despite the pandemic, Hudson said, and work began last week on an expansion that will take that property from 1,500 square feet to about 3,700 square feet. That project is expected to be complete in early December.
Please enable JavaScript to view this content.