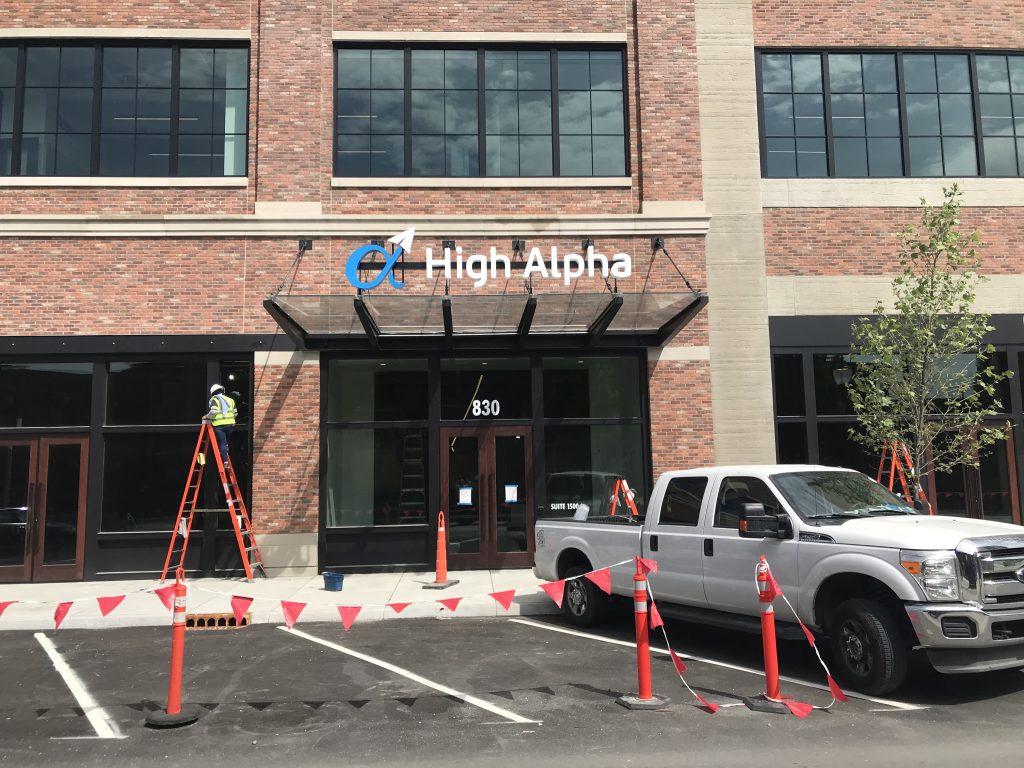 Indianapolis-based venture studio High Alpha plans to start transitioning to its new Bottleworks District office early next week, marking major milestones for both the firm and the $300 million redevelopment project along Massachusetts Avenue.
The construction of High Alpha's new office—about 41,000 square feet in a newly-constructed building along Mass Ave.—is expected to be completed July 6, but the firm is still evaluating when employees will begin working from there, as most have worked from home since March because of the pandemic.
High Alpha began moving out of its Circle Tower headquarters, 55 Monument Circle, last week after more than five years in the historic downtown building. The company, which is the primary office tenant in the Bottleworks District's 12-acre first phase, will be the first tenant to move into the district.
The Bottleworks office more than doubles High Alpha's footprint, giving the 40-person company room to grow.
"The new office is designed to optimize collaboration and hospitality," said Kristian Andersen, a partner at the firm. "We are essentially in the talent business and believe that the new office will play a critical role in our ability to build relationships with co-founders, team members, investors, press, and the broader Indy tech community."
Andersen said the company is working closely with Bottleworks developer Hendricks Commercial Properties, based in Wisconsin, to determine protocols to begin bringing workers into the office.
High Alpha plans to continue working remotely "for the foreseeable future," with the expectation it will reevaluate its return-to-work schedule—in the new space—in early August.
He said the office will feature social distancing signage, hand-sanitizing stations, "appropriately spaced workstations," and high-end teleconferencing infrastructure. He said the company also invested heavily in live-streaming technology.
"The space is really optimized to help foster community in the broadest sense," Andersen said. "We will … be able to provide space to more of our early-stage studio companies, allowing us to collaborate at an even richer level moving forward."
Gavin Thomas, vice president of development for Hendricks, said in written remarks that High Alpha's move is a "major milestone" for Bottleworks.
"Not only do they have an incredible office space, but they are also the first occupant of the District," he said. "We are thrilled to have them and look forward to them being a major part of the culture we are working to create at Bottleworks."
High Alpha's Andersen acknowledged while the firm is excited to be in its new space, there are likely to be some growing pains—mostly from continuing construction. There will be long-term benefits to the move, including an abundance of food and entertainment offerings and other office users.
"I think it would be disingenuous to not acknowledge that the ongoing construction will cause some distractions and inconveniences," he said. "However, we believe that the long-term payoff of being in proximity to those very amenities will be worth the short-term."
Bottleworks is ultimately expected to feature more than 200,000 square feet of office space, 167,000 square feet of retail and more than 200 residential units. Nearly 20 tenants have been lined up for the Garage Food Hall portion of the project, which should open late this year.
Hendricks and High Alpha declined to discuss specifics of the company's lease. But real estate sources have told IBJ that office space at Bottleworks will likely cost in the mid- to upper-$20s per square foot, compared to other high-end downtown office space, which generally fetches in the low $20s.
Please enable JavaScript to view this content.