If anyone thought the issues of diversity, equity and inclusion were going anywhere after 2020, they were wrong.
That's certainly not the case in the local technology industry.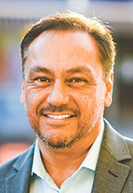 Discussion and debate at Friday's IBJ Tech Power Panel event focused largely on how companies can do a better job recruiting and hiring diverse employees, as well as the ability of diverse entrepreneurs to raise venture and growth capital from a cadre of investors who largely remain white and male.
There also was discussion of the responsibility of investors and company owners to create cultures within their own organizations that champion diversity, equity and inclusion—as well as the responsibility of the wider tech community to foster the diversity that has been missing in the tech space.
The panel—composed of IU Ventures CEO Tony Armstrong, Barnes & Thornburg partner Angela Freeman, Mandolin founder and CEO Mary Kay Huse, TechPoint CEO Mike Langellier and Boomerang Ventures founder and managing partner Oscar Moralez—didn't shy away from a bevy of hot and complicated topics.
They included the future of working from home and whether tech and other workers will be willing to work the way they did before the pandemic. They also tackled the current debate about social media platforms censoring speech or outright banning users—politicians or otherwise—from their platforms.
IBJ caught up with Moralez, who is involved in angel and venture funding and has previous experience running a company, after the panel to recap some of the issues discussed.
Finding diverse startup teams and entrepreneurs is on the mind of investors like never before, Moralez said, but he admitted that fostering diversity has to be balanced with making investors a return on their investments. After all, Moralez noted, "I have a fiduciary responsibility to the investors."
But he thinks there's not just a moral reason to promote diversity but a business case as well.
"Being an early-stage investor, our focus is on the teams," Moralez said. "We are more intentionally looking for companies that have diverse teams because we know statistically that diverse teams have better return on investment. They build out bigger companies faster."
The reason those diverse companies tend to do better "is a matter of perspective," he added. "For example, women bring a different perspective in terms of leadership and decision making, and those all translate into potentially better decisions in a group and team setting in terms of direction, strategy and execution."
Moralez said it's incumbent upon investment fund managers to educate their member investors on the need to diversify.
"This is such a new topic certainly for our investor base, I don't want to say they're not concerned about diversity. But clearly first and foremost, it's making good investment decisions and getting good returns on those investments," Moralez said.
"What we can do and start having more of a conversation around is this area of finding those teams that are going to be more successful and [discuss] why they're going to be more successful and incorporating the idea of diversity, inclusion and equality into that. Part of that conversation translates into educating our investor base on why that's important and giving them and showing them success where diverse teams are involved."
While Moralez admitted that many members of his investment groups have been primarily white, middle-aged males, "the group dynamic is changing," he said. "We're starting to get some of those different perspectives."
Moralez said that as a Hispanic business founder and operator, he never had difficulty raising venture and growth funds, but he doesn't downplay the issue. Many diverse business owners and operators have told IBJ they must resort to crowdfunding campaigns and other forms of alternative funding because of difficulty in getting in front of primarily white-run investment groups.
"My mother told me early on to be yourself and be true to what you believe in and you're going to go a long way," Moralez said. "Regardless if you're white, black, brown, whatever, those are fundamental things I live by. The reality is we don't see that many founders that are diverse. Part of it is we're not doing a good enough job on the angel or studio side in finding those founders or opportunities. We're doing everything we can to expand and build out our network. And more importantly we're starting to have discussions around why that is important and intentionally looking for those opportunities."
Moralez said it's difficult to explain how tech got so white but said "the mindset and culture are changing."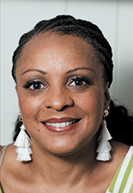 Freeman, who started her career as a molecular biologist before putting herself through law school at night and advancing to an intellectual property and patent lawyer and partner at Barnes & Thornburg in Indianapolis, said the outreach to diverse people has to start at an early age.
Freeman, the past president for Women & Hi Tech, said if children aren't encouraged even before they get to high school, many never consider STEM careers as a possibility. It's a type of brain drain that too few have historically thought about, she added.
Fortunately Freeman's mother realized her daughter was a math whiz early on and encouraged her in that direction. Asked how many diverse children who have the same abilities might have fallen through the cracks, she deadpanned, "a lot."
While there are some programs in place, including TechPoint Foundation for Youth, several panelists agreed the local tech industry has more youth outreach work to do.
Moralez emphasized that social justice issues should and will persist for businesses. He is optimistic about the future.
"If you reflect, this idea of social justice has always been in the background. Only recently has it come to the foreground," he said. "It is part of the conversation, and we can have these conversations without feeling threatened or awkward. Those conversations are starting to become more productive, and you're going to see more solutions and progress in those areas."
The panelists ran out of time as they were taking on another big issue: social media platforms and their role in determining appropriate speech.
"I am a little bit concerned about it," Moralez said.
"What's happened over the last year or so in terms of the major situations that we've seen, for me, are problematic," he said, referring to social media platforms like Twitter and Facebook censoring and in some cases banning users.
"There have to be rules and there has to more transparency from these large companies in terms of what the rules of engagement are," he added. "What can I and can't I say and how do you warn me in what path I'm taking in my freedom of speech? As opposed to just quickly cutting somebody off for whatever reason, good or bad.
"The last three or four years the system is being tested in ways it never thought it would be tested. So I think [social media platforms] are creating rules as they go. There are new pressure points that are hitting these very large companies from not only political perspectives but in ways they're having to deal with business, politics, geography and all these other topics around diversity."
Please enable JavaScript to view this content.