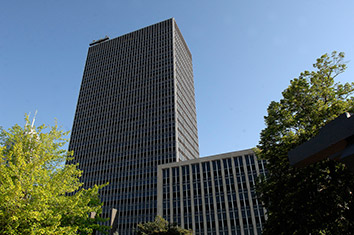 City officials on Monday released a long-anticipated request for developers to submit ideas for reuse of the 28-story Indianapolis City-County Building, along with studies that show it would take more than $35 million in basic upgrades to repurpose the structure.
The request for information was issued at the same time the city released an extensive, 196-page analysis of Old Indianapolis City Hall that estimates it could take an investment in the range of $36 million to nearly $55 million to redevelop that property into an office building with event space.
Officials said the future of the Old City Hall would be driven in part by the outcome of the City-County Building request for information because it is possible some local government offices could move into a redeveloped city hall building after they vacate the City-County Building.
The downtown City-County Building's future has been in question since at least 2018, when work began on the new Community Justice Campus about three miles southeast of the city's core, which will leave the building at 200 E. Washington St. half-empty when most law enforcement and criminal justice agencies move in early 2022.
Officials want developers' best proposals on how to turn the 734,500-square-foot structure into residential or a mixed-use space, according to the formal request for information. The city is seeking ideas for projects that can be supported by the market and give downtown an economic boost.
"The potential redevelopment of the CCB will be transformative for downtown Indianapolis as a whole and the Market East District," reads the request. "Overall, this project must add to the vibrancy and diversity of downtown, Indy's fastest growing residential neighborhood."
Developers will need to include possible building uses and development opportunities and challenges, plus answer more targeted questions on environmental sustainability, historical significance and how reuse will "positively impact the City Market," which is across Market Street from the City-County Building.
According to a 2016 strategic plan, the city considers the historic Indianapolis City Market the anchor of the Market East District, established in 2014.
The area has seen significant investment in recent years, with the completion of the $9 million Lugar Plaza south of the City-County Building, IndyGo's $27.4 million Julia M. Carson Transit Center and the $120 million 360 Market Square tower—along with a multi-stage rebuild of East Market Street underway.
In response to the city's request, developers can also outline the incentives they'd want and estimate the cost of making their vision happen.
It will take a hefty chunk of change.
The City-County Building was completed in 1962, nearly 60 years ago, for $22 million dollars. That's about $190 million in today's currency.
An American Structurepoint assessment of the property's condition estimates deferred maintenance and necessary repairs could cost $13.4 million. Converting the building from a government headquarters to a new use would take $29.8 million, the locally-based engineering and design firm estimated.
The conversion cost includes about $7.2 million for the 621-space underground parking structure and $1.1 million to divide the tower and its east and west wings into separate buildings. There is also asbestos in the tiles beneath the current floor finishes—and in the spray-on fireproofing on the underside of each floor level. Fire-protection fixes would cost about $15 million, the 95-page report estimated, for a total of $42.6 million in recommended upgrades.
In another assessment, Chicago-based Environmental Systems Design estimated that it would take at least $35.6 million to get the building's mechanical, electrical and plumbing systems, as well as its fireproofing, up to date and up to code. Air-distribution system upgrades to enable tenant leasing would add an estimated $16.9 million, according to the 81-page assessment.
Both assessments noted that the building's components were largely in good condition for their age, but that many elements, such as the garage sprinkler system and the elevator controls, were original—and therefore past usage life or technologically "obsolete."
The Indianapolis-Marion County Building Authority will offer two tours of the building later this month, according to the request. Questions are due Oct. 13, and submissions are due Oct. 25.
Old City Hall
The new assessment of Old City Hall looks at what it would take to turn the 90,000-square-foot historic building at 202 N. Alabama St. into a "grey box"—a real estate industry term used to describe a building that's largely move-in ready, but requires some tenant improvements like flooring and painting.
The "grey box" concept, as proposed, would allow for cultural and arts space, government offices, incubator space and not-for-profit offices, along with event areas. The costs could be reduced by anywhere from an estimated $3.8 million to $7.3 million if the work is done as a singular project, rather than in phases, according to the assessment by New York-based advisory firm JS Held LLC.
The biggest line items to reposition the 111-year-old property would include repairing windows and walls, an update to the water source heat pump system, modernizing the electrical systems, new fire safety systems and creating new restrooms.
The proposed use is similar to what was considered for the building in 2015, when Louisville-based 21c Museum Hotels was eyeing a 149-room hotel for the city-owned parking lot adjacent to the building, as part of a larger redevelopment project. That deal was abandoned after the city and the hotelier couldn't reach an agreement over incentives for the project.
JS Held's assessment also indicated a belief that development of the parking lot immediately north of the building, at 222 N. Alabama St., could help fund the restoration and improvements of the structure, with a variety of potential uses—mixed-use, hotel, and multifamily developments, among them.
The assessment also said to solely maintain the building as a mothballed historical facility would cost $3.3 million to $4.2 million to cover some deferred maintenance such as facade repairs, roof upgrades and mechanical system replacements or improvements.
A linked future
Officials said the future of Old City Hall and the City-County Building are linked.
"Until we know what's happening with this [City-County] building, we don't know what's going to happen with Old City Hall," City Controller Ken Clark told IBJ. "It's obviously a valuable historic asset in [the Department of Metropolitan Development's] ownership."
Old City Hall has been largely vacant since 2007, when it was last used as a temporary site for the Indianapolis Public Library, during an expansion and renovation to the downtown central branch. Prior to that, it was the longtime home for the Indiana State Museum.
It has not been used by the city of Indianapolis for municipal operations since the construction of the City-County Building in 1962, with the exception of DMD's bicentennial planning committee from 2018 to 2020. It was also home to a major arts event that ran concurrent with the 2012 Super Bowl.
The building has been on the National Register of Historic Places since 1974 and under protection of the Indianapolis Historic Preservation Commission since 2017.
"I think you could very much see next year, us looking at if we're going to have city or county offices in Old City Hall, or if we're going to be seeking some kind of private-public use," said Scarlett Martin, director of the DMD. "Old City Hall, unfortunately, has some deferred maintenance, because it hasn't been occupied—we haven't had to make those investments, but there's a lot of investment to be made."
Even if some government offices were to locate in the 90,000-square-foot building, it will not be large enough to house the government agencies now in the City-County building that won't be moving to the new Community Justice Campus.
"It is not remotely the size that we need," Clark said. "… It's very clear that it would be a major undertaking. So I know that that's what everyone—everyone dances around it, but it's extremely inefficiently laid out and a very small space … in comparison to what we need for the remainder of city-county government."
.
Please enable JavaScript to view this content.