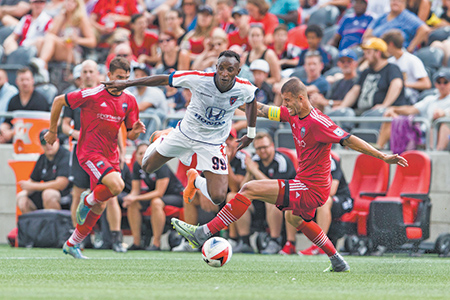 The Indy Eleven professional soccer team will again play its home games at IUPUI's Michael A. Carroll Stadium after a three-season run at Lucas Oil Stadium.
The team's return to the IUPUI campus follows challenges in scheduling weekend games at Lucas Oil Stadium, which already has a busy slate of conventions and other sporting events throughout the year—including Indianapolis Colts home games.
Indy Eleven is a member of USL Championship, the second-tier professional league just under Major League Soccer. It played games at Carroll Stadium from its inception in 2014 through the 2017 season before moving to Lucas Oil Stadium in 2018.  Its most recent match at Carroll was the USL Championship Eastern Conference final on Nov. 9, 2019.
"Indy Eleven would like to thank IUPUI and Indiana University for their cooperation and partnership," team CEO Greg Stremlaw said in written comments. "During our first tenure at Carroll Stadium, the environment our fans created gave their Boys in Blue one of the best home-field advantages in all of American soccer. We look forward to helping our supporters recreate that magic once again as we await the construction of the world-class home they deserve in Eleven Park."
Indy Eleven has struggled to create an effective schedule throughout its time at the venue, with many of its games falling to weekdays because of conflicts with other events at the stadium.
Stremlaw told IBJ the move back to Carroll offers "much greater scheduling availability and flexibility" than what Lucas Oil Stadium provided. He said the pandemic only exacerbated challenges because events have been rebooked for throughout this year from 2020, and Indy Eleven's season schedule has yet to be ironed out.
"There were not enough dates to even put together a schedule for 2021 for the Eleven there, and those dates that were available were far and away predominantly weekdays," he said. "We certainly would have liked to have found a plausible solution but we need to be able to have a season and have an appropriate schedule for it."
Stremlaw also said the return to Carroll means a renewed focus on a traditional soccer experience for players, fans and sponsors.
Carroll is "more conducive from a soccer perspective," he said, noting that while Lucas Oil is a high-end venue in the heart of downtown, it was not built for teams like Indy Eleven.
Many of the team's supporters are already cheering the move, as playing at Carroll—fondly called as "The Mike"—means a return to an outdoor setting, offering them the opportunity to use popular colored smoke bombs in celebrations. Because Lucas Oil Stadium is an indoor facility, supporters couldn't use those devices for games there.
Throughout its history, Indy Eleven has been been among its leagues' attendance leaders—something Stremlaw said he expects will continue with the return to Carroll, which has a capacity of just over 12,000. In 70 games at Carroll Stadium, the team averaged nearly 9,000 fans per game.
"We know this facility really, really well," he said. "We understand that, while it's not Lucas Oil Stadium, it does come with various benefits and fan experience" opportunities.
In 2019, the last season before the pandemic, Indy Eleven's average attendance of 10,734 was the second-best in the USL Championship.
Indy Eleven is expected to play at the venue until construction on its own stadium is complete, although the team has yet to announce where such a venue will be built.
The Eleven said last month it expects to announce a site for its Eleven Park mixed-use concept by the end of March. Additionally, the state Legislature is considering a bill that would give the team some breathing room to finalize the publicly funded portion of the project.
Andy Mallon, executive director of Lucas Oil Stadium owner Capital Improvement Board, said in written remarks the CIB was "proud" to welcome fans at the stadium for the past three seasons.
"Unfortunately, finding enough solid dates available on the 2021 events calendar to accommodate this year's season was challenging for both parties," he said. "We wish them every success at Carroll Stadium. The CIB looks forward to continuing discussions with Indy Eleven about plans for a permanent home for professional soccer in Indianapolis."
Please enable JavaScript to view this content.