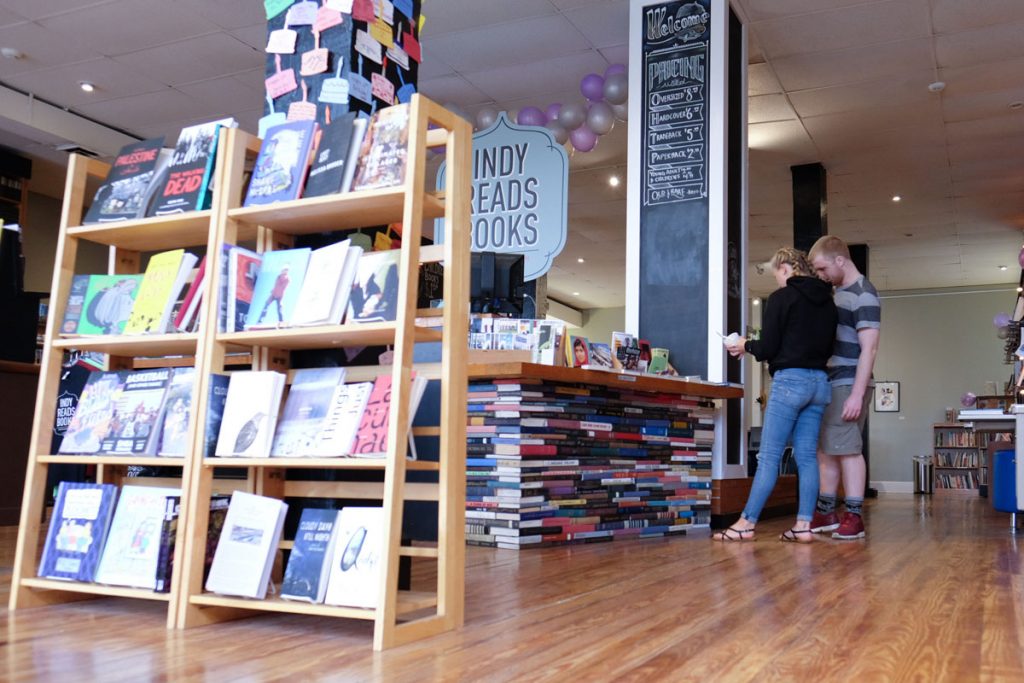 The Indianapolis Public Library has reached an agreement in principle to close its Fountain Square branch in May so the not-for-profit literacy organization Indy Reads can relocate its bookstore and offices in the space this summer.
The library branch occupies 5,143 square feet in the Fountain Square Block Building, at 1062-1068 Virginia Ave. at the corner of Virginia Avenue and Prospect Street. It has operated in that space since 1993.
Indy Reads runs its literacy programs out of space it leases from Central Library downtown. The organization's bookstore, Indy Reads Books, is located at 911 Massachusetts Ave.
A library board subcommittee is set to meet Tuesday night to discuss the move. The library's board still must officially agree to terminate the branch's lease.
According to a filings associated with that meeting, the library had originally planned to vacate the Fountain Square branch by the summer of 2021, when its planned West Perry branch is set to open at 6650 S. Harding St.
But Indy Reads Books' lease expires in August. Indy Reads CEO Ryan King told IBJ in 2018 that the store would likely need to find a new space with more-affordable rent.
Moving out early in order to make way for Indy Reads, the library filings said, would allow the library to save about $65,000 in rent and operational costs, while assuring that Indy Reads can have a smooth transition into its new space.
The building is owned by Southeast Neighborhood Development, a not-for-profit community development corporation that focuses on the southeast side of the city. SEND has been a part of the discussions between Indy Reads and the library and has agreed to the switch, according to the filings.
The transition would also fulfill local residents' wish for a community-focused organization to occupy that space, the filings say.
"In other words, IndyPL would be leaving behind the closest thing possible to a library branch," John Helling, the library's director of public services, wrote in a memo requesting the board end operations at the branch on May 8.
Indy Reads started out more than 30 years ago as a department of the Indianapolis Public Library before the organization became a separate not-for-profit entity.
Indy Reads had 135 students in the 2017-2018 school year. The organization opened Indy Reads Books in 2012 as a way to help generate revenue. The bookstore sells new and used books for adults and children, and it also hosts frequent events including author readings, children's activities, book discussions and more.
IBJ was unable to reach Indy Reads officials on Tuesday morning.
Please enable JavaScript to view this content.