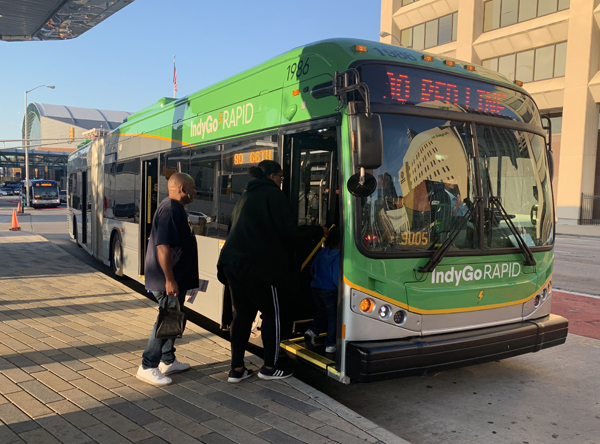 During the waning days of Indiana's legislative session, IndyGo will be fighting to quash yet another proposal that would result in a multi-million dollar financial hit on the public transportation system.
A Republican senator won initial approval this week for an amendment that would require IndyGo to pay public utilities to relocate utility services to make way for new transit lines, a move that Democrats say goes against standard practice.
Several Democratic senators fervently spoke against the measure, saying it will hurt IndyGo financially and hinder its efforts to expand rapid transit services. But supporters argued it's unfair for public utilities to eat the costs of relocating utility lines – and could result in higher costs to ratepayers.
The fate of the Senate-approved proposal is in the hands of Rep. Jim Pressel, R-Rolling Prairie. Pressel, chair of the House Roads and Transportation Committee, now needs to decide whether he agrees with the Senate version of his HB 1191, where the IndyGo amendment was inserted, or objects.
If he agrees, the full House will vote on the amended bill again. If not, the measure will go to a House-Senate conference committee to determine whether a compromise can be reached. Pressel did not answer a request Wednesday to comment on his intentions.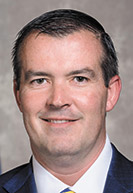 The revised bill passed the Senate by a 33-16 vote on Tuesday, the day after extensive criticism from Democrats, some of it aimed at Sen. Aaron Freeman, R-Indianapolis, who introduced the amendment.
They said the measure represented yet another example of the Republican-controlled Senate trying to impose its will on the Democrat-led city of Indianapolis and that it was out of the norm for the city to reimburse utilities for public projects unless agreed to in advance.
"I am upset about this because we shouldn't even being doing his right now," said Sen. Greg Taylor, D-Indianapolis, an attorney who specializes in municipal finance law. "Are you really trying to make an $8 million call right now? What's that you're going to do for public transportation? Nobody else who moves public utilities has to pay but the public transportation corporation. I wonder why?" the Senate Democrat  leader asked during floor debate.
The amended bill would require IndyGo to reimburse all utility companies for relocating utility lines beginning retroactively with the work done by Citizens Energy, AES Indiana and any others for the Red Line and in the future for the planned Purple and Blue Lines.
An estimate of the total cost for all these projects was not immediately available. But for the Red Line alone, Freeman said the costs was $7.94 million for Citizens Energy and $500,000 for AES.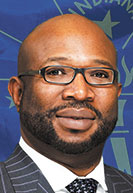 Taylor emphasized that Freeman also had been the author of Senate Bill 141, another measure aimed at IndyGo that failed in the House when Pressel decided not to give the bill a vote because he said not enough time remained to reach a consensus.
The proposal would have withheld 10% of local income tax revenue from IndyGo until it meets a private fundraising threshold established in a 2014 law. It also would have prevented IndyGo from moving forward with expansion projects, like the Blue and Purple Lines, until it gets private funding.
Taylor also pointed out Freeman, when he was an Indianapolis City-County Council member, voted against a proposed Marion County voter tax referendum that city voters passed to jumpstart a mass transit project in 2016.
Freeman denies he's trying to hurt public transportation, but says he wants IndyGo to be accountable for its spending and live up to its financial commitments made to voters. He said he wants to eliminate the possibility that public utilities, including Citizens Energy Group, would need to increase ratepayers' fees in Marion County to cover those costs.
"I am all for a bus service – a great bus service," he said.
But Freeman said he disagrees vehemently that taking away lanes of traffic is necessary to create rapid-transit lines and objects to IndyGo removing 500 routes. "The point is IndyGo should budget what it's going to cost to pay for these lines, and it should reimburse Citizens and other utilities for those lines."
Laura O'Brien, spokeswoman for Citizens Energy Group, said during an interview that the company did not request that Freeman introduce this amendment but supports it. "We believe it's important to balance our support for IndyGo rapid-transit lines with the potential for significant cost impacts on our customers."
She confirmed the $7.94 million cost of relocating the lines, but she acknowledged that an agreement was not in place at the time for IndyGo to reimburse Citizens Energy. O'Brien said Citizens has not increased rates due to the Red Line relocations. "However, without reimbursement, the costs would eventually be borne by Citizens' customers," she said.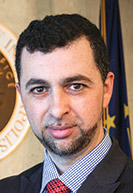 During the debate, Sen. Fady Qaddoura, D-Indianapolis, who worked as controller and chief financial officer of Indianapolis, said the city doesn't pay to reimburse utilities for public projects unless it's specifically arranged in advance through a tax increment finance agreement – and it was not for the IndyGo lines.
"The city and DPW (Department of Public Works), as a rule, do not pay to reimburse utilities" he said. Likewise, the city or DPW does not get reimbursed by utilities when roads are torn up to install utilities, Qaddoura said.
If this bill passes with the IndyGo amendment, he said it will change the rules of the game under the deal that sold city utilities to Citizens Energy and the promises made to voters under the referendum.
"Our business community – the largest employers in the city – are telling you this is wrong. Then why do we go against the business community we are claiming to help," Qaddoura said. "It will definitely harm students. It will harm schools. It will harm workers, and it will harm businesses, not only in Indianapolis but in the region." 
Taylor said it's important to keep IndyGo financially solvent so it can expand the rapid-transit lines.
"The Blue Line is going to help people who don't have transportation. Just let the people ride the bus. The public has agreed to pay for it. I am getting sick and tired of you coming up with these Marion County bills because you can't get things done in the right way, which is, go talk to the transportation corporation."
An IndyGo representative said the transit system does not have any official statement on HB 1191 but agreed that in Marion County it's the responsibility of utilities to bear the costs of any relocation of lines in a public right-of-way.
Please enable JavaScript to view this content.