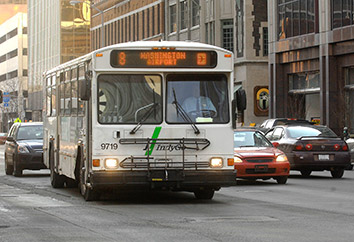 In its ongoing effort to address shortcomings in its paratransit service, IndyGo is launching a series of meetings this week to gather public input.
The first in a series of 11 virtual and in-person meetings begins with a virtual meeting at 6 p.m. Tuesday. Links to the online meetings are available at indygo.net/beyondada, and a complete schedule beyond Tuesday appears below.
IndyGo's paratransit service, known as Open Door, is a reservation-based system that offers door-to-door service for passengers whose disabilities prevent them from using IndyGo's fixed-route bus service. In 2019, Open Door provided about 900 passenger trips per day, or nearly 300,000 for the year.
A third-party operator, TransDev, has operated Open Door since 2018, but the operator has significantly fallen short of IndyGo's on-time performance standards. In mid-2019, IndyGo launched an in-depth study of its paratransit service and how to improve it.
A consulting team led by Bethesda, Maryland-based KFH Group generated ideas for smaller operational improvements, some of which have already been put into place.
The consultants also proposed several system-level changes that would potentially reduce Open Door's current countywide operating footprint or offer different levels of service depending on where riders live.
The Americans With Disabilities Act requires transit systems to offer paratransit service to riders within three-quarters of a mile of existing bus routes. IndyGo's Open Door service is more expansive, serving riders who live anywhere within Marion County.
IndyGo's board of directors rejected all of the consulting team's suggestions for trimming service, said IndyGo spokeswoman Lesley Gordon. "The board wants to maintain service county-wide."
So now, the public meetings will give IndyGo a chance to hear from passengers about what they want.
"We haven't made any decisions. This is about getting ideas and talking about what works and what's needed," Gordon said. "We're looking for those out-of-the-box ideas, especially from those who use (Open Door)."
Other online meetings are scheduled for:
March 23, 6 p.m.
March 25, 2 p.m.
March 30, 2 p.m.
April 1, 6 p.m.
April 8, 2 p.m. and 6 p.m.
In-person meetings will take place:
Thursday, 2 p.m., at 2425 W. Michigan St.
Thursday, 6 p.m., at 502 N. Tremont St.
April 6, 2 p.m. and 6 p.m., at 6019 S. Franklin Road
Please enable JavaScript to view this content.