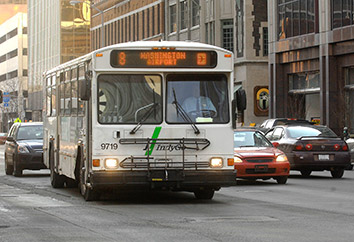 IndyGo plans to resume its regular schedule of routes next month after two months of cutbacks due to the COVID-19 pandemic.
Buses will begin running on their usual weekday schedules June 1, the transit agency announced Wednesday. Saturday and Sunday service will continue unchanged.
"As we navigate through this pandemic, IndyGo will continue to monitor ridership and evaluate routes and schedules," the agency said in a written statement.
IndyGo said it also plans to continue the increased cleaning and sanitation procedures that it implemented at the start of the pandemic. Riders will be asked to keep as much distance from each other as possible and encouraged to wear face masks.
Because of pandemic-related staffing shortages and ridership declines, IndyGo cut back its service March 29 and has been operating buses on a Saturday schedule six days a week since then. Sunday service has stayed the same.
IndyGo also temporarily suspended fare collections as a way to limit interactions aboard buses. Fare collections resumed May 4 after the transit system installed plexiglass shields to protect drivers.
Ridership dropped 22.2% in March compared with the same month a year ago. Ridership for the first three months of the year is down 5.5%.
According to preliminary ridership numbers, weekly ridership fell from nearly 176,000 per week in early March to a low of 61,000 the week of April 13. It has picked up slightly since then, topping 75,000 the week of May 11.
Please enable JavaScript to view this content.