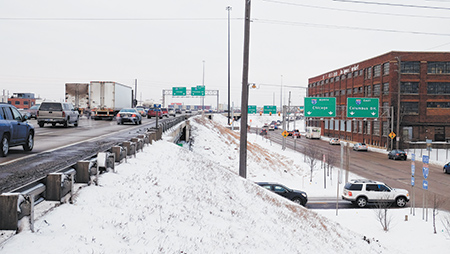 One of the city's most powerful institutions—the Lilly Endowment Inc.—signaled support on Thursday for exploring design alternatives for the inner loop, the portion of interstates 65 and 70 that snakes through downtown.
The Indy Chamber Foundation announced that it has received a $475,000 grant from the endowment to fund a study of reconstruction options for the inner loop except for the north split, the first phase of the project, which has already begun. The Chamber Foundation said the study will "inform implementation efforts" in the year 2030 and beyond.
"As the inner loop ages toward major reconstruction over the next decade, it's imperative that we gather the facts and engage our community to build consensus toward the best possible solution," Indy Chamber CEO Michael Huber said in a written statement.
The Chamber Foundation said it is partnering on the study with community leaders, city and state officials and with the Rethink 65/70 Coalition, which played a key role in shaping a compromise on the first phase in 2018.
The Indiana Department of Transportation originally had planned to add traffic lanes as the interstates approached the interchange from the east, west and south. The approach would have necessitated construction of high retaining walls and would have brought the highway closer to neighboring properties.
Under the compromise, INDOT won't add lanes. The new plan includes constructing concrete barriers between certain lanes of traffic and adding ramps. It will require the construction of retaining walls in certain areas, but they won't be as high as in the original plan.
At the time, the Rethink 65/70 Coalition praised the revised plan but said it still did not address two of its goals— to increase connectivity between neighborhoods and to increase inclusive economic development in areas along the interstates.
In November 2018, the coalition proposed a below-grade, recessed-highway approach that it said would free up 83 acres of current right-of-way land for private development and parks.
In a statement Thursday, Paul Knapp, CEO of the advertising agency Young & Laramore and leader of the coalition, said: "The Rethink Coalition, and the neighborhoods and businesses it represents, is profoundly grateful to Lilly Endowment for funding this study. The study and community engagement process may set the course for a new level of urban vitality for the next 50 years."
The inner loop is a half-century old, and all parties agree it must be reconstructed in some fashion. The phase that is moving forward is expected to cost $225 million to $275 million.
The Chamber Foundation said it expects to hire Arup Advisory Inc., a global design and engineering firm, to lead the study. Much of the technical analysis and a "community visioning" process is expected to be completed this year.
Please enable JavaScript to view this content.