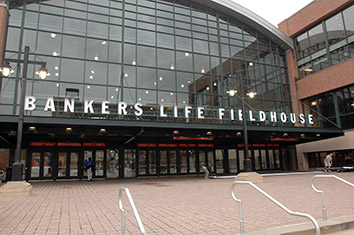 Pacers Sports & Entertainment officials don't plan to sign a new naming-rights partner for Bankers Life Fieldhouse until after this NBA season, even though the existing sponsorship for the venue expired in June.
Todd Taylor, chief sales and marketing officer for the organization, said the arena will retain the Bankers Life moniker and signage until a new sponsor is signed.
Carmel-based CNO Financial Group has been the naming-rights partner for the downtown Indianapolis fieldhouse since it opened in 1999, first under the company's previous name, Conseco, and then after its Banker's Life insurance unit since December 2011. The 20-year deal had been worth about $2 million per year.
Taylor said PS&E hopes to pin down another multimillion-dollar sponsorship deal before the first phase of a $360 million renovation to the venue begins next summer. The new naming partner could be announced as construction begins, with the deal taking effect at the start of the 2020-21 NBA season.
PS&E and CNO Financial will continue to have a "significant partnership," Taylor said, though he did not offer specifics.
Taylor said several groups have expressed interest in potential partnership opportunities, but PS&E couldn't come to terms with any of them before the regular season began Wednesday night.
There are multiple options on the table for new partnerships, he added, but PS&E is in no rush to ink a deal.
"We are in conversations at various stages with a handful of companies we believe could be great partners and a good fit for the fieldhouse of the future," he said.
He said the Pacers organization hopes to use the upcoming renovations as a marketing opportunity for the arena's new name.
"[It] may make sense to announce a new naming rights partner using the natural break created by construction" during the summer of 2020, he said.
PS&E and the city's Capital Improvement Board—which owns the fieldhouse—plan to put out for bid a variety of projects tied to Phase I of the three-phase fieldhouse renovation project.
Starting immediately after this season concludes—and ending before the 2020-21 regular season begins—the first phase of construction is expected to focus exclusively on interior renovations.
Phase I will include updates to visitor locker rooms, renovations to the Lightbound Courtside Club, two new sideline clubs, and a slew of changes to the KeyBank level, including 10 new suites and two loge clubs. The total number of suites will ultimately be reduced from 64 to 56.
Conference rooms and the media work room also will be updated, and the practice court at Bankers Life will be moved up one level to make way for a relocated Indiana Fever locker room.
Mark Rosentraub, a sports business expert at the University of Michigan, previously told IBJ the team is likely to secure a deal that could bring in $4 million to $5 million per year, particularly given the planned renovations.
"There's nobody doing this sort of deal off-the-cuff these days," said Rosentraub, a former dean at IUPUI. "And these deals bring a lot of exposure and a lot of revenue. That's to be expected."
In 2017, Scotiabank signed a 20-year, $639 million naming-rights deal with the owner of the Toronto Raptors and the Toronto Maple Leafs hockey team. The next year, State Farm signed a $175 million, 20-year naming-rights deal with the Atlanta Hawks.
Experts have speculated the Pacers may try to get a deal with a company with a large local presence, such as Salesforce. The San Francisco-based tech company has ramped up its presence in Indianapolis over the past few years and already has a close marketing relationship with PS&E.
In 2018, Salesforce announced a partnership through which its technology helps PS&E develop personalized fan experiences on social platforms. This year, the company announced a deal with the WNBA's Indiana Fever that puts the Salesforce logo on team jerseys.
The Pacers and Salesforce have previously declined to comment on speculation they may be discussing a naming-rights deal.
While a naming-rights deal is important, it's secondary to finalizing plans for the renovations, Taylor said.
"We think it's probably better to align timing [to] when we … think we can make a bigger splash," Taylor said, "when we have a building that will lead us into the next 20 years."
PS&E is being assisted in the search for a new partner by Los Angeles-based Wagner Sports & Entertainment, a global player in the naming-rights industry.
Please enable JavaScript to view this content.