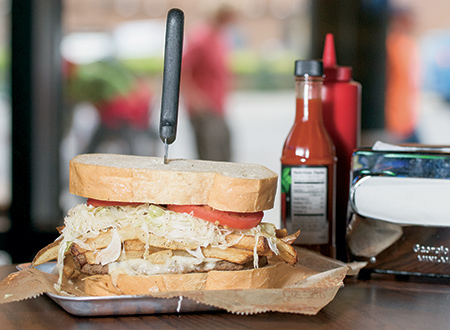 Pittsburgh-based restaurant-and-bar chain Primanti Bros., which once had four locations in the Indianapolis area, now has none.
The chain, which is known for serving french fries on its sandwiches, has permanently closed its downtown restaurant in Circle Centre Mall, at 49 W. Maryland St., according to its Facebook page. The restaurant has been removed from the company's list of locations on its website.
Primanti Bros. entered the Indianapolis market in May 2016 when it opened a 5,500-square-foot location near Hamilton Town Center in Noblesville, followed by the downtown location later that year. Locations in Greenwood and Avon soon followed. The Noblesville restaurant closed in May 2019, and the Greenwood and Avon sites closed in January.
The 7,200-square-foot downtown space at the corner of Maryland and Illinois streets was previously occupied by California Pizza Kitchen, from 2011 to 2016, and original Circle Centre tenant Alcatraz Brewing Co., from 1995 to 2011.
A call to the restaurant went unanswered Tuesday afternoon. The Primanti Bros. website lists no Indiana locations. The company's corporate headquarters did not immediately respond to a phone message and an email.
In addition to sandwiches topped with french fries and sandwiches, the chain sells wings, pizza, burgers, salads and beer.
Founded in 1933, Primanti Bros. operates 39 restaurants, with 29 in Pennsylvania and others in West Virginia, Ohio, Michigan, Florida and Maryland.
Please enable JavaScript to view this content.