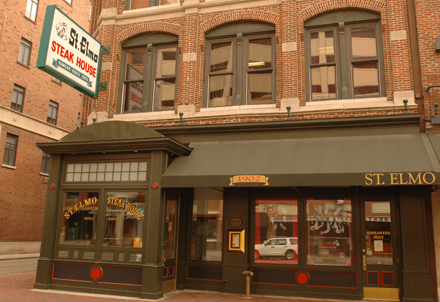 An Indiana Department of Labor inspection at downtown's St. Elmo Steak House has found no evidence of workplace health and safety violations related to the April 3 COVID-19 death of one of its employees.
The Indiana Occupational Safety and Health Administration, a division of the Department of Labor, initiated the inspection following the employee's death.
IOSHA spokeswoman Stephanie McFarland said IOSHA's investigation did not discover any violations, and the case was closed last week.
According to the federal Occupational Health and Safety Administration's online database, the St. Elmo investigation was closed on Aug. 9.
St. Elmo, which is operated by Huse Culinary, shut down for deep cleaning on the evening of April 3 after nine of its employees tested positive for COVID-19. After working with the Marion County Public Health Department on an investigation and contract tracing, the restaurant reopened two days later.
St. Elmo has not named any of the employees who tested positive, nor has it identified the employee who died. But several former or current St. Elmo employees posted online tributes for a bartender who died, and other media outlets have identified the deceased as longtime St. Elmo bartender Michael Gaines.
St. Elmo also promoted a GoFundMe campaign to raise money for Gaines' family. The campaign launched in April and to date has raised $11,755 from 88 donors.
Huse Culinary did not respond to a text message seeking comment Tuesday morning.
Please enable JavaScript to view this content.