The challenge of growing any business sector in a particular market is finding enough talent to do so. And finding enough of the right talent is becoming an issue facing the burgeoning central Indiana tech sector.
Local tech companies big and small have had to become creative to retain and attract the talent they need to grow. And as the demand for tech talent rises, information technology professionals have become more demanding.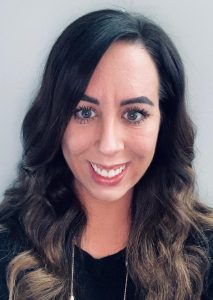 Lisa Maloney, assistant vice president and the Indianapolis branch manager for Robert Half, a global human resource consulting firm based in Menlo Park, California, is on the front line of this battle. Robert Half started in 1948, primarily focusing on accounting and finance talent. For the last 25 years the company has also focused on the tech sector, where Maloney puts much of her focus.
In an interview with IBJ, Maloney shared her observations and analysis on the local tech sector.
What is the state of tech hiring in central Indiana right now?
It's definitely a candidate-focused market, meaning candidates have multiple opportunities to choose from as the demand for skilled talent in IT is very challenged. A lot of organizations today are starting to flex on requirements or offer different perks to not only retain existing staff but to attract new staff.
What's the compensation range for in-demand tech positions in this market?
[For] Entry level roles, out of school/certification programs, help desk is $15 to $17 an hour and software engineers make $50,000 to $55,000 [annually]. Mid-level roles with three to five years of experience: systems administrators make $70,000 to $80,000 and software engineers are $75,000 to $85,000. Senior-level roles with five to seven years of experience: systems or network engineers make $85,000 to $100,000 and software engineers make $90,000 to $110,000.
What's key to a compensation package that will attract IT professionals?
Almost anyone I work with is not willing to leave their current job unless they get at least $5,000 more than they are currently making, and most are targeting a $10,000 or more increase. IT professionals are also demanding signing and performance bonuses. They want medical deductions paid for and a very good vacation and sick-time offering. Many people are looking for a minimum of three weeks off for vacation plus sick time. People in IT also want a continuing education program.
Are Indianapolis tech companies able to find as much talent as they need?
Probably not. Most companies are having positions sit open for upwards of six to eight weeks even before they partner with a company like ours. The market is just slim. A lot of people who are looking at other opportunities are retained with counter offers. Companies are throwing money at what I would call mid- to senior-level hands-on producers in IT. That would be your server side, network administration and engineers as well as anything within the software development sector, heavily focused on data-driven individuals.
What IT skills are most in demand in this market?
People want to understand what their data is telling them in order to grow their revenue. A lot of people are focused on finding data analysts or data reporters or business intelligence types of professionals. We also see a lot of demand for Microsoft developers. We're a pretty tried and true heavy Microsoft market. Second to that bucket is the server side and network administrators and engineers.
How important is it to have a college degree in the tech sector?
A lot of people in IT learn through experience and worked their way up. Some of them at the mid- to senior-level—people with seven to 12 years of experience—have degrees, but I would say you are looking at a 40/60 split, meaning 40% have college degrees and 60% do not.
Are jobs in artificial intelligence and cybersecurity in demand in this market?
Artificial intelligence is in the data field to a degree, and those positions are certainly in demand. Cybersecurity is hit and miss in this market. There have been peaks and valleys with that in this market. It's a very niche skill set, so that market is quite small here, and it can be difficult to retain someone in that space. If a company is looking to fill a cybersecurity position, it's going to take some time, especially if you are not flexible in your requirements.
Some tech companies have told me that entry level IT positions are relatively easy to fill here, but the mid- to senior-level positions are quite difficult to fill. What's the challenge for companies finding mid- to senior-level talent?
It's simply a matter of supply vs. demand. At any one time, there are likely at least twice as many postings for jobs at the senior level as there are candidates to fill them in this market. It can be really difficult to find someone for a position like that who can hit the ground running. We just don't have enough IT professionals needed to fill the growing tech companies in this market.
How important are perks and benefits in attracting tech workers?
With the demand exceeding the supply the way it is, it's very important. And the importance of those types of things is rising.
What tops perks and benefits do tech workers want?
Everyone wants a flexible schedule, meaning my core hours would be 9 a.m. to 2 p.m., and then you can choose to work early in the morning and wrap up there day early or work later at night if you choose. People also want a remote option, whether that's for a day or multiple days. People also really want unlimited time off.
Is maternity or paternity leave an important perk in the IT sector?
The IT sector in this market is quite heavily male, so it's not been as important as other benefits. We are increasingly seeing some desire for a paternity leave, and some companies are starting to offer that. But it's not a primary concern we see right now in the tech sector. It certainly is a nice bonus.
Please enable JavaScript to view this content.