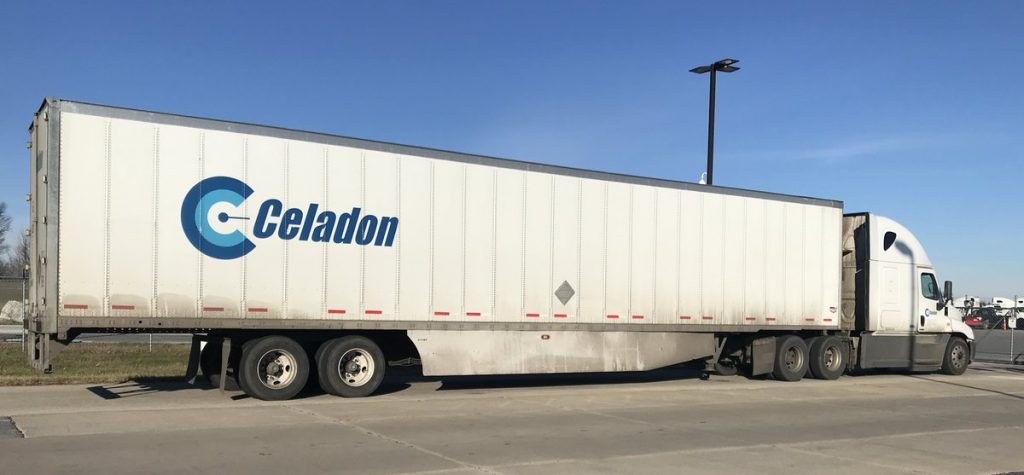 Long-struggling Celadon Group Inc., one of the nation's largest trucking companies, is preparing a Chapter 11 bankruptcy filing and might submit it as early as Sunday.
That's according to an IBJ source familiar with the discussions, as well as report on TransportationNation.com. FreightWaves.com said the filing is expected by mid-week.
The Indianapolis-based company lost its way after founder Stephen Russell gave up the CEO's role in 2012. Russell, who died in 2016 at age 76, launched the company in 1985 with a single truck.
Celadon recently has been dogged by allegations of wrongdoing by executives who ran the business after Russell stepped aside but are no longer there. The U.S. Department of Justice announced fraud charges against one former executive last April, and last week announced charges against two others.
Celadon CEO Paul Svindland, who joined the company in 2017, did not respond to messages from IBJ on Saturday. Thom Albrecht, the company's chief financial and strategy officer, declined to comment.
A source familiar with Celadon's bankruptcy discussions said the company has notified major customers that they likely will experience cargo-delivery disruptions.
On a Facebook group for Celadon drivers and office employees, numerous people identifying themselves as Celadon drivers posted messages on Saturday saying their fuel cards were no longer working.
Many of those posting expressed concern and confusion about what was happening with the company and what the effect might be on drivers.
IBJ reached out to several members of that group but did not receive immediate responses Saturday evening.
Companies file Chapter 11 bankruptcy to keep creditors at bay while they attempt to restructure their finances. Those efforts sometimes are successful, as was the case with Indianapolis-based Republic Airways in 2017, but often they are not. Both Indianapolis-based HHGregg and Indianapolis-based Marsh Supermarkets went out of business that same year after failing to restructure in bankruptcy. Some firms that hope to reorganize in bankruptcy court end up going out of business immediately because they are unable to line up new financing to carry them through the process.
Even though Celadon is a publicly held company, it's difficult for outsiders to know where the company stands financially at this point. That's because Celadon has disavowed its financial statements covering several years and has not released restated figures.
As recently as 2016, the company generated more than $1 billion in revenue. It had nearly 6,000 employees, including 3,700 drivers, with another 1,300 drivers working as independent contractors. As recently as 2017, it had more than 500 Indianapolis employees.
Celadon has spent the last few years engulfed in controversy.
After a lengthy refinancing effort, on July 31 Celadon announced that it had obtained $165 million in new financing, which Svindland described at the time as "a solid platform for the next stage of our business turnaround." The company said it intended to use the financing to update its aging trucking fleet.
That financing included $105 million in term loans and $60 million from refinancing its former revolving credit facility. The term loan lenders included three funds affiliated with BTC Holdings, as well as Luminus Energy Partners Master Fund Ltd. The lender for the revolving credit was MidCap Financial Trust.
Celadon and its lenders have amended the credit agreement three times since then, most recently on Nov. 15.
In May 2017, the company announced that its auditor, BKD LLP, had lost confidence in Celadon's recent financial reports, and that investors should not rely on the accuracy of those reports.
On Thursday, the U.S. Department of Justice announced that Celadon's former president and chief operating officer, William Eric Meek, 39, and its former chief financial officer, Bobby Lee Peavler, 40, had been indicted on multiple charges of fraud.
The U.S. Securities and Exchange Commission filed a civil suit against Meek and Peavler the same day.
Both the civil and criminal cases allege that the former executives were involved in buying and selling trucks at inflated values through Celadon subsidiary Quality Cos. in 2016 to make Celadon's financial condition appear stronger than it actually was.
In April 2019, former Quality Cos. President Danny Williams, 36, pleaded guilty to conspiracy to commit securities fraud, make false statements to a public company's accountants, and falsify books, records, and accounts of a public company.
Meek was Williams' supervisor.
Also in April, Celadon entered a deferred prosecution agreement with the government under which it is obligated to pay restitution of $42.2 million.
Celadon admitted last July that it was under criminal investigation over financial-reporting issues dating back to 2013.
In October 2017, the company revealed that it was under investigation by the SEC. And, in April 2018, Celadon said its problems were much older and deeper than expected, and that the company had likely overstated earnings by as much as $250 million during a three-year period that ended in 2016.
The company has replaced most of its senior leadership team, including its CEO and chief financial officer. The firm also has refocused on its core trucking business and exited several other lines of business.
Celadon was founded in 1985 by Stephen Russell, the son of a New York taxi driver. Russell grow the business into one of the country's largest trucking companies, with more than 5,000 tractors and 12,000 trailers and a customer base that included Fortune 500 shippers such as Walmart, Procter & Gamble and General Electric.
Russell, who had begun his career as a financial analyst, started Celadon after a chance meeting at a New York toll booth with a fellow motorist who was a former employee.
The man told Russell that he was running a logistics company and needed trucks to carry automobile components between Mexico and Michigan. The conversation spurred Russell to start Celadon.
Please enable JavaScript to view this content.