Izod is touting its first year as the IndyCar Series title sponsor as a roaring success. Series officials are confident Izod's proclamation will lead to more sponsors' joining the series in 2011 and help it turn a profit for the first time since its founding in 1996.
During 2010, the first year of the six-year deal, Izod officials said they realized a 350-percent return on the apparel company's investment.
"The return on investment is off the charts," said Michael Kelly, executive vice president for corporate marketing at New York-based Phillips-Van Heusen, Izod's parent company. "It's just amazing."
Izod and IndyCar Series officials declined to divulge the value of the deal, but motorsports marketers said Izod is paying $6 million to $7 million annually, including a sizable media buy.
Izod officials said that in 2010, Izod brand awareness increased 10 percentage points, brand familiarity rose 16 percent among 25- to 35-year-old men, and digital impressions increased 20 percent over 2009, due primarily to the series' and drivers' Facebook and Twitter accounts.
The clothing brand registered more than 25 million digital impressions this year through the series' and its drivers' social media accounts, Kelly said.
"A 350-percent return on this size of investment is very impressive," said Larry DeGaris, director of academic sports marketing programs at the University of Indianapolis, who has conducted several studies for motorsports business enterprises. "But what they're looking at, primarily digital impressions and brand awareness, is only a partial evaluation."
Just Marketing International CEO Zak Brown, who represents major sponsors in NASCAR, Formula One and the IndyCar Series, said a 350-percent return would represent "the biggest I've ever heard of."
Sales increases, Brown said, must be an essential part of a complete evaluation of Izod's return on investment, but he added that a spike in brand awareness could be a sign that sales increases are coming.
Izod officials declined to discuss sales increases in 2010, but Kelly said distribution of the company's products through Macy's has increased since Izod signed the title sponsorship deal in November 2009.
"Izod wouldn't be making these claims if they weren't true in their world," Brown said. "Izod is well-respected in the retail sector, so this claim has caught the attention of some other sales and marketing executives."
Izod's strategy relied on heavy spending in the digital realm and on television.
Izod took six IndyCar drivers to Panama early this year and filmed a series of TV commercials depicting Ryan Hunter-Reay, Marco Andretti and others racing jet-skis and motorcycles. The commercials directed viewers to the website, racetotheparty.com, which had more information and videos on the series, drivers and Izod's products.
The TV ads were supplemented by billboard ads in major U.S. markets, including New York and Los Angeles, and print ads in GQ, The New York Times, ESPN The Magazine and Vanity Fair.
Izod used past and present drivers and entertainment stars such as actor Mark Wahlberg and rapper P. Diddy at special promotions at Macy's stores in Indianapolis, Chicago and New York and at special events in California.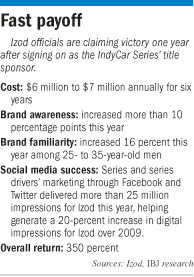 "The best thing is, they are actively involved in the series and spending money to raise the awareness of the series," said Terry Angstadt, president of the series' commercial division. "Izod has worked hard to take our message into people's homes and lives that weren't already race fans."
Pep Boys and Internet search engine Northern Lights each had brief stints as the series' title sponsors, but Brian Barnhart, IndyCar Series president of competition, said the deal with Izod is "probably the first legitimate title sponsor we've had."
Kelly said Izod likely will increase spending in 2011 to promote the series, adding that marketing muscle will be added in the series' new markets, such as Baltimore, and surrounding the centennial celebration of the Indianapolis 500 in May.
The effusive praise from Izod is the latest in a string of positive developments for the series. This fall, Chevrolet and Lotus announced they'd be joining the series as engine suppliers in 2012, and promised to dump $10 million to $15 million each into promoting the series.
In November, race promoters estimated series-wide attendance increased 5.5 percent. According to New York-based Nielsen Media Research, TV viewership for 12 races on cable channel Versus was up 15 percent in 2010—to 366,000 viewers per race—over 2009. ABC saw average viewership increase 2.3 percent, to 2.36 million viewers over four telecasts.
The series still has challenges. The Indianapolis 500, its marquee event, in 2010 drew 5.79 million viewers on ABC, down 8.6 percent from 6.34 million in 2009.•
Please enable JavaScript to view this content.