Many Indianapolis police officers drive their patrol cars during off-duty hours without paying for the gas they use.
The cops last year agreed to reimburse the city for one tank of gas a month, potentially saving taxpayers $1 million a year, but the Department of Public Safety has yet to implement the policy.

That and other long-discussed savings in the criminal justice system might finally come to fruition this year, as the city confronts an estimated $27 million budget gap for 2013. The only places left to find that money are in sheriff, police, fire and court budgets, which account for 85 percent of spending from the $569 million general fund.

Mayor Greg Ballard and City-County Council President Maggie Lewis soon will start 2013 budget negotiations.
Mayor Greg Ballard vows to continue his march for government efficiency into politically sensitive territory.
"There have not been efficiencies in public safety," Ballard said. "Everyone else has cut back. Everyone has been more efficient. All these sacred cows have to stop."
City-County Council President Maggie Lewis said she recognizes that public safety is the logical target for cuts, but the Democratic-controlled council might disagree with Ballard on exactly where to make them.
"This is going to be a test of the councilors and administration," she said. "Are we really going to be able to work together?"
Ballard's budget will be introduced Aug. 13, but City Controller Jeff Spalding expects negotiations over the final allocations to last all fall. The deadline for adoption is Nov. 1.
Last year, Ballard and the Republican council plugged a huge hole in the 2012 budget by transferring $38.5 million out of the downtown tax-increment-financing district. The $945 million budget was adopted in October.
Because of a lag between economic recovery and money flowing to city coffers, Spalding forecasts that local income tax revenue will be flat in 2013. Property values remain weak, and the fundamental deficit that existed last year hasn't gone away.
Spalding actually estimates the gap between 2013 revenue and expenses at $47 million, but he's proposing to narrow it by spending $20 million of the $30 million the city received this spring after the state Department of Revenue corrected its accounting error.
His forecast accounts for higher revenue since the state's error correction. Without that correction, the gap would have been $70 million, he said.
Spalding said the Mayor's Office hasn't identified a specific amount to cut from public safety.
He cautioned that final figures are in flux, as agencies make the case for their expenses.
"As you start looking closer, your analysis starts getting more sophisticated," he said.
Making the case
Some expenses, like hospital bills for arrestees, which were a point of discussion last year, still aren't under control.
Meanwhile, Sheriff John Layton and the Fraternal Order of Police have been vocal about needs they say are growing, not shrinking.
Layton, who runs the jails, serves warrants, and provides court security, is requesting a $108 million budget for next year—$6.5 million more than he was given for 2012.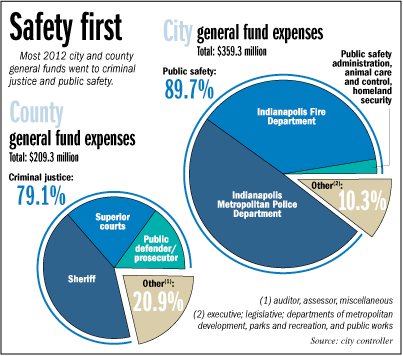 Layton reduced his head count by 60 people, to 1,021, and personnel costs by $7.7 million through a hiring freeze, but he said he has to catch up on expenses that weren't adequately covered this year.
Those include per-diem charges from Corrections Corporation of America, which operates Jail II. The charges kick in when the inmate population spikes above the average specified in the private operator's contract.
Bills from Wishard Hospital also are a nagging issue for the sheriff, who is responsible for payment, though Indianapolis Metropolitan Police Department officers decide when to send arrestees to the hospital.
The Sheriff's Office and IMPD have worked on cutting down unnecessary health care expenses, Lt. Col. Louis Dezelan said.
"That's not changing as much as we would like, but we can't second-guess those people on the street," he said.
Police have complained at various times about a lack of supplies, from toilet paper in one district to ammunition at the firing range. While Ballard's office found money to cover those items, FOP President Bill Owensby said the shortages suggest that outgoing Public Safety Director Frank Straub mismanaged IMPD's $193 million budget.
Owensby said the department's more than 1,600 officers want to be part of the budget solution. That's why he agreed to the fuel surcharge, and he's working on a plan that he thinks would better deploy IMPD manpower.
"We're woefully short on the street, in terms of uniformed officers that take radio runs," Owensby said.
Sparing officers
Police manpower has been an issue since former Mayor Bart Peterson passed an income-tax hike in 2007, promising to put another 100 cops on the street.
The tax hike helped turn voters against Peterson, and the additional revenue has been spent many times over without adding the officers.
The voting public tends to equate police spending with lower crime, and data suggest Indianapolis doesn't have much room to maneuver on that point, said Matt Nagle, senior policy analyst at the Indiana University Public Policy Institute.
IMPD spent $235.51 per capita in 2010, less than 10 other cities, including Cincinnati, Cleveland and Columbus, Ohio, data that Nagle compiled show. (IMPD's current budget is $2.5 million less than in 2010.)
Louisville and Nashville each spent less than Indianapolis, but their crime rates were also lower—much lower in Louisville's case.
Nagle said there's no direct relationship between police departments' spending and crime rates, but public perception is influenced by news reports and personal experiences.
"If the perception by the public is, we need to see more police out there on the beat, then it is hard to slash budgets and justify that," he said.
Republican Councilor Ben Hunter wants to avoid police layoffs.
A former officer who chaired the council's public safety committee for two years before losing the seat to Democrat Mary Moriarty Adams, Hunter thinks there's money to be found in better vehicle fleet management and turning the police academy into a regional training center.
"We're still in a position where we can look internally and find ways to close a gap," he said.
While Hunter calls for bipartisan solutions, Ballard is talking up an idea that probably will spark a turf battle with Layton, a Democrat elected in 2010.
Ballard wants to consolidate the personnel departments of the courts, prosecutor and sheriff. Consolidation wouldn't reduce direct human-resource staff, but it would ensure those departments consider the financial impact of hiring decisions, Deputy Controller Julie Keen said.
With their own human-resource staffs, those offices can hire as many people as they think they need, Keen said. Then if they exceed their budgets, the city has no choice but to help them meet payroll.
Ballard said he's still testing the waters on human-resource consolidation, which would require City-County Council approval.
Layton said he's not giving up control over his hiring.
"I would be glad to entertain a thought of any consolidated human resources enterprise being under the elected sheriff," he said.
Council Democrats, meanwhile, are eyeing the public safety director's office. Lewis said the director's office looks top-heavy to some of her colleagues.
"Are all those positions really necessary?" she said.
Ballard has spared the budget knife on public safety so far, but his staff doesn't expect to find much fat.
Last year, agencies held the line on spending against rising fixed costs like health insurance and contracted raises, Keen noted.
IMPD took steps like not buying ammunition for the array of guns officers choose to carry in addition to department-issued weapons.
"It may look like they're being held flat when they're under much more pressure," Keen said. "They're finding every nickel."•
 
Please enable JavaScript to view this content.