More
Stories
Democrat Glenda Ritz pulled off a David-versus-Goliath victory to unseat Republican Tony Bennett as Indiana's superintendent of public instruction.
The librarian from Indianapolis was virtually unknown until the Indiana State Teachers Association endorsed her in late May. Even with the backing of the state's teachers' unions, she raised only $327,000 for her campaign.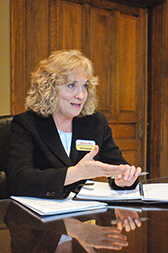 Glenda Ritz says she's not against accountability, but objects to the state's emphasis on pass-fail standardized tests. (IBJ file photo)
Bennett, by contrast, had become a celebrity—for good and bad—in education circles both statewide and nationally because of his success in championing the most sweeping package of school reforms in the nation.
Bennett was able to raise an astounding $1.6 million for his re-election.
Bennett used his cash to run numerous television ads—always expecting that the National Education Association would try to match his spending.
Instead, Ritz waged a highly effective grass-roots campaign. In the week or two before the November election, Facebook pages lit up with pleas from educators to their friends to vote against Bennett.
Ritz also sheered away conservatives by emphasizing a return to local control after numerous state-level interventions by Bennett and the Legislature.
"Indiana government is asserting power to impose mandates that take away the very essence of our public school system," Ritz wrote in an August column in IBJ.
The 58-year-old mother of two was a longtime Republican before she turned against the policies of Bennett and Gov. Mitch Daniels, particularly their emphasis on standardized, pass-fail tests like ISTEP. Instead, she wants to focus on improving classroom instruction by providing student performance data and support to teachers, especially in the area of reading.
"I'm not against accountability—at all. I just have a very different vision for what it looks like," Ritz said. "You can't just do it with test scores."
Ritz also has said she has few beefs with the education reforms passed by the Legislature in 2011, but she does think Bennett was implementing them in aggressive ways not required by the laws.
"My first priorities and my first concern is to make sure the learning in the classroom is on the right track," Ritz said. "So my focus is going to be on the implementation of laws that are already in place."•
Please enable JavaScript to view this content.