More
Stories
Mike Pence will be Indiana's next governor after a campaign in which he promised to continue the work of two-term Republican Mitch Daniels.
Pence, who served in the U.S. House of Representatives since 2001, left his strident rhetoric on abortion and other social causes in Washington, D.C., as he toured Indiana in a red pickup truck and talked about his policy "Roadmap." He chose former state Rep. Sue Ellspermann of Ferdinand as his running mate.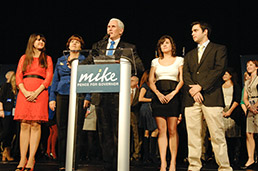 (IBJ file photo)
Pence's plan emphasizes work-force education and cutting the state's personal-income tax to create jobs. Pence told IBJ he wants to "have more Hoosiers employed than at any time in our state's history."
His official goal is to increase private-sector employment, which peaked at 2.6 million jobs.
Pence took a huge polling and fundraising lead early in the race against Democrat John Gregg, a former Indiana House speaker who had been out of state politics for a decade. But Gregg managed to narrow the gap late in the game, and the election result was not the landslide many pundits expected.
Pence won 49.6 percent of the vote, while Gregg received 46.4 percent, and Libertarian Rupert Boneham took 4 percent.
One of the biggest decisions facing Pence following the election was whether Indiana should set up its own health insurance exchange under the Affordable Care Act.
Pence said he will not approve a state-run exchange because its $50 million cost isn't worth the limited autonomy Indiana would receive in return.
The other question raised by the health-insurance reform dubbed "Obamacare" is whether Indiana should expand Medicaid coverage for poor people. Pence, who opposed Obamacare, has said he would consider expanding Medicaid only if the federal government allows the Healthy Indiana Plan to serve as the vehicle.
Pence sidestepped questions about whether he'll pursue a conservative social agenda, such as a constitutional ban on gay marriage. He told The Associated Press, "The Legislature will have agenda items they want to consider. We'll take them one at a time. But our focus is going to be on bringing our road map to the Legislature and to the people of Indiana."
The one part of Pence's "Roadmap" that hints at his own agenda is promoting marriage to reduce poverty. That includes requiring relevant state agencies to draft "family impact" statements when adopting rules or regulations. Pence said he would issue an executive order requiring the statements.•
Please enable JavaScript to view this content.