More
Stories
Optimism grew among developers of all types of real estate in 2012, but the undisputed sector leader continued to be apartments.
Construction began or was to begin soon on dozens of projects with thousands of units, most quite upscale and aimed at one of two growing segments of the population who increasingly see no stigma in renting: aging boomers and young families.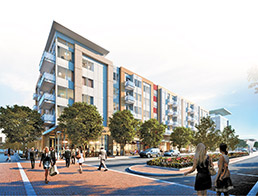 The first of CityWay's apartments leased quickly. (Rendering courtesy of CityWay)
Downtown was the king of new apartments, as the first phase of units in the $155 million CityWay leased up quickly and workers began constructing hundreds of additional units.
Among the notable downtown apartment projects under way or scheduled to launch soon:
• Flaherty & Collins Properties plans to develop an $85 million mixed-use project at Capitol Avenue and Michigan Street called Block 400. The development plan, which incorporates a Marsh grocery store, calls for almost 500 apartments.
• Developers led by J.C. Hart Co. are planning a $43 million redevelopment of a Mass Ave parcel occupied by the Indianapolis Fire Department. The proposal calls for up to 235 market-rate apartments, along with 40,000 square feet of first-floor retail space.
• Flaherty & Collins Properties and Insight Development Corp. have begun construction on a $23 million residential and retail development called Millikan on Mass Ave planned for the land surrounding the Barton Tower apartments. It calls for a mix of 144 affordable and market-rate apartments and retail/restaurant space along Mass Ave.
• Milhaus Development has begun construction on the $31 million 451 Market project on the site of the former Bank One operations center at East and Washington streets. The first phase calls for 256 apartments and 13,000 square feet of commercial space.
• The Whitsett Group was working on several projects, including a 72-unit rehab of the American Building, 333 N. Pennsylvania St., an office building Whitsett is converting to apartments in partnership with Ambrose Property Group. Whitsett and Ambrose also closed on a deal to buy the 15-story Consolidated Building at 115 N. Pennsylvania St. with plans to convert it into 98 apartments.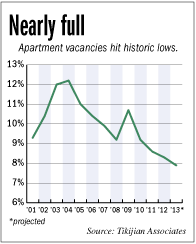 Along with downtown, Fishers was a particular hot spot for apartments, with more than $94 million of projects on the drawing board.
The $22 million Watermark on Cumberland apartment community will be the first Indiana project for Indianapolis-based Watermark Residential, whose ownership includes the principals in Thompson Thrift.
The plans call for 220 units in three three-story buildings with frontage along 116th Street and Cumberland Road, wrapping around a Chase Bank branch at the corner, said Eric Garrett, a Watermark principal. The project is slated for completion by December 2013.
Other major apartment projects in the works in Fishers included a $24 million, 233-unit project called The Hamilton along Hoosier Road south of 116th Street. The project by J.C. Hart Co. is under construction. The first phase of Bella Vista by locally based Edward Rose & Sons calls for 180 units at 106th Street and Lantern Road, just west of Interstate 69.
Finally, a $33 million project by Indianapolis-based Flaherty & Collins Properties called for 203 apartments, 25,000 square feet of retail space, and a 406-space parking garage on 3.4 acres north of 116th Street and west of Municipal Drive, in front of Fishers Town Hall.•
Please enable JavaScript to view this content.