More
Stories


Newsmakers
Mayor Greg Ballard charged forward on government-supported downtown development efforts after successfully shepherding an expansion of a TIF district over Democratic opposition, and as the first phases opened for the city-subsidized $155 million CityWay apartment, retail and hotel project on the south edge of downtown.

The city in October tapped the apartment specialist J.C. Hart Co., retail developer Paul Kite's Strongbox Commercial and architecture firm Schmidt Associates (all locally based) to redevelop a prime Mass Ave parcel currently occupied by the Indianapolis Fire Department. The 1.45-acre property is bordered by Massachusetts Avenue, North New Jersey Street and East North Street.

The $43 million plan calls for up to 235 market-rate apartments, 40,000 square feet of first-floor retail space and two levels of parking, including underground spaces. A notable feature is a giant electronic-mesh art display at the building's corner.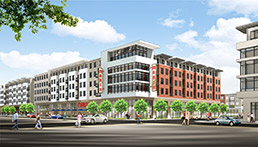 TIF financing is paying the way for Block 400, a development on the west side of downtown that will include 487 apartments and a Marsh grocery.(Rendering courtesy of Flaherty & Collins)
The city plans to contribute $3 million from the downtown TIF district to subsidize parking, along with the 1.5-acre site. The development team is required to put $5.4 million into an escrow account it may draw on to fund construction. If the project stalls, the city would keep the land and cash.

Construction is expected to begin in 2014.

Meanwhile, in December, construction began on the first phase of a project that calls for a Marsh grocery store and hundreds of apartments that would replace a block and a half of surface parking lots in the northwest quadrant of downtown.

The plan by locally based Flaherty & Collins Properties calls for 487 apartments, the grocery store, a parking garage and additional retail space on properties bounded by Michigan Street, Capitol Avenue, Vermont Street and Indiana Avenue.

Much of the land needed for the development—dubbed Block 400—is owned by locally based OneAmerica Financial Partners Inc., which uses it for employee parking. To make way for the development, the city is using TIF funds to pay the roughly $13 million bill to build a 930-space parking garage for OneAmerica at the northwest corner of Illinois and New York streets.

The total cost of the development, including the city's contribution from tax-increment financing district revenue, is projected at $85 million.•