Ersal Ozdemir regaled state legislators in recent weeks with his pitch to capture tax revenue to finance an $87 million downtown soccer stadium.
It's a familiar position for the 39-year-old developer, who heads the development and construction firm Keystone Group. For years, Ozdemir has charmed elected officials with big ideas—and hundreds of thousands of dollars in political contributions.

Ozdemir
His networking helped yield millions of dollars in subsidies for his developments in Indianapolis and Carmel, legislation tailor-made to save him property taxes, designation as a minority business enterprise that appears to stretch statutory definitions, and more than $4 million in federal stimulus funds to develop dozens of rental properties he owns outright.
"He's the master of public subsidy—getting public dollars into projects," said a former high-ranking Keystone employee who spoke with IBJ on condition of anonymity. "But he wants everything to be completely closed book. His experience tells him you can do both."
Ozdemir's cagey approach to the financial details underlying his company and many of his deals, including those that enjoy taxpayer support, might be costing him. In recent years, he lost two key employees—including his brother, Keystone's former CFO—to disputes over money. His former head of construction is suing him, alleging he commingled funds, overcharged clients and billed Keystone for lavish personal expenses.
The numbers behind Ozdemir's stadium pitch—which faltered as this story was going to press—also raise eyebrows: His prediction of $5 million in annual ticket-tax revenue to service the debt on publicly backed bonds for a soccer stadium would require $50 million in annual ticket revenue for the venue—more than four times last year's total revenue for the Indianapolis Indians. That's for a team he owns that's never played a game.
In an interview, Ozdemir said subsidized deals make up only a small portion of his portfolio and that his political contributions are about supporting business-minded candidates and building relationships, not investments in search of returns. He described his legal battle with a former partner as a normal business dispute, and maintained it is his right as a private business owner to keep financial details of development deals private, even when they involve public money.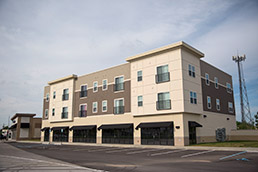 Ozdemir said he plans to convert the first floor of his Madison Apartments & Shoppes to more apartments after demand was tepid for the retail space. (IBJ file photo)
But Ozdemir's approach can be frustrating even for government officials who are fond of him. Privately, they say he's difficult to pin down in a deal and often tries to push terms after an agreement has closed. One senior city planner said he resigned in disgust last year after Ozdemir managed to keep a federal grant even after the associated project was deemed ineligible for subsidy.
String of subsidies
Paul J. Lambie, who quit in 2013 after eight years in the city's Department of Metropolitan Development, said Ozdemir got pretty much whatever he wanted on his deals with the city, including an apartment and retail project at 1400 S. Madison Ave.
The stucco-faced, three-story Madison Apartments & Shoppes—tucked against a railroad line between a license branch and an auto auction south of downtown—was slated to contain 17 affordable-rate apartments subsidized with $384,000 from a federal-government program designed to help cities cope with the foreclosure crisis.
But Ozdemir came back to the city again and again in 2012 and 2013, as the project languished, landing more federal money. He got more money when he said he was having trouble landing financing. And more money when he said the adjacent train track generated too much noise, requiring a re-engineering of the project.
Lambie—whose job called for him to sign off on every dollar spent locally from the federal grant program—grew frustrated with the extra money routed to Keystone.
"From the start, I wasn't comfortable with the amount of profit that Keystone was making, fully funding their projects with public money while taking zero risk," Lambie told IBJ.
Lambie said one payment request seemed so egregious that he passed it off to his supervisor.
Keystone had been awarded $387,299 to spend on separate projects, with 22 affordable units, but they were found to be outside the area eligible for Neighborhood Stabilization Program grants. Ozdemir insisted the money be re-routed to Keystone's Madison Avenue project instead, without any change to its scale.
Lambie said it was a handout, for nothing, and a violation of the federal grant program rules, because only a small portion of the fully subsidized building actually met the program's requirements. It was his last straw.
"I finally decided I'd rather not have a job than continue to be a part of a corrupt system that uses taxpayer funds in such an irresponsible way," he said.
The additional funds pushed the federal government's investment in the project to about $2.4 million, including a total of $1.76 million to a Keystone entity and $624,500 via Keystone's defunct former partner on the project, Concord Community Development Corp. In the end, Keystone delivered only nine affordable units—meaning taxpayers subsidized the project to the tune of about $266,700 per apartment, more than double the local average.
Budget documents obtained by IBJ show the construction portion of the project cost $1.9 million, which includes $237,141 allocated for "Keystone personnel," "Keystone overhead" and "Keystone profit." That does not include non-construction costs like land acquisition or a $220,000 development fee paid to another Keystone entity out of subsidy proceeds.
Lambie quit his job without a new position lined up, but he acknowledges he never told his supervisors why he was leaving.
Lambie said his bosses in the Department of Metropolitan Development were just as frustrated as he was with the handouts, but there was no point in fighting the directive—which he believed came from the Mayor's Office.
His bosses, Jennifer Fults and Michelle Winfield, disputed that claim yet called Lambie a good employee in their own interview with IBJ.
Fults, administrator for the city's Division of Community Economic Development, acknowledged the project was "highly subsidized" but said it led to improved housing stock and new residents for Marion County.
She said Ozdemir could not secure outside financing for the project, leaving the city with the option of either clawing back what it had already spent or pouring more money into the deal.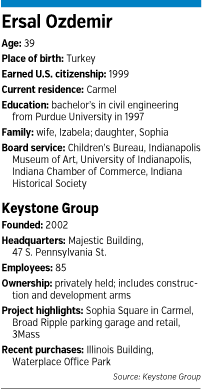 "We had extra money," Fults said. "The real goal for us was to get the property developed and occupied with eligible tenants."
She said all the grants followed program rules.
David Dixon, a senior principal and urban planning specialist at Boston-based design firm Stantec, said Fults is probably correct in her assessment.
"HUD generally is pretty rigorous about how they administer their grants," he said. "That said, there are also developers whose sole business is figuring out how to get money out of HUD, and they often find ways to observe the letter but not the spirit."
Dixon said fully subsidized projects where developers use the federal government "like a bank" are not unusual—despite complex paperwork and program limits designed to maximize the number of affordable units per subsidy dollar.
"Whether that's good policy or not is clearly open to question," he added.
Ozdemir said Keystone plans to convert the first-floor retail space of the Madison project into seven more apartments at an additional expense to Keystone. He also plans another three-story apartment building next door, with 26 units, which he said would push the total project cost to $8.4 million. The units rent for about $750 for a one-bedroom.
"They're not going to fund a project for more than what it's worth," Ozdemir said of city officials.
Open checkbook
Ozdemir was well received at the Statehouse in February when he visited to testify about his proposed soccer stadium.
He hired an all-star team of lobbyists to help make the sale, including Barnes & Thornburg partner Joe Loftus, Faegre Baker Daniels partner J. Murray Clark and Ice Miller Director of Public Affairs Carl Drummer.
The pitch appeared to come up short in this legislative session, but Ozdemir vowed to return next year to update legislators on "Indy Eleven's successful launch and its economic impact on our community and state."
Ozdemir has given more than $250,000 in political contributions to statewide Republican candidates and elected officials over the last decade, with checks coming via a myriad of corporate entities he controls, an IBJ review of elections records found. That makes him one of the state's most prolific political donors.
Top recipients include Gov. Mike Pence with $46,500 (Ozdemir co-chaired his fundraising committee) and former Gov. Mitch Daniels with $23,800. Separately, he's given at least $25,000 to Indianapolis Mayor Greg Ballard, whom he's accompanied on at least one overseas trip aimed at economic development. He's also given $30,000 to the Indiana Republican Party.
One victory during the 2013 legislative session: language deep within a bill on local-government finance that saves the buyer of one of his properties on property taxes and could also allow Ozdemir to get a refund on previously paid taxes.
The language allows a retroactive tax exemption on "leased property located in Marion County to the bureau of motor vehicles"—which references a BMV-leased building Keystone once owned next door to its Madison Apartments & Shoppes. Property records show Ozdemir sold the property for $1.15 million in 2011.
The legislation allows for up to $34,700 in property tax refunds on the building for tax years 2009, 2010 and 2011, said Nicole Webb, an exemption analyst for the Marion County Assessor's Office. She couldn't say whether Keystone actually requested or received a refund.
Ozdemir said he did not request the language that wound up in the bill authored by Sen. Pete Miller, R-Avon. And Miller said he doesn't know who inserted the language into the bill, which dealt primarily with school-corporation finance.
Miller said it appeared the property owner never filed for a property tax exemption that applies to building owners that lease to government tenants, and the legislation "gave them a lifeline."
Ozdemir said he could find no evidence Keystone had received a refund, but he was "looking into it."
Ozdemir doesn't limit his networking to the political arena. Between his development work, and functions for his Indy Eleven soccer team, he's a prolific board member for not-for-profits ranging from the Children's Bureau to the Indianapolis Museum of Art.
He drops in at fundraising events all over town, where he exuberantly shares a vision for a more cosmopolitan city.
"The guy just has an infectious personality," said Mike Newbold, regional president for Huntington Bank, who has served with Ozdemir on the boards of the Indianapolis Chamber and Children's Bureau. "I don't think he's ever met a stranger. You just feel very comfortable having a conversation with him. The guy is absolutely tireless. He's not only heavily invested in the community, but you'll catch him in the office at 9 p.m. I think people really respect that about Ersal."
Momentum stalled?
Keystone has landed several governmental agencies as tenants in the office building it owns at 1200 Madison Ave., and construction work on public-sector projects including the new Eskenazi Hospital. It won a no-bid city contract to hold the purse strings on the $155 million, mixed-use CityWay development—a deal that paid Keystone about $600,000 to keep an eye on the numbers and construction work from developer Buckingham Cos.
Paul Okeson, Keystone's vice president, helped land the deal shortly after he left his post as Mayor Ballard's chief of staff in 2009 to join the firm.
But lately, Ozdemir has lost out on high-profile deals including redevelopment of the former Market Square Arena site. He said the losses show he gets no special favors from his political contributions, a point Deputy Mayor Ryan Vaughn repeated in an interview.
"Nobody gets favorable treatment," Vaughn said. "We evaluate these projects on a project-by-project basis."
Ozdemir's unwillingness to commit to how much subsidy he would need for the MSA project didn't help his case, Keystone veterans told IBJ. Neither did lingering questions over his Broad Ripple parking garage project.
Fellow developers and contractors are puzzled by the project's advertised price tag of $15 million—a figure that helped justify a $6.35 million cash contribution from the city, funded with revenue from the privatization of Indianapolis' parking meters. They say a 350-space garage with 28,000 square feet of retail space should not have cost the equivalent of about $43,000 per space to build.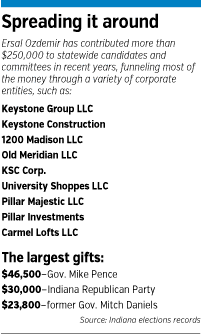 The Urban Land Institute's rule of thumb is that structured parking costs $15,000 to $30,000 per space. The price for a boxy, 500-space garage with 24,000 square feet for a library and retail at Ivy Tech Community College's downtown campus was $7 million, or $14,000 per space. An oddly sized garage like the one in Broad Ripple might cost toward the higher end of the range.
Jason Ellis, Keystone's former director of construction, told IBJ the company's budget for the garage and retail build-out was about $8 million, before factoring in unforeseen expenses and design fees that may have added another $1.5 million. Ozdemir paid a total of $2.4 million for the two parcels under his development, state sales disclosure documents show.
That would suggest a project cost closer to $12 million.
In addition to the $6.35 million from the city, records show Keystone borrowed $8.7 million—bringing the total raised for the project to $15 million.
The difference, Ellis said, allowed for a "huge monster developer fee" to the company. Keystone also owns the building and is entitled to parking revenue and retail rents.
Ozdemir said he has already spent more than $16 million on the garage project, when retail build-outs and a new, rent-free IMPD substation are included, and he disputed the numbers others provided IBJ. He anticipated it will cost another $2 million to build out the remaining retail spaces, bringing the total cost to more than $18 million.
He has noted the city's $6.35 million contribution works out to a subsidy of about $18,000 per parking space, more within the typical range.
"We ran over budget due to unanticipated costs related to flood-proofing and the unique challenges of building on that site," Ozdemir wrote in an email.
When city officials announced the project in 2011, they estimated the garage would generate about $350,000 in annual property taxes. But at a likely assessed valuation of $4 million—an estimate provided for IBJ by the Marion County Assessor's Office—the tax haul would be only about $120,000 per year.
Keystone won't pay that much until 2015, at the earliest. Its tax bill this year is based on a 2013 assessed value of just $810,700, since the garage was not finished when it was assessed.
Ozdemir built another expensive, publicly financed garage as part of his $60 million Sophia Square in Carmel, which features apartments and first-floor retail.
The city of Carmel put up $13 million, or $32,500 per space, toward a 400-space underground garage (more expensive to build) and an attached public plaza. Carmel Mayor Jim Brainard said the money subsidized only the public infrastructure, not the private development above it.
"He's a sharp, aggressive businessman," Brainard said of Ozdemir. "Our job is to protect the taxpayers and attract capital to the city. You've got to balance those things. While Ersal bargains very hard—and we respect that—we bargain hard as well."
Legal battle ahead
Ozdemir started his first company, Aymir Construction, in 1997 after earning a civil engineering degree from Purdue University. The company focused on construction, with projects that included building bank branches for the First National Bank & Trust owned by Hart and Mark Hasten.
But the company ultimately faltered, leaving behind a string of failed projects, lawsuits and more than a million dollars in local and federal court judgments.
Ozdemir founded Keystone Construction in 2002, initially focusing on contract construction work before adding a development arm.
Keystone is facing legal issues of its own. Ozdemir's brother—the company's former CFO—moved to New York after a falling out in late 2011, and Ellis— Keystone's head of construction—left in 2012 and is suing Ozdemir.
In the Hamilton County lawsuit, filed in May 2013, Ellis accuses Ozdemir of commingling assets, creating inaccurate accounting records, over-billing clients and customers, and charging Keystone for "lavish personal expenses including the construction of a mansion in Carmel."
Ellis said he left the company after Ozdemir cut him out as a partner and shareholder. He had joined Keystone shortly after Ozdemir started the firm and had been described as a partner in emails and on the company website.
A few months after Ellis' departure, Ozdemir requested IBJ change the way it referred to his companies. Keystone Group, he explained in an email, was his "real estate/development company" while Keystone Construction was a separate entity. Another division is Keystone Realty.
Ellis alleges the name change was designed to cut out fellow shareholders including Ellis and Ozdemir's brother, Huseyin, by saying they were partners in the money-losing construction company but not the lucrative development arm.
The company's high-profile development projects include the 3 Mass condominiums, Carmel's Sophia Square and downtown's long-vacant Illinois Building, where Keystone plans a hotel and retail space. Big construction deals include roles in the $750 million Eskenazi Hospital and a $63 million renovation of the Pepsi Coliseum at the Indiana State Fairgrounds.
In the suit, Ellis alleges Huseyin Ozdemir—who goes by Sain—either took or was paid "several hundreds of thousands of dollars" when he left the company. "This event has been confirmed by multiple witnesses," the suit claims.
Only shareholder?
Ersal Ozdemir, in an interview, said he has been the only shareholder in any of his companies from Day One. He said Ellis instructed a Keystone staff member to describe him as a partner on the company website.
"What I do with the money I make is my business," Ozdemir said. "He has no idea what development is. I hired him as a superintendent and gave him an opportunity to learn the business."
Ozdemir's attorneys at Barnes & Thornburg, including partner Larry Mackey, are seeking a declaratory judgment that Ellis is not a shareholder. They have secured an unusually broad protective order barring public disclosure of discovery materials, claiming trade secrets.
Ellis and his Carmel attorney, E. Scott Treadway, declined to comment on the lawsuit.
Ellis' recent filings include Ozdemir emails, Keystone documents and an affidavit from former Carmel City Council member Joe Griffiths.
Griffiths, a construction consultant Ozdemir hired in 2004 shortly after Griffiths was elected to the Carmel Council, wrote that Ozdemir told him Ellis was joining Keystone as "an owner and Mr. Ozdemir's partner."
Emails between Ersal and Sain that are part of Ellis' filing show cracks in the brothers' relationship.
"As far as the partnership, yes I do have questions," Sain wrote in an email in September 2011. "Actually concerns. I don't know if you read it or not, but it looks like everything favors you. Is that what you wanted?"
Ersal's brother does not have a listed number in New York and did not respond to a message sent via Twitter.
Sain is not a named party in the lawsuit, but he was deposed in the case and opted to plead the Fifth Amendment in response to most of the questions, according to sources with knowledge of the proceedings.
Ersal Ozdemir bristled at the suggestion he has ever had partners at Keystone Group or any of its subsidiary companies.
"Half of my company wants to know if they can be partners," he said. "What you think you should have is not what you have."
Later, in an emailed statement to IBJ, he wrote: "I love my brother. He left Keystone Construction and has pursued other opportunities. In fact, we are in conversations to work together at this point."
Subsidized rental properties
When the federal government in 2008 earmarked $29 million for Indianapolis as part of its Neighborhood Stabilization Program, designed to mitigate the effect of foreclosures on neighborhoods, Ozdemir moved to take advantage.
Most of the program's money went to the city to deal with abandoned homes and to not-for-profit community development corporations. Keystone was the largest recipient among private developers, collecting more than $4 million.
That included $1.9 million for the acquisition and rehabilitation of 41 rental units spread over single-family homes, doubles and small apartment buildings, records show. The federal dollars reimbursed Keystone for acquisition and renovations costs, and also paid the company construction management fees and developer fees.
Keystone did not invest any of its own money in the projects, though it wound up owning the properties outright, collecting rent and eventually flipping them at a profit, records show.
Ozdemir also persuaded local officials to earmark Neighborhood Stabilization Program grants for the acquisition and rehab of a 12-unit apartment building at 522 Fletcher Ave., and for a 10-unit building at 550 Fletcher Ave.
The city had paid out $387,299 in "acquisition expenses," including Keystone's full purchase price and transaction fees for the buildings when Lambie—the former city planner—noticed the properties sat outside a "hardest-hit" area deemed eligible for NSP funds.
After the city moved to freeze future NSP payments, Ozdemir sold the buildings for a profit of more than $100,000, records show.
Meanwhile, he agreed to return the $387,299 in federal dollars only after city officials assured him that the full amount would be reallocated to his Madison Avenue project, Lambie said.
Fults, the city planning administrator, acknowledged she had to request help from deputy mayor Vaughn to persuade a recalcitrant Ozdemir to return the money.
But Fults said it was her department's call alone—without influence from the Mayor's Office—to reallocate the funds toward the Madison Avenue project.
MBE-certified
Ozdemir initially was rejected for certification of Keystone as a minority business enterprise, sources familiar with the application told IBJ. The city's rules say businesses that qualify must have majority owners who are black, Hispanic, Asian Pacific Islanders, American Indians or Alaskan natives. The designation helps firms land government work.
But Ozdemir appealed, arguing he should be considered as Asian since his native Turkey spans Europe and Asia, a fact he shared with city officials, the sources said. He also landed a state MBE designation, which helped his case. Ozdemir hails from Mersin, a city on the Mediterranean Sea, where his family runs a construction and development business.
Ozdemir prevailed in March 2010, when Keystone landed on the city's list of companies that are majority-owned by minorities, women and veterans. Out of 977 companies on the list, only Keystone has no entry in the "ethnic" field—which specifies the ethnicity of the business owner.
The director of the city's Department of Minority & Women Business Development, Gregory L. Wilson—who would have reviewed the application—did not return several phone messages from IBJ over the course of months.
Keystone's MBE profile with the state does not specify which of the "qualifying minority groups" applies to Ozdemir.
Hedging bets
A turning point for Ozdemir came with the surprising election of Republican Mayor Greg Ballard in 2007. The developer was an early cheerleader and financial supporter of the mayor, though records show he did not make a direct contribution during Ballard's re-election campaign in 2011 or since.
But even if Democrats regain control of the Mayor's Office in a few years, as the county's political baseline shifts, Ozdemir's influence is unlikely to wane.
Ozdemir—who hired Okeson, Mayor Ballard's first chief of staff, as his own right-hand man in 2009—has been telling associates for years of plans to build ties to the other major political party.
In November 2013, Keystone named its new business development manager: Jasmin Shaheed-Young, former finance director for Democratic U.S. Rep. Andre Carson and the Marion County Democratic Party. She's also the congressman's sister-in-law.
"She was chosen for this position based on her valuable experience, impressive background and relationship development," Ozdemir noted in a statement at the time. "We are confident that she will help lead in our company's growth."•
Please enable JavaScript to view this content.