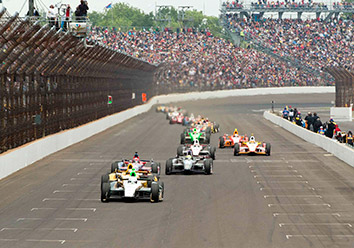 The Indianapolis Motor Speedway's decision Wednesday to lift the local television blackout sent a wave of questions rippling through the central Indiana advertising industry.
More than a few ad agencies began wondering how the live airing of the race on WRTV-TV Channel 6 would affect local radio listening, while others pondered the value of buying one of the 30-second spots on WRTV that several advertising executives told IBJ were being offered by the station for $20,000. That price, an ad buyer said, includes a spot during the live broadcast and another during the tape-delayed airing later Sunday night.
The pricing is similar to that of a local spot for an Indianapolis Colts' NFL playoff game.
To put that in perspective, a 30-second spot during the local news on a typical night can run anywhere from $500 to $1,500, according to media buyers. Local spots during highly rated prime-time shows can run as high as $2,000.
Ad buyers said WRTV is projecting ratings for the live broadcast just above 25, which would mean about 268,250 central Indiana households would be tuned in. That would be about double the number that watched the tape-delayed race in this market a year ago. Ad buyers think as many as 325,000 central Indiana households could be tuned in when the green flag drops shortly after noon on Sunday.
An ad buyer told IBJ that WRTV officials are projecting a rating for the tape-delayed broadcast to be nearly 18, which means about 190,000 households would tune in. 
This year's edition—the 100th—of the Indianapolis 500 is spiking demand for tickets and interest among local residents. About 238,000 reserved tickets sold out earlier this month and another 75,000 general admission tickets sold out Wednesday, according to sources close to the IMS.
WRTV referred questions concerning the live broadcast to its parent company, The E.W. Scripps Co., which did not respond to a request for an interview.
"It should be a real bonanza for WRTV," said Ryan Marshall, an account executive at locally based BPS Marketing and immediate past president of the American Advertising Federation's local chapter. 
But, he added, that might not be the case for Emmis Communications Corp., which has the rights to air the race on local radio. Emmis will air the race on four of its stations: 93.1, 107.5 and 93.5 on the FM dial and 1070 AM.
"[Emmis' advertisers] had what was an exclusive live opportunity. That exclusivity is gone because WRTV is now broadcasting the race live," Marshall said. "I still think Emmis is going to have a very large audience, but I'm not sure it's going to be as good as originally expected."
Two media buyers told IBJ that Emmis was selling a package of six ads—two pre-race, two in-race and two post-race—for $7,500. That's as much as 10 times higher than its normal ad rate, an ad buyer said.
Emmis sells some "very large ad packages" during race-related programming for the entire month of May "well in excess of $20,000," the ad buyer said.
Emmis officials said ad inventory for the race sold out in early May—which is earlier than most years for the Indianapolis 500.
One local media buyer that represents an advertiser that bought time during the radio broadcast said his firm will be watching radio listener numbers closely.
"If they aren't what was expected, we could ask for some make-goods," he said.
Make-goods are free ads that stations run later to make up for ads that run during a show that doesn't perform as well as anticipated.
Pat Walsh, Emmis' president and chief operating officer, said he is confident the local live TV broadcast will have little impact on radio listener numbers. He anticipates a share—across all Emmis stations that air the race—of 70 percent to 80 percent. An 80 share would mean 80 percent of all people in the area listening to radio are tuned in to the race. 
A really strong radio show—WFBQ's The Bob & Tom Show, for instance—scores a 10 share on its very best days.
"It will be the highest radio rating share in the U.S. More than the Super Bowl or any other event of its kind," Walsh said of the Indy 500.
Marshall, who was an Emmis sales executive for three years, said it can't be underestimated what sales during the race mean to Emmis' stations.
"It's the single biggest event in terms of sales for Emmis," Marshall said. "It's their Super Bowl. It's their chance to demonstrate the power of radio."
Marshall, whose firm has a client with ads in the pre- and post-race coverage but not the race doesn't think his firm's client will be impacted.
"I feel confident from a pre- and post-race standpoint that advertisers will get a very good value because it's the 100th running," he said. "The concern would be with the in-race ads."
Hulman & Co. CEO Mark Miles and Emmis Chairman Jeff Smulyan had several conversations about the possibility of the race airing live on TV, Walsh said, including in the days leading up to the announcement this week.
"We're partners of the Speedway and want what's best for the Indianapolis 500," Walsh said. "We understand the situation."
When asked about the possibility of cutting advertising rates or offering make-goods, Walsh responded: "We're very hopeful we'll have a really strong audience that will meet our advertisers' needs."
There's been no discussion between Emmis and Speedway about modifying the radio broadcast contract, Walsh said. 
"We're all doing the best we can for what is best for the community, and we'll figure that out somewhere down the road," he said.
Please enable JavaScript to view this content.