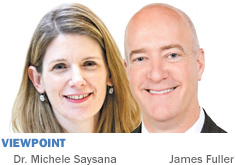 The Indianapolis Coalition for Patient Safety provides a forum for area hospitals to share information about best practices and work together to solve patient safety issues. The ICPS is composed of chief executive, medical, nursing, quality/safety and pharmacy officers from Community Health Network, Eskenazi Health, Franciscan Health, Indiana University Health, St. Vincent and Richard L. Roudebush VA Medical Center.

These organizations have come together and, although competitors in the marketplace, have agreed not to compete on safety. This makes Indianapolis uniquely positioned to continue to improve patient outcomes and reduce harm through the work of ICPS.

Formed in 2003, ICPS' vision is to make Indiana the safest place to receive health care in the nation. To achieve this, the coalition undertakes projects that use patient-centered strategies to achieve a standardized approach to patient care, accelerating improvements in safety. ICPS member hospitals pool their expert resources to accelerate safety improvements through community-wide efforts. Other participating community partners include the Marion County Public Health Department, Indiana State Department of Health, Purdue and Butler universities, the Regenstrief Institute, Indiana Hospital Association, Indiana Blood Center, and Eli Lilly and Co. The coalition is a free-standing 501(c)(3) not-for-profit.

Areas of focus for ICPS include:

Transparency and sharing of lessons learned. Building on the work of the Indiana Medical Error Reporting System, ICPS member hospitals routinely use formal presentations and safety alerts to share information from adverse events with one another to prevent similar events from occurring at other member hospitals.

Collaboration for a consistent standard of care. ICPS member hospitals have improved safety by implementing evidence-based, standardized processes focused on a variety of areas, including medication safety; safety before, during and after surgery; blood-use safety; pediatrics; and reducing smart-pump alert fatigue.

Medication safety. ICPS promotes safety of high-risk medications such as insulin, narcotics/opioids and intravenous medications. The coalition facilitated a task force to standardize IV medication concentrations and dosage units across member hospitals. In addition, ICPS—along with the Indiana State Medical Association, Indiana Hospital Association and others—worked to develop the Indiana Guidelines for Opioid Prescribing in the Emergency Department that were adopted by the Governor's Task Force on Drug Enforcement, Treatment and Prevention in September 2016.

Prevention of heart-failure patient readmissions. Partnering with long-term-care and home-care agencies, ICPS worked to establish minimum-care standards as these cardiac patients transition from the acute-care setting to home or nursing home. Working with the Indiana Association of Home and Hospice Care, ICPS provided faculty and content for education focused on heart-failure care provided by home-care agencies.

Advance care planning. As part of Hospice Foundation of America's public campaign on the importance of talking about end-of-life treatment goals with loved ones and medical professionals, ICPS member hospitals sponsored 34 screenings of the PBS Frontline documentary film "Being Mortal." More than 750 people in total attended.

There is still work to be done and, through this kind of collaboration, ICPS works to accelerate the spread of evidence-based practices that prevent harm to patients and reduce health-care-acquired conditions and readmissions. ICPS' success is attributed to the commitment of the member hospitals' leadership to work together to make central Indiana the safest place to receive care for patients.•

__________

Dr. Saysana is board chairwoman and Fuller is president of the Indiana Coalition for Patient Safety Inc.